Chocolate Marshmallow Pretzel Delight

Earlier this Summer, I was at a full day and night party with my family. As we were leaving, my husband spied something strange took a taste and was moaning. The hostess gave him a plateful to take home.
What was it you ask?
It was one of the strangest concoctions I have ever seen! It was potato chips, pretzels, popcorn, m&m's and 3 kinds of chocolate drizzles holding it all together...I think. I am sure there was more to it but my husband was raving about the sweet, the salty and the crunch.
My girlfriends mom made it and I have to remember to ask her just what that was all about lol!
Anyway, I wanted to make a treat for my kids one day and that came to mind...I didn't want chips or popcorn, but thought...pretzels...that's ok!
So I looked in my pantry saw tiny marshmallows left over from a food craft I did for my daughters 1st grade class...I saw pretzels, chocolate chips, raisins and I knew I had some white chocolate disks...and whallah! This is what resulted.
It may look messy but it is not. It solidified quickly at room temperature (in air conditioning that is) and as the kids ate it they did not become a chocolate mess. I have brought this to a couple get together's since and all the kids dug it (my husband too, lol)
See that pretzel, chocolate goodness...mmm!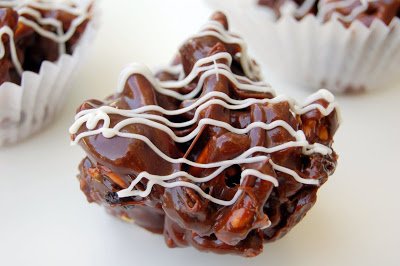 I crave more salt (I am a bit of a salt fiend) and on a piece or two I add some Fleur de sel...just-for-me!
This is a snap to make and I am sure you have the ingredients on hand! Hope you like it! I asked my 9 year old son what we should call it and he thought and said "I really don't know." "It's just sooooo good"!
Chocolate Marshmallow Pretzel Delight AKA Chocolate Pretzel Thing
4 TBS butter
1 bag mini marshmallows (10.5 oz)
1 ¼ cups Nestle chocolate chips
6 oz pretzels broken up a bit (I used Snyders Snaps)
½ cup raisins
½ cup white chocolate melting disks for drizzle
Optional: a sprinkle of salt
Set up a cupcake pan with cupcake liners, spray them lightly with a bit of cooking spray.
Place the butter in a large pot over medium heat. Once melted add in marshmallows and stir often until fully melted and incorporated. Turn off the heat and add in chocolate chips, stirring vigorously until mixed. Add in pretzels and raisins, stir well.
Working quickly use 2 spoons to scoop out the mixture and get it into the liners. Fill each cupcake liner with a mound of the mixture. If you want smaller candies, line another pan with 6 more liners and fill 18 instead of 12.
Let them set for 30 minutes in your air conditioned home or for 10 minutes in your fridge. Melt white chocolate in your microwave for 1 minute (or less) then spoon in a small baggie, snip off the end and drizzle each candy.
I am sure you could also just mound these babies on a parchment lined baking sheet...have not tried it myself, but from the consistency, I am sure it will work, especially if you are in air conditioning.
You could add in anything else you like...nuts, candies, dried fruits, etc.
Enjoy!!