Cinnamon Roll Waffles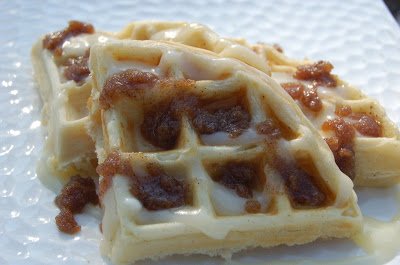 Is anything more beautiful or memorable than laying your eyes on your first born for the very first time? You carried that baby, nurtured it while it was growing inside of you and then one day...hello...there they were cradled in your arms, yours to protect, yours to teach, yours to love and yours to shape into the person you dream it will be.. I am amazed by it still.
It feels like just of the blink of an eye later and now my first born...my son...is 10 years old. I just can not believe how time passed so very quickly. Everyone says it does...but man, it really, really does!
My son is gentle, analytical and never really steps out of line (I know it is coming...it has to...lol). I love him with all of my heart! A couple times a day and every night, I thank God over and over for both my son and my daughter. I never knew how complete I could feel until my children entered my life.
A week prior to my sons' double digit day, I asked him what he wanted to do on his actual birthday seeing as his party was not until 2 weeks later. He said "I would like breakfast in bed, I would like cinnamon and sugar waffles, sausage and orange juice". I said you mean French toast , right? He said "no, waffles."
So I thought...what the heck? Then I remembered seeing cinnamon roll pancakes on Tasty Kitchen sometime this past year so I thought...why not do that with waffles?
And I did. And he liked them...and so did the rest of us.
This is definitely a once in a long while treat! Happy Birthday baby!
Cinnamon Roll Waffles
Waffles
2 cups flour
3 TBS sugar
2 teaspoon baking powder
1 teaspoon cinnamon
dash of salt
1 ¾ cups milk
2 eggs
4 TBS melted butter
Dash of vanilla
Combine dry ingredients in one bowl and wet ingredients in another. Add the wet to the dry and whisk until combined.
Cream Cheese Topping
2 ounces of cream cheese
4 TBS soft butter
¾ cup powdered sugar
dash of vanilla
Combine until creamy, set aside.
Brown Sugar Topping½ cup melted butter
1 TBS cinnamon
¾ cup brown sugar
dash of nutmeg (or if you have it Cardamom)
Combine until smooth. Set aside.
Make your waffles in your waffle maker, drizzle cream cheese mixture over your waffles (I used a pasty bag), then spoon or drizzle brown sugar mixture over waffles and serve.
Enjoy!!