Creamsicle Cupcakes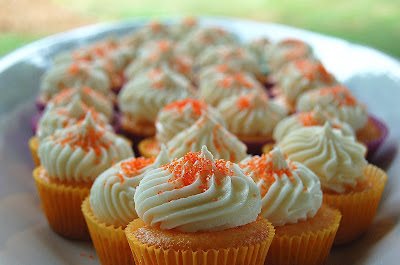 Creamsicle Cupcakes for a crowd!
A friend of mine just had a surprise 50th for her husband, so I made a couple of things for the party including these fun Creamsicle Cupcakes. I thought they would be perfect for a summer party and by making them bite sized…folks could enjoy more than one of the dessert offerings.
I had a lot going on that day, so I just decorated the beautiful Vanilla Icing with a pinch of orange sanding sugar. I originally planned to doing a swirl or orange and vanilla icing…next time! In the end I made about 125 of these (for 2 different parties).
I never have been a box cake user, I find it just as easy to whip up a cake from scratch and usually have the needed ingredients on hand. However Maria's recipe calls for a box cake mix…I did attempt to adapt it using my standard cake batter but it wasn't the same. So, for the once a year I have been making these a box cake is ok with me 🙂 Plus they really do have a different taste!!
Mini Creamsicle Cupcakes
Maria Galan
1 box vanilla cake mix
3 oz package orange jello
1 tsp orange extract
1 1/4 cup Minute Maid orange aid (not orange juice)
1/3 cup oil
3 eggs
Preheat your oven to 350 degrees
In a mixing bowl combine the jello powder, orange extract and orange aid, add in the cake mix and blend on medium until incorporated. Add in the oil and the eggs, blend well.
Fill your mini cupcake holders halfway with the batter and bake until done approximately 11-12 minutes, or until a toothpick inserted comes out clean.
Top with vanilla icing or for added fun a vanilla orange swirl icing.
The Vanilla icing I have been making since I was a kid is
1 pound of butter (4 sticks)at room temperature
1 pound of powdered sugar (2 cups / 1-16 oz bag)
1 TBS vanilla
3-4 TBS heavy cream
Using your mixer, whip the butter on med-high for a minute or two until it is nice and creamy. Slow it down and begin slowly adding in the powdered sugar, then the vanilla, then the heavy cream until it becomes a beautiful creamy icing.
This is my 10 year old son's favorite icing! He always says "it's amazing"!! And THAT makes me smile 🙂
Enjoy!