Creamy Pesto Pasta with Roasted Chicken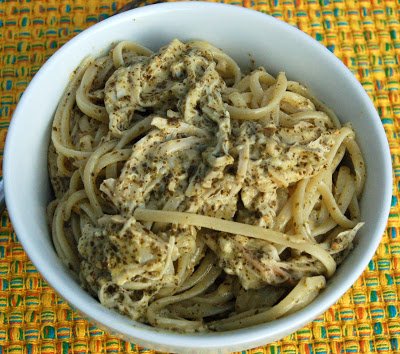 Don't you just love it when you can whip up a great tasting dish in no time flat?
I sure do! My husband and I both work, we run the kids around to and from their various activities and in the middle of all of that...we find time to eat as a family just about every day and have a life...a fun life!
So...any time savers that I can inject anywhere in my life are a big plus to me!
A couple of weeks ago I had a dish out at a restaurant, while on a hot lunch date with my son (insert smile here)and i loved it, this was my attempt at recreating it. It was ready in the time it took to boil the pasta - gotta love that on a weeknight!
Creamy Pesto Pasta with Roasted Chicken
½ pound of linguine
½ roasted chicken, pulled into pieces
2 TBS butter
1 TBS chopped garlic
8 ounces basil pesto (I used Classico)
½ cup heavy cream
2 TBS Parmesan Cheese shavings
pepper
Cook your pasta according to al dente directions. In a saucepan or deep skillet, saute your butter and garlic for 1 minute. Add in the pesto and heat through for 2 minutes, stirring constantly. Add in the cream and the cheese and heat through, stirring the whole time. Remove from heat, sprinkle with pepper and add in the shredded chicken. Stir well, toss with pasta and serve.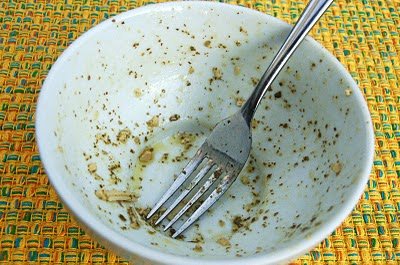 I LOVED this!
Can you tell??
If this were Wonka World - I'd have eaten the bowl...lol!
I loved the flavors and the simplicity...I fed my family and was out the door in a flash to get the kids to CCD (while hubby cleaned up) - a good meal on the craziest weeknight we have.
My husband was like "eeeh". He is not a fan of cilantro and somehow basil reminds him of that - I don't get it...he loves pesto stuffed mushrooms. I actually think he wasn't a fan because this dish is not spicy in any way - just bursting with flavor - I have created a spice monster, oh well, goody for me! I get the leftovers!!
Feel free to whip up your own pesto or your own chicken 🙂
Enjoy!!