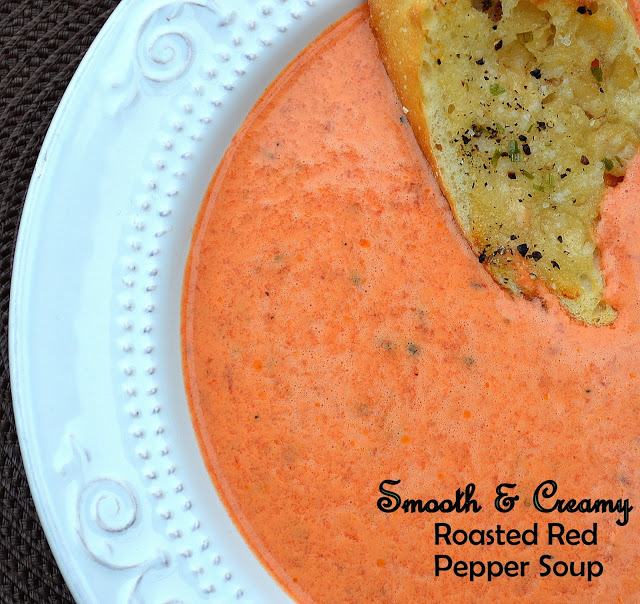 Do you think you can possibly name one soup above all others and call it your absolute favorite?
If so, is it broth based, spicy, sweet or rich and creamy?
Can you actually do it…can you answer that question? I know I can't! I feel like my mood, the season and/or the meal that is involved, all factor into it the answer to that simple question. Am I right?
I adore soup, especially bisques. I have a Pinterest Board titled "Soup – There is Nothing Quite So Satisfying" and eventually I am going to make every soup on there…plus add to the Board…then make some more, it's the soup circle of life! Lol!
This roasted red pepper soup is a simple, savory and satisfying soup that my husband and I enjoy in the fall and winter. A big crispy crouton and a side salad make it a meal!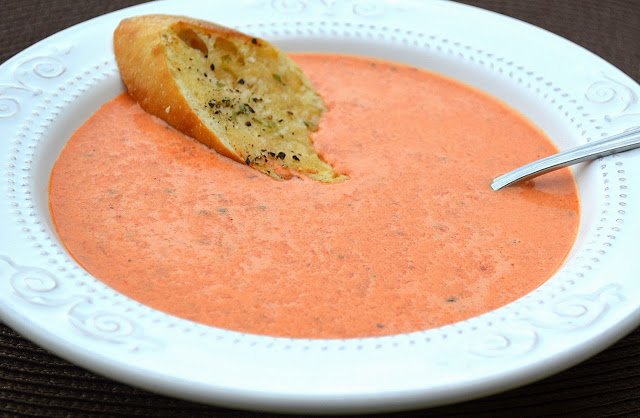 If you enjoy soup as much as I do – here are two of my favorites to try:
This soup is RIDICULOUS! You make it in 20 minutes and the amount of flavor is spectacular!
Garlicky Tortellini & Spinach Soup
I am slightly obsessed with Pho – Here is an Easy Chicken Pho aka Vietnamese Chicken Noodle Soup
Creamy Roasted Red Pepper Soup
4 TBS butter
3/4 cup Vidalia onion
16 oz jar roasted red peppers, drained and blotted dry (or home roasted)
1 jalapeno (see note)
A few dashes of Worcestershire sauce
3 cups chicken broth
3 cups heavy cream
Salt & pepper to taste
Optional: Red/Cayenne pepper
Melt your butter in a Dutch oven or pot over medium heat and saute the onion for 5 minutes or until wilted. Chop your peppers into 2 inch hunks and add to the pot along with jalapenos. Worcestershire sauce and chicken broth and bring to a boil. Reduce heat and simmer for 20 minutes. Remove the soup from the stove and allow it to cool slightly. Puree the soup in your blender or with your immersion blender. Rinse out your pot, then return the pureed soup to it. Add in the cream, season with salt & pepper and simmer for 5 minutes (but do not bring it to a boil), and serve.
To make the croutons, cut French or Ciabatta bread on a bias no more than 1/2 inch thick. Rub the slices with olive oil, season with salt, pepper, and parsley or chives. Bake on a baking sheet at 300 degrees for about 12 minutes or until crisp.
Colleen's Notes: If you want this soup on the spicier side, leave in the seeds/membranes of the jalapeno. If you are not that into spice, leave it out completely. Since the heat of Jalapenos varies, if you want a little extra heat add in a few sprinkles of red/Cayenne pepper.
Enjoy!