Endive with Clams Casino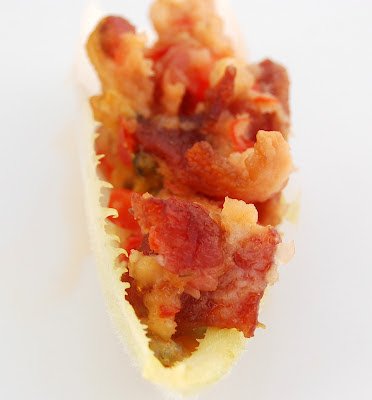 I am so excited about this one!
My husband and I LOVE Clams Casino, love them as in we could run away with them and forever be happy...love them as in we could go out to dinner and if we found Clams Casino...just the way we like them, we could giggle and order only them for apps, entree and dessert and be very, very happy...lol!
Anyway, last week I was daydreaming about Clams Casino when all of a sudden, endive joined the dream. I thought why not serve "clams casino" ON endive???
It would GREATLY reduce the work (no cleaning or cooking clams) and would reduce the cost as well (clams can get pricey).
I was so excited about the idea...so I ran to the store, picked up what I needed and ta-da! It worked!
I was afraid the parchment paper would burst into flames...but it didn't!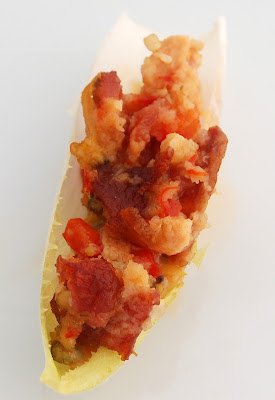 I wasn't sure how it would be using canned clams but it was wonderful! My husband was like "Oh...Oh this is GREAT!" I ran to the computer to Google and see if anyone had done this and I didn't see it anywhere which is always exciting (I know I am a dork...but sometimes you think you came up with something "new" only to later find that nope...you didn't! lol)
This a fun, easy, economical way to have a pretty app for a special dinner or party, plus, I just love the bite of endive! One more way to enjoy those perfect leaves!!
Endive with Clams Casino
2 heads of endive
1 10 oz can whole or chopped clams, drained
2 TBS butter
4 TBS red or green pepper, chopped small
3 TBS Vidalia onion
2 TBS white wine
12 slices bacon, cooked and chopped up or crumbled (I also add in drizzle of the bacon fat)
¼ cup Panko (Japanese breadcrumbs)
Combine everything but the endive in a mixing bowl and mix well. Refrigerate mixture for at least 1 hour or overnight (you want it to firm up).
When ready to make it line a baking sheet with a piece of parchment paper (I have large pre-cut pieces so I fold it one in half...double yours up) Spread your mixture onto the parchment paper in a circle/oval and bake at 350 for 15 minutes. (While your clams are baking, separate your endive leaves.) Then put your broiler on low and broil until the tops bets a little crispy (feel free to dust with a little bit of additional Panko if you like it crispy) Your parchment paper may brown a bit but that's ok, just watch it. Remove from the oven, let it rest for a minute then use a small thin metal spatula (or even a butter knife) to lift some o your mixture into each endive leaf (just at the tips or loaded as I did...your call). Serve immediately.
Enjoy!!