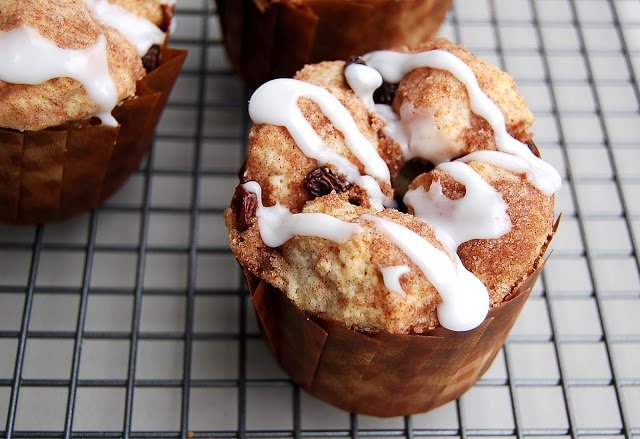 The other day, I wanted to have a treat ready for the kids when they arrived home from school. So I decided to make a riff on Panera's Cobblestone Muffins. I've made something like this before, however that time I made it as a bread loaf with apples, which you can see here. This time I wanted muffins, BIG, flavorful muffins...But, I didn't have any yeast in the house, and I just didn't feel like running to the store for just yeast. Who am I kidding...a trip to the store for one think, would have turned into 22 things...am I right or wrong here? It's like the mystery of the disappearing socks...it just how it goes!


So, I improvised and made a dough similar to monkey bread dough. I only made 4 muffins, one for each of us, but they were big. If you were making normal sized muffins in a cupcake pan, this would yield 8-9 instead of 4 gigantic ones.
My kids and husband gobbled these down...and when I say gobbled, I mead inhaled, scarfed, destroyed & devoured these muffins. You get the picture...these were gone in a flash. I was kind of stunned at the carnage, then all happy and filled with love that my gift to them of a tasty treat was so well received.
Next time...I double the batch!
And yes...they each kissed the cook! My favorite part of the cooking process!
I hope that little tradition continues on forever!
Giant Cinnamon Raisin Muffins
Muffins
2 cups flour
¼ cup sugar
1 TBS baking powder
Pinch of salt
¾ cup buttermilk
5 TBS butter, melted
Coating
1 stick butter, melted (½ cup)
¼ cup brown sugar
½ cup sugar
1 TBS cinnamon
½ cup raisins
Glaze
¾ cup powdered sugar
1 TBS water
½ teaspoon light corn syrup
For Muffins: Combine flour, sugar, baking powder and salt in your mixing bowl, blend. Add buttermilk and butter and mix until just incorporated, set aside. Melt your butter for the coating in a small bowl, set aside. Combine brown sugar, sugar and cinnamon in a small bowl. Begin rolling your dough into walnut sized pieces, dip each ball into the butter, then the sugar mixture, coating it fully. Place in your cupcake or muffin liner. Repeat. Scatter raisins throughout each muffin as you are building them. Note: Dough will expand a bit while cooking, so don't overload your cups too much.
Bake at 350 degrees for 20 minutes for large muffins or 15-17 minutes for cupcake sized muffins or until tester inserted comes out clean. Remove from your pan and cool muffins on a wire rack.
For Glaze: Combine powdered sugar, water and corn syrup in a small bowl and stir vigorously until combined. Add a few drops of water if necessary to achieve a smooth but thick consistency. Scrape into a sandwich baggie, snip the corner off and glaze your muffins...then gobble away!
Enjoy!!