Giant Oatmeal Chocolate Chip Cookies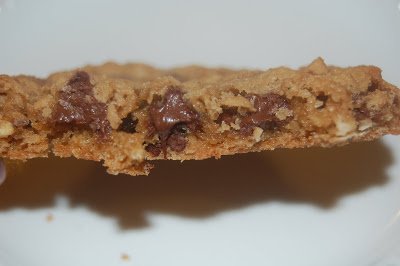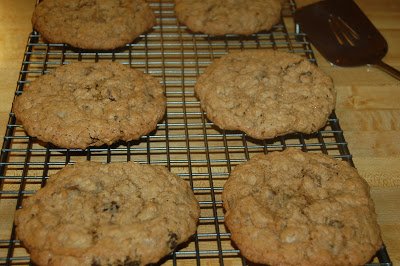 I have never been able to wrap my head around cooking something, freezing it then expecting it to be just as good, just as fresh as if I had just made it.
If I could my life would be much simpler.
With that being said these Giant Oatmeal Chocolate Chip Cookies are the only item I do make ahead, freeze and pop in the oven when the mood strikes me or if company pops by for a delicious bite of Heaven!!!
These cookies are seriously good – the perfect combination of crispy and soft.
They are HUGE which makes them so fun and trust me they will not last long!
I know we are not supposed to talk about it…BUT I am a cookie dough eater…there I said it. My Mom was a cookie dough eater and now so is my daughter (my son of course is waaaay to cautious to try it which cracks me up). I know, I know "they" warn us about such things but we are still here and the women in my family seem to live to about 98-99…so what the heck! This particular cookie dough is hands down my favorite to sneak a few tastes! Go ahead…live a little!
Giant Oatmeal Chocolate Chip Cookies
from Pam Anderson
1 1/4 cups flour
1/2 tsp baking powder
1/4 tsp baking soda
3 cups old-fashioned oatmeal
2 eggs
1 1/2 tsp vanilla
1 3/4 sticks of butter, very soft
2 TBS vegetable oil
1 cup sugar
1 cup brown sugar
1 cup raisins
3/4 cup chocolate chips
Preheat oven to 350 degrees
Mix together the flour, baking powder, baking soda and oatmeal. Set aside
In a large mixing bowl, combine butter, oil and sugar and blend until creamy. Add in the eggs and vanilla, blend until combined. Add in the flour/oatmeal mixture and blend until combined. Add in the raisins and chocolate chips. Blend.
On parchment paper lined baking sheets, us an ice cream scooper to scoop out the cookie dough. (The kids love this part) Cook 6 to 8 cookies per baking sheet, don't crowd them. If you don't have an ice cream scooper measure about 3 tablespoons of dough per cookie – you want these big.
Bake for 16-18 minutes or until golden brown.
For freezing, scoop out the dough, place the "balls" on a plate…you can crowd them. Pop into your freezer for an hour, then just throw them into freezer bags to store until ready to use(up to 6 weeks). When ready to use just thaw for 10 minutes and bake. You can also substitute dried cranberries for the raisins.
Enjoy!!
Colleen