Greek Feta Dip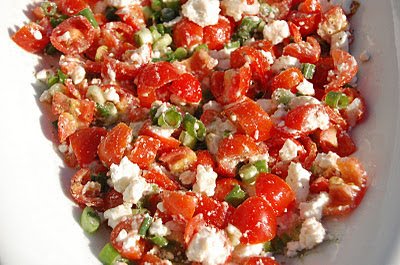 Are you ready for the almost-upon-us holidays?
I am (insert cheer here). We just need to wrap and grocery shop. It feels GOOD to not have to rush around for once!
I LOVE this time of year, the planning, the parties, the food, the fun, the traditions and you know what I think I like the frenzy too…just a little bit!
My kids are SO excited for the holidays, the little one (7) announces how many days are left till Christmas – oh, I don't know…like 27 times a day!! My son (10) is trying to play it cool…however, I see him counting down when he looks at the calendar – he is totally stoked as well. To ME…all of this, their wide eyed excitement and joy at everything leading up to the "big day" is my gift and you know what…it's priceless and I will cherish all of these memories – forever!
Well, when you are busy baking, planning, shopping yet have parties to attend or host – here is a jewel of a recipe. It is SO easy – 4 (or 5 ingredients) and I bet most folks will go nuts over it. Oh and did I say it's EASY? Plus, as a friend pointed out to me recently – it's perfect for Christmas – just look at the colors!!
Greek Feta Dip
-Clover Lane
1 1/2 pints of grape tomatoes, diced
1 bunch of scallions, sliced (just about the whole thing)
1 block plain feta cheese (about 8-10 ounces)
Either 1/4 cup (of my FAVORITE salad dressing) Gazebo Room OR 1/4 cup olive oil mixes with 1 teaspoon of Greek seasoning which can be found in your spice section – do not use the salt free variety)
In a large bowl combine your tomatoes and scallions. Break apart the block of feta cheese and sprinkle it over the tomatoes and scallions. Pour in the dressing or the olive oil and spice mixture. Toss gently. Turn it out on a big plate or platter and serve. This can be made an hour ahead. It holds up well and just keeps getting better tasting 🙂 The more folks keep digging in with crackers or a spoon – the better it gets!
Don't lump it in a bowl or on a too small plate – you want to spread it out in a thin layer. Also don't use the pre-crumbled feta…it's to soft.
Serve with Stoned Wheat Thins or your favorite simple tasting crackers or French bread slices.
Hope you love this as much as I do!
Happy Holidays!!