Grilled Nutella & Strawberry Tortilla Wraps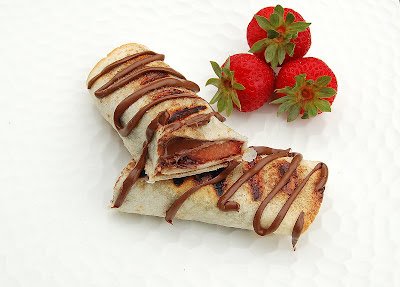 First I need to clarify something…no…I don't live under a rock.
I've just never been curious about Nutella based on looking at the little jar in my supermarket. For whatever reason, Nutella has never entered my life, not via my family, friends, at a party or whatever.
I first was made aware of Nutella through Paula from Bell'alimento – a food blogger who I admire (and she's a cool gal as well). She often tweets about it, her creations or any creation she comes across featuring this slightly addictive chocolate spread. I actually told her earlier this year, that SHE should be a spokesperson for it! Really…Nutella folks…are you paying attention here?? LOL
Rewind to last weekend, I was happily enjoying my time at my favorite food blogger gathering, The Big Potluck, when Joy of Joy the Baker began her cooking demo. She made these Toasted Marshmallow Squares…but changed the strawberry to Nutella. After her demo was over, folks were up there taking photos of her creation and many were gobbling up what was left. I spied the last 2 squares left, and like an Olympic champion I decided that this was the time for me to jump in there and try it…so I grabbed one as quick as I could…and down the hatch it went. It was a small bite but I was now interested enough to want more. After all, Joy herself said that she needs to keep away from Nutella or else she will eat the whole darn jar with just a spoon.
SO, today I went to the store and picked up a jar to see what all the fuss is about. I slowly dipped my spoon into the freshly opened jar, gave it a good old sniff, slid it into my mouth and ummmmm! It was good! 2 spoonfuls-worth-good!! I then ran a spoonful over to my husband who is a chocolate fiend and he was like mmm, interesting.
I looked around to see what I could do with it for a quick dessert. I spied the beautiful Driscoll strawberries I had just picked up saw that I had some tortillas and I knew what I wanted to do.
OMGosh was this good! Wanna see it again??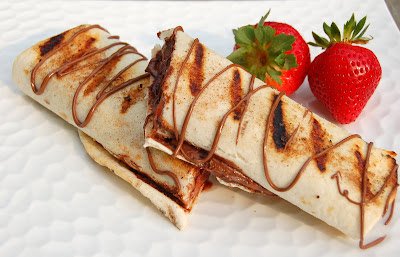 It's times like these I just love being a food blogger…I literally ran right to my computer to share this with you as soon as I finished eating it 🙂 Smooocchhh! Love ya!

Grilled Nutella & Strawberry Tortilla Wraps
2 Burrito sized flour tortillas
4 TBS of Nutella
4-5 strawberries, hulled and sliced (but not to thin…you want to taste the berries)
Olive oil for brushing
Cinnamon Sugar mixture for sprinkling (I used my fav…Chicago Sugar)
Optional: Extra Nutella for drizzling
Lay your tortillas flat and each spread with a coating of Nutella – almost to the edge. A bit away from the edge closet to you, lay 2 horizontal rows of your sliced berries. As you begin to roll up your tortilla (from just in front of you on out) put a bit more Nutella over the top, to help it stick. Once rolled up brush it with a bit of olive oil and sprinkle with your sugar mixture…why not!!
Grill over med-high heat for about 2-3 minutes per side (depents on how hot your grill runs). Remove from grill, slice with a sharp knife, drizzle with a bit of Nutella (I put a TBS in a baggie, let it get warm outside while I was grilling, snipped the end just a bit and was good to go) and enjoy!
We picked these bad boys right up at ate them like a burrito, boy were they ever good! Kind of like a much better version of a Pop Tart. You of course might be a bit more civilized than me and choose to use a fork & knife 🙂
Let me know what you think! AND tell me if you have a favorite Nutella dish I need to try!