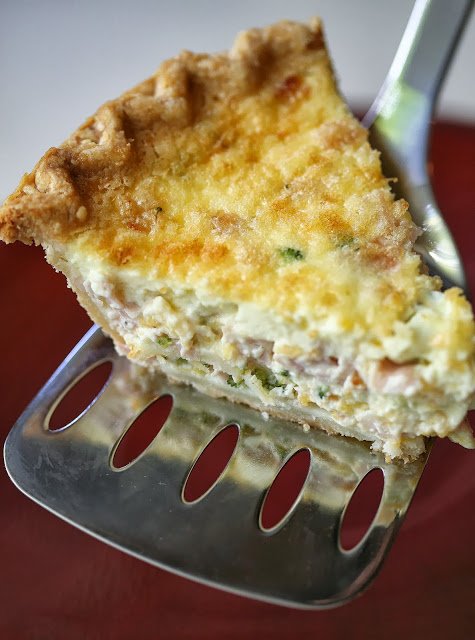 This time of year, life starts getting crazy for many of us.  The days have begun to shorten...I can't believe at 7:00 its getting dark, every year I get surprised when this begins to happen. lol!  School and sports are in full swing, the kids want playdates with new and old friends, and if you have a dancer...well need I say more?  Not to mention you HAVE to make time for Fall TV, lol!!  So far I am digging The Blacklist, X Factor, The White Queen and I am counting the days until The Walking Dead returns!  I guess if zombies did take over the world - we would have no more need to think about making fancy meals - we'd be happy eating out of a can!!
I know I am not alone when I say that sometimes it really is a struggle to get dinner a decent dinner on the table.  One trick/tip that works for me is to make an Egg Pie.  It's so simple and versatile.  It comes together quickly (especially if you prepped your ham/cheese/broccoli previously) and can be baking with no attention needed while the kids are doing their homework, decompressing from their day OR you could have made it the night before or earlier in the day.  It is fabulous reheated or at room temperature (which also makes for a great school or work lunch)! Throw together a simple side salad and you are all set!  My kids 2 favorites are this Ham Cheese and Broccoli Pie or this Cheddar, Bacon & Spinach Pie.
I love to change up the add in's...sometimes it's bacon and cheese, sometimes I add in asparagus, thinly sliced & seasoned zucchini, spinach or roasted peppers.  I have been meaning to blanch some kale and try a bacon & kale version. You get the idea.  Also, no shame at all in using a premade crust!  Just pour your mixture in, bake away and when you're done - BAM - your pie "dish" requires no washing!  What's not to love about that?
What's one of your favorite quick dinners that you feel good about feeding your family?
Ham Cheese and Broccoli Pie
1 uncooked fresh or frozen deep dish pie crust
3 eggs
1 ½ cups whole milk
1 TBS flour
1 TBS melted butter
Salt & pepper
½ cup diced broccoli
1 cup chopped ham
6 ounces shredded Cheddar cheese
Preheat oven to 375 degrees.  Grab your thawed store bought pie crust in the tin or press your homemade crust into a pie dish then place it onto a baking sheet.  Set aside.  Whisk together the milk, eggs, flour, butter, salt and pepper until combined.  Stir in the broccoli, ham and cheese.  Pour mixture into your pie crust, being careful not to overfill, and bake for 45-50 minutes or until the pie is puffed up and golden brown on top. Once removed from the oven, allow the pie to cool/set for at least 10 minutes.
Colleen's Notes:  Use whole milk, if using lowfat or skim, you will need to replace ½ cup of it with whipping or heavy cream.  Feel free to add in any veggies you enjoy or replace the ham with cooked, crispy bacon.
Enjoy!!