The kids love when I/we make Homemade Granola Bites. They are an easy snack I feel good about serving my kids for after-school snack and school lunches. Plus I like them too, that is if the kids leave me some!!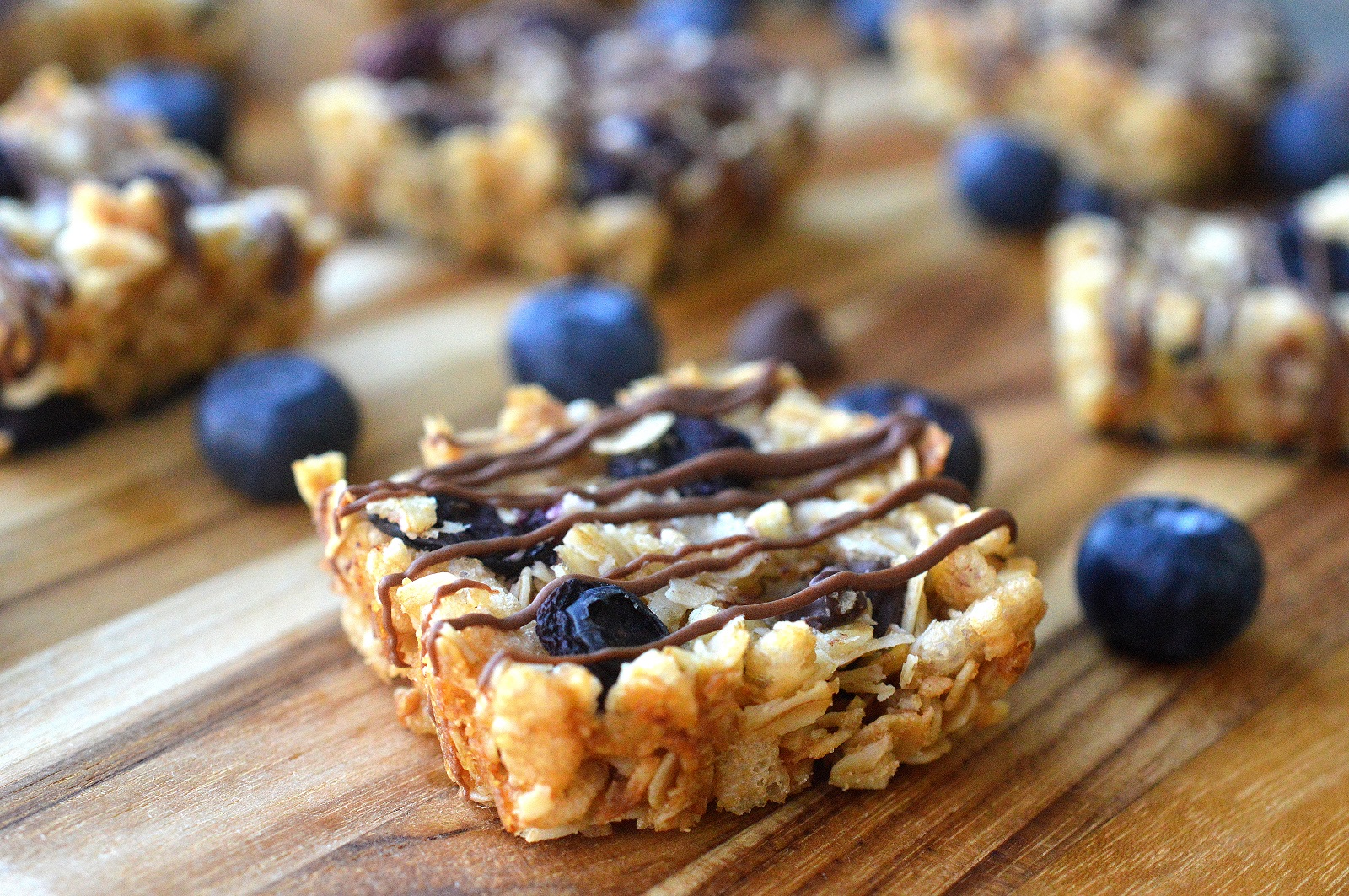 I occasionally make Homemade Granola Bites with Chocolate, however this time, I decided to dry some fresh blueberries I had on-hand and add them in. It was an interesting experiment.  The blueberries dried up well in my oven (slow and low).  They weren't nearly as sweet and sticky as purchased dried blueberries. The kids seemed to enjoy them, I only managed to get one from the whole batch!
My kids are both allergic to tree nuts and peanuts, so making homemade treats is something routinely I do. And as a result, my kids have always been helpers in the kitchen and now as young teens, they are pretty independent cooks. I mean even from the age of two, what kid doesn't want to lick the spoon or beaters…right??
I know there are a number of no-bake granola bars and balls out there, however, most include peanut butter as the nase in which they are held together. So I opt for using honey and baking my Homemade Granola Bites for a bit.
I use an individual square baking pan for this recipe or a metal individual square pan with removable bottoms I happen to have. You can also just make a 9×9 pan lined with parchment paper, once cooled pull out the baked square and cut into individual squares..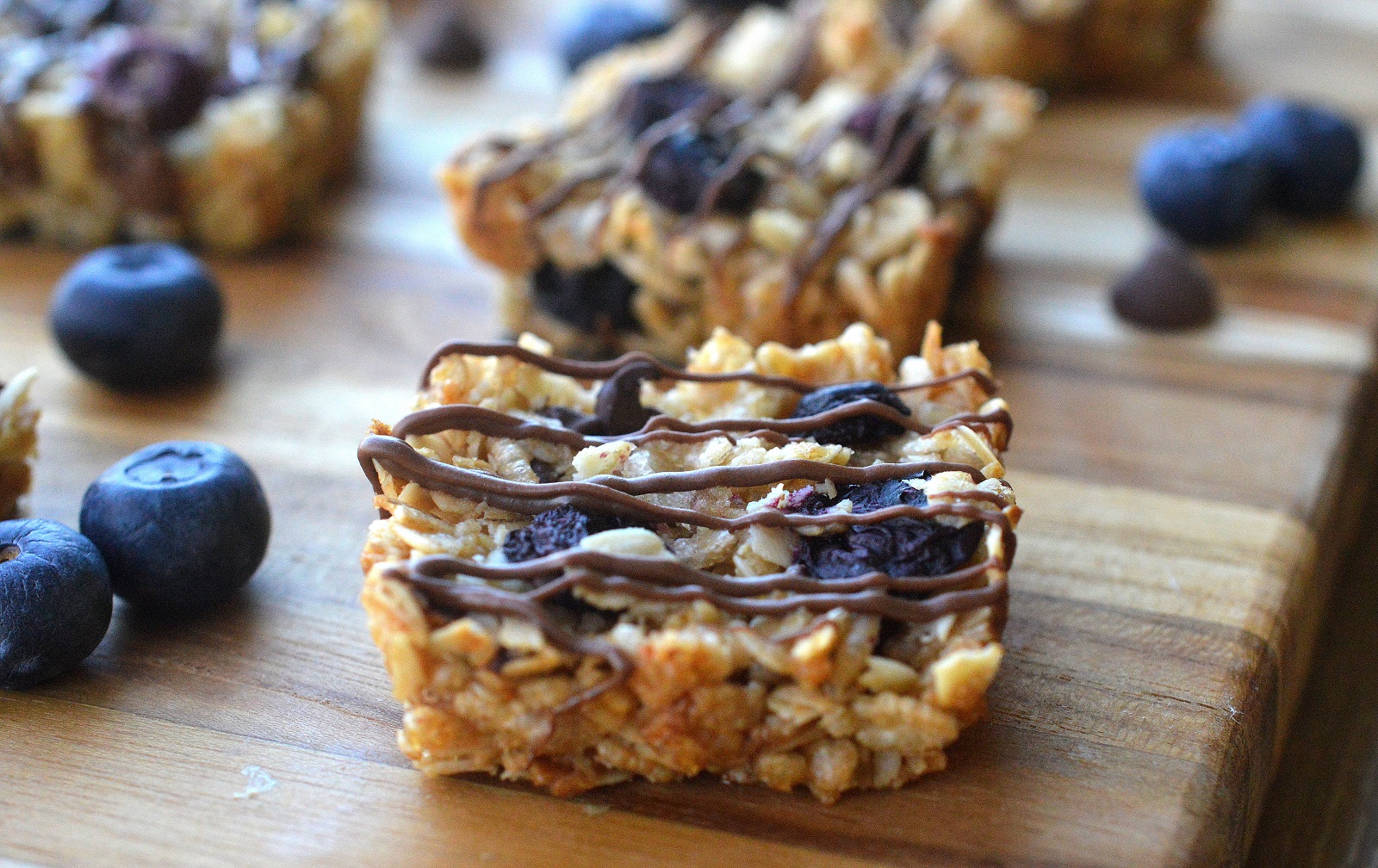 Feel free to customize these Homemade Granola Bites as you wish. You can add nuts, seeds, lots of chocolate, cranberries or other dried berries. You don't have to dry your own berries, you can use store-bought.
I did try drying raspberries in my oven, however, I have not gotten that to work out right as of yet. Not sure if I will try that again. Anyone have success with those??
I hope you enjoy these Homemade Granola Bites!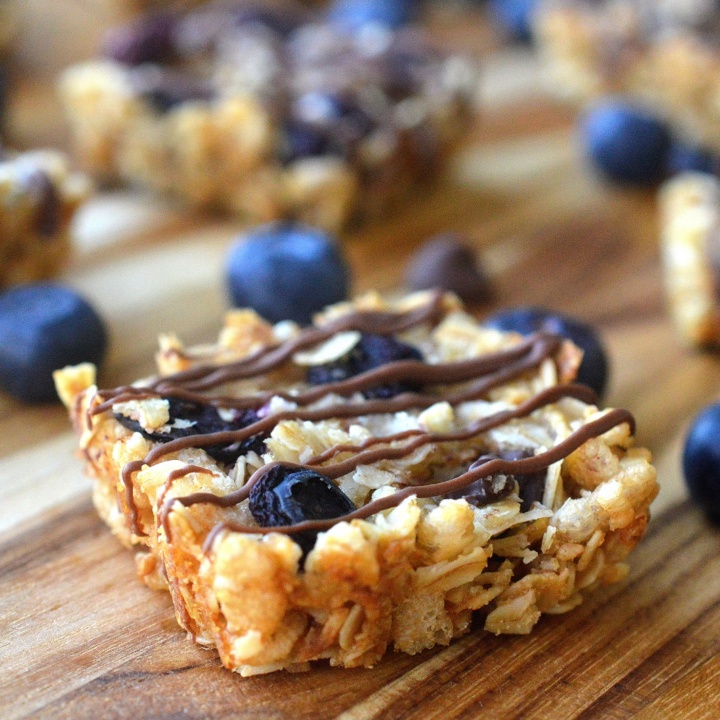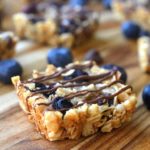 Print Recipe
Homemade Granola Bites
Ingredients
2

cups

old-fashioned oats

1

cup

Rice Crispies

3

TBS

brown sugar

Pinch

of salt

1

cup

dried blueberries

1/2

cup

chocolate chips

1/2

cup

honey

2

TBS

melted butter

1

teaspoon

vanilla
Instructions
Combine all ingredients in your mixing bowl and mix well.

Press mixture into an individual square baking pan (like I reference in the post above) or line an 8x8 square baking pan with parchment paper and press mixture into that.

You want to firmly press the mixture down, use a piece of parchment to do it or stick your hand in a baggie.

Bake at 325 for 7-10 minutes or until edges begin to crisp up.

Remove from oven, allow to cool and then pop squares out (or slice).

Store in airtight container for a few days.
This post contains affiliate links, which earn me a small percentage of Amazon sales.