Hot Caramel

THIS is decadent!
I mean it is over-the-top!
For a couple of years now I have been making a Hot Caramel for the kids with purchased caramel candy…but a couple of months ago I began using some of my homemade caramel instead.
What the heck was I thinking in waiting so long to do this?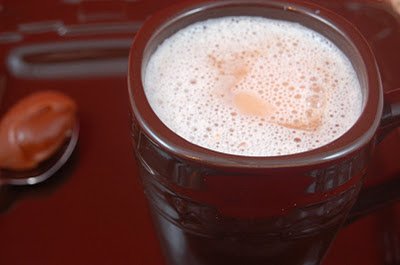 Well, I know what I was thinking but I have changed my thought process around that. I am the gal who thinks of something then walks in my kitchen and whips it up – doesn't matter if its simple or complicated…I have always been like that. For whatever reason, whenever I have made caramel…I kinda hoard it. I guess I was thinking…well it takes time to make, it's not like I make huge batches for use at any time, etc. But I was wrong. Caramel really is easy to make. As long as you have some heavy cream on hand you can make some any time you like. So a few months ago, I began doing just that – I keep it on hand for whatever i feel like adding caramel to or even better when I get a sweet craving…I just grab a spoonful of caramel and am completely satisfied. And yes…I do share it with my family!Well, most of the time lol!
I also like to put caramel on my Banana Bread Muffins sometimes!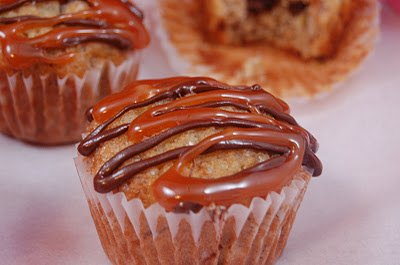 The difference in using your own caramel is a-mazing – as you sip your cup you it just tastes so good…the warm milk, the sweet taste, and the richness…the richness is amazing. It is like a velvet coated drink! Even my husband who is normally like, no thank you to a cup of this (opting always for hot chocolate) is now like WOW, can you make me a cup of that caramel stuff?
Kids who have been over playing, taste this and their eyes light up – they found a new "thing"! They they look at me with big eyes and always ask for more 🙂
Try it!
Hot Caramel
2 cups of milk
3 TBS of caramel
Heat milk and caramel in a small saucepan, stirring until fully incorporated. Heat until just shy of a boil. Pour in mugs, sit back and enjoy the creamy goodness!!
For a wonderful and easy caramel sauce, I use Ina Garten's recipe here. I add a bit extra vanilla since this household is crazy for it! You can store extra caramel in your fridge. For desserts, just heat it up a bit to easily drizzle and for additional hot caramel use as is.
Enjoy!!