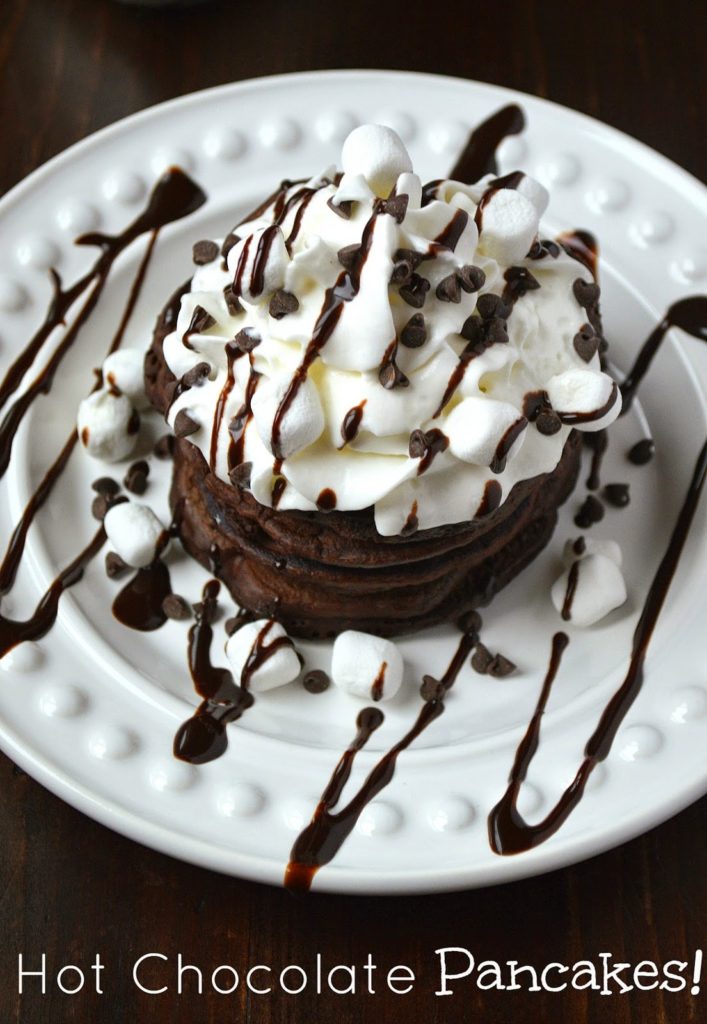 I'm not sure who was more excited by this recipe…me or the kids!
I often wonder what type of influence my being a food blogger has on my children, my nieces nephews and my children's friends.  I mean, there are plenty of people who love to cook but this crazy-exciting-delicious-dirty-dish-dishwasher-always-needs-to-be-emptied-wait-let-me-take-a- picture-filled-world of food blogging is something else!
Both my kids enjoy cooking, my daughter Samantha especially who as you know has been posting on this site for a couple of years.  Samantha's friends have been helping out in our kitchen since they were in kindergarden, my niece Skylar is gaining more and more confidence in the kitchen as well and my son's friends well, THEY help eat it up!  The image of a group of them feasting on my favorite cake of 2014 is something I will never forget.  One boy ate 4 yes…4 slices then happily peddled off on his bicycle with the remains of the cake.  That's all it tales to make a gal like me who takes pleasure from making others happy through food happy!
My just-turned-14 year old nephew Zack is always like "Aunt Colleen, what are you making for dessert" and follows my creations with enthusiasm on Instagram. (Thanks Zack!)
I wonder how "all of this" will influence them when it comes to food & cooking once they become adults.  
My kids will try anything, it doesn't mean they will take a second bite if they don't like it but they always try it and give me feedback.  My son especially is a crack-up!  He has been saying since he was 2 1/2 that he's going to be a doctor.  He's still laser focused on that and informs many who cross his path, from teachers to new friends, of that "fact" as well as what he will work to cure etc.  I sometimes wonder however, if he may toss that out the window and become a food critic or the next Bourdain, lol!  He cracks me up with his critiques of what food comes across his plates from"that was a-mazing" to "mom, that's not the best" or  "they should have done this" or "that isn't juicy enough". So funny…Love you kiddo, whatever profession ends up getting  you will be lucky!!
Back to these Hot Chocolate Pancakes, which are seriously ridiculous!   As luck would have it, the day I was tinkering with these a bunch of kids were at my house SO not a single crumb of pancake, smudge of whipped cream or chocolate chip was left by the time they licked their plates clean and looked for more! Is it for breakfast?  Ummm, no…unless its a very special occasion BUT as a dessert…Oh Heck Yeah!!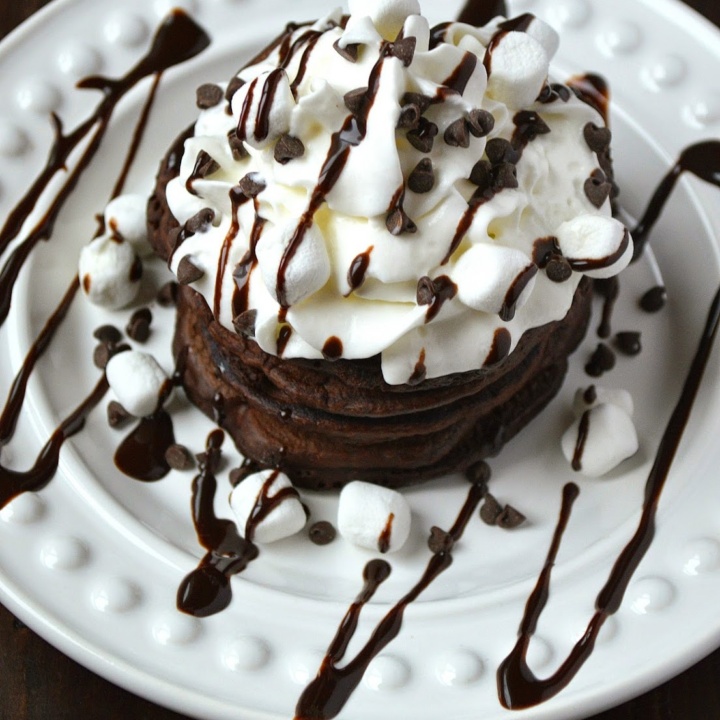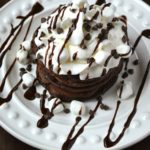 Print Recipe
Hot Chocolate Pancakes
Ingredients
1

cup

Krusteaz Buttermilk Pancake Baking Mix

the best!

½

cup

unsweetened cocoa

1

TBS

sugar

optional

Water

½

cup

mini chocolate chips

½

cup

mini marshmallows

Chocolate Syrup
Instructions
Combine baking mix, cocoa and sugar together in a bowl and whisk to combine.

Add in 1 cup water plus 1 TBS, whisk until smooth and the consistency of pancake batter.

Heat a skillet lightly sprayed with cooking spray over low-med heat, allow the pan to get hot, then begin cooking your pancakes. Be careful not to burn, once the pan is hot and the first pancakes are cooked, turn it down or remove from hat back and forth as pancakes cook.

Once ready to serve, plate your pancakes and load them up with whipped cream, additional chocolate chips, the reserved mini marshmallows and some chocolate syrup & enjoy!

You can also simply dust these with powdered sugar.


Enjoy!!