Lettuce Wraps are one of my favorite recipes to make both when cooking for a crowd or getting dinner on the table fast. A number of people have asked "how do I make lettuce wraps" over the years after they try mine, they are SO easy to make and are always a hit!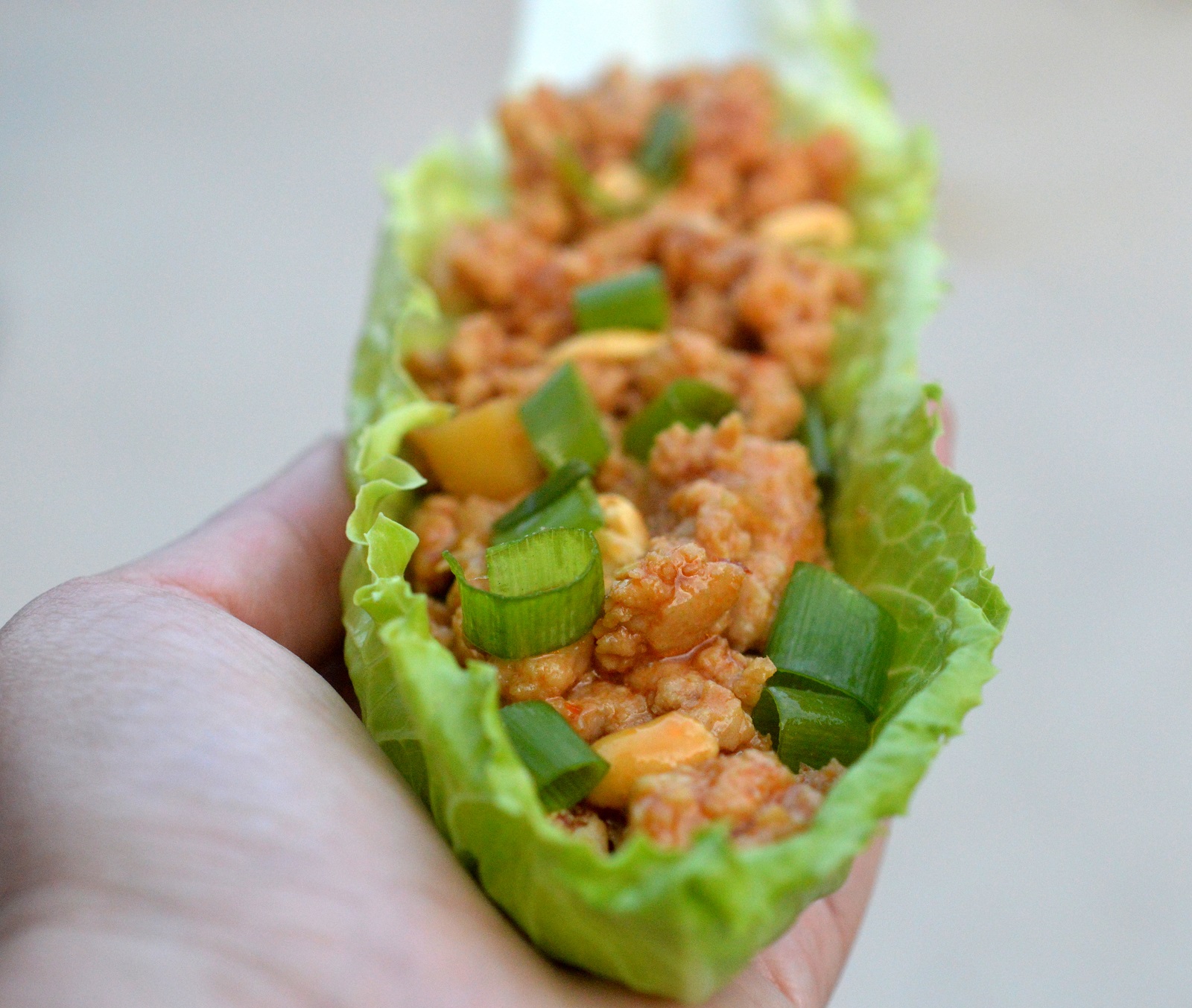 If you have ever been to PF Chang's, I am sure you have had their signature dish of Lettuce Wraps. So many people are crazy about it. Years before I had ever heard of PF Chang's, I had almost the same dish at Houlihan's restaurant. I was smitten at first bite!
So, of course, years ago, I whipped it up myself at home and today I am happily showing you how to make Lettuce Wraps. The beauty of this recipe is besides being crazy-delicious is that it is a one-pot meal. Plus you can totally customize it. If you love veggies, add in some more. Enjoy the crunch of nuts? Add those. Want to enjoy it as a salad vs a wrap…Go right ahead.
What Are Lettuce Wraps?
Lettuce Wraps are kind of like a burrito. You have a filling that you wrap inside of a piece of lettuce. In restaurants, they typically serve them with a half-head of lettuce alongside a dish of the meat and vegetable filling. The most typical wraps you come across when dining out are either chicken or fish.
How Do I Make Asian Chicken Lettuce Wraps?
Making Lettuce Wraps is seriously easy! It's a one-pot meal! Can't beat that!! All you really need to do is brown your meat and aromatics and while that is happening, make your sauce. Add in your sauce and allow it to simmer and thicken up just a bit, prep your lettuce and you are ready to eat! This recipe double (and triples) beautifully!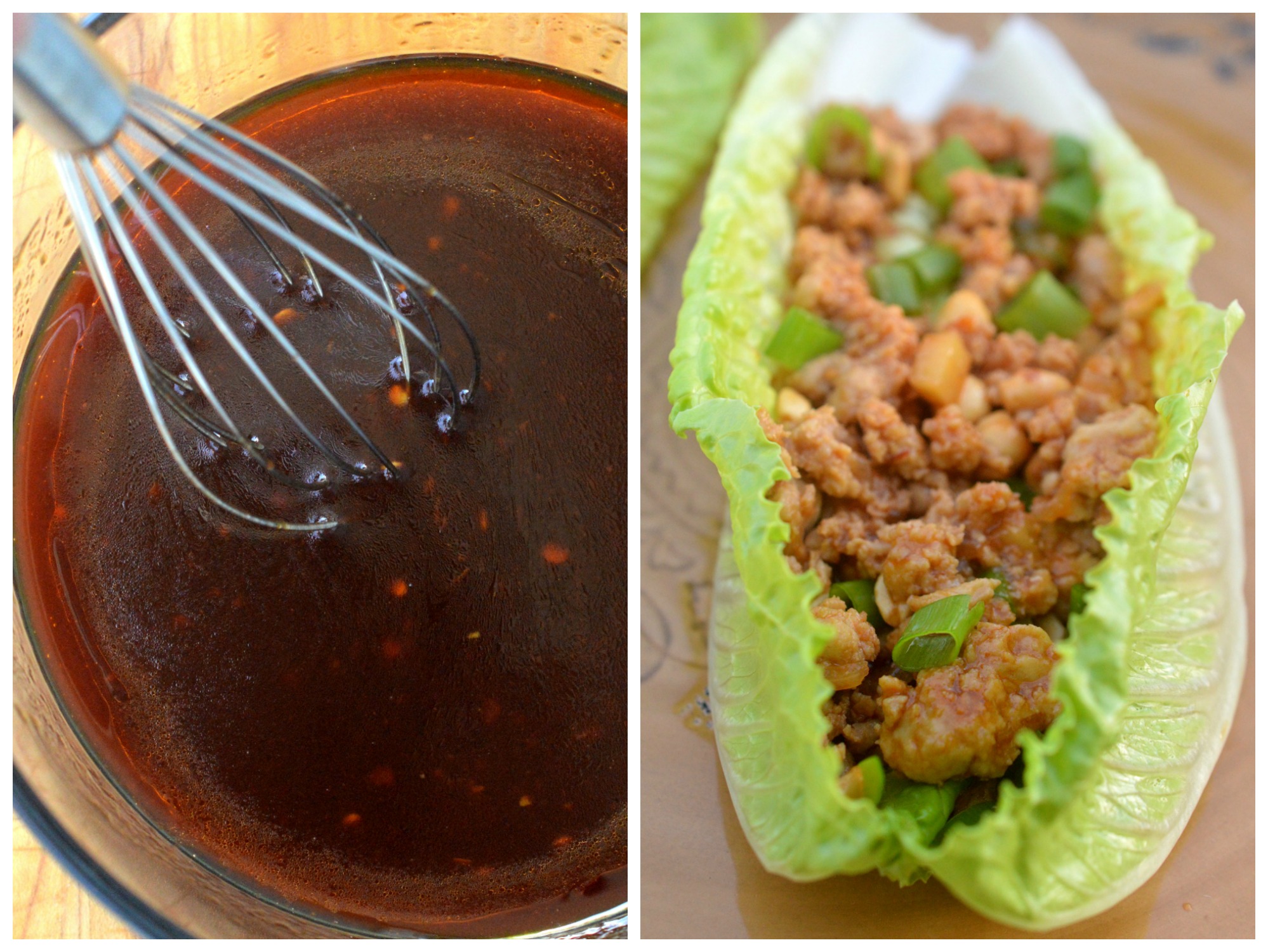 What Kind Of Lettuce Do I Use?
Typically, you use Iceberg lettuce when making Lettuce Wraps since it has huge leaves. You simply take a leaf, spoon some of the filling inside (I like to make an Asian Chicken filling) and then fold and tuck burrito style. It's always a bit messy, which is a-ok by me since it is so freaking delicious! I've found that I enjoy using spears of Romaine Lettuce vs Iceberg. I spoon the filling onto a spear of Romaine lettuce and enjoy, almost like eating off a spoon…however I am eating the spoon, lol!
Do I Cook The Lettuce For Lettuce Wraps?
No, you do not cook the lettuce when making Lettuce Wraps. The crunch of the raw lettuce is exactly what you want. The heat of your filling softens parts of the lettuce wrapping just a bit giving it a nice texture and contrast.
What Variations Can I Make?
I have always made Asian Chicken Wraps using ground chicken, you can sub that out with ground beef or ground veal or I would think tofu…However, I have no experience with that. If you want to add in additional chopped veggies that work as well, diced peppers, mushrooms or even zucchini would be good. I add in peanut halves, I just love the crunch! You can also make this as a salad, which I do often. I chop up Iceberg or Romaine lettuce and top it with a hefty spoonful of the chicken mixture and extra peanuts…Love it!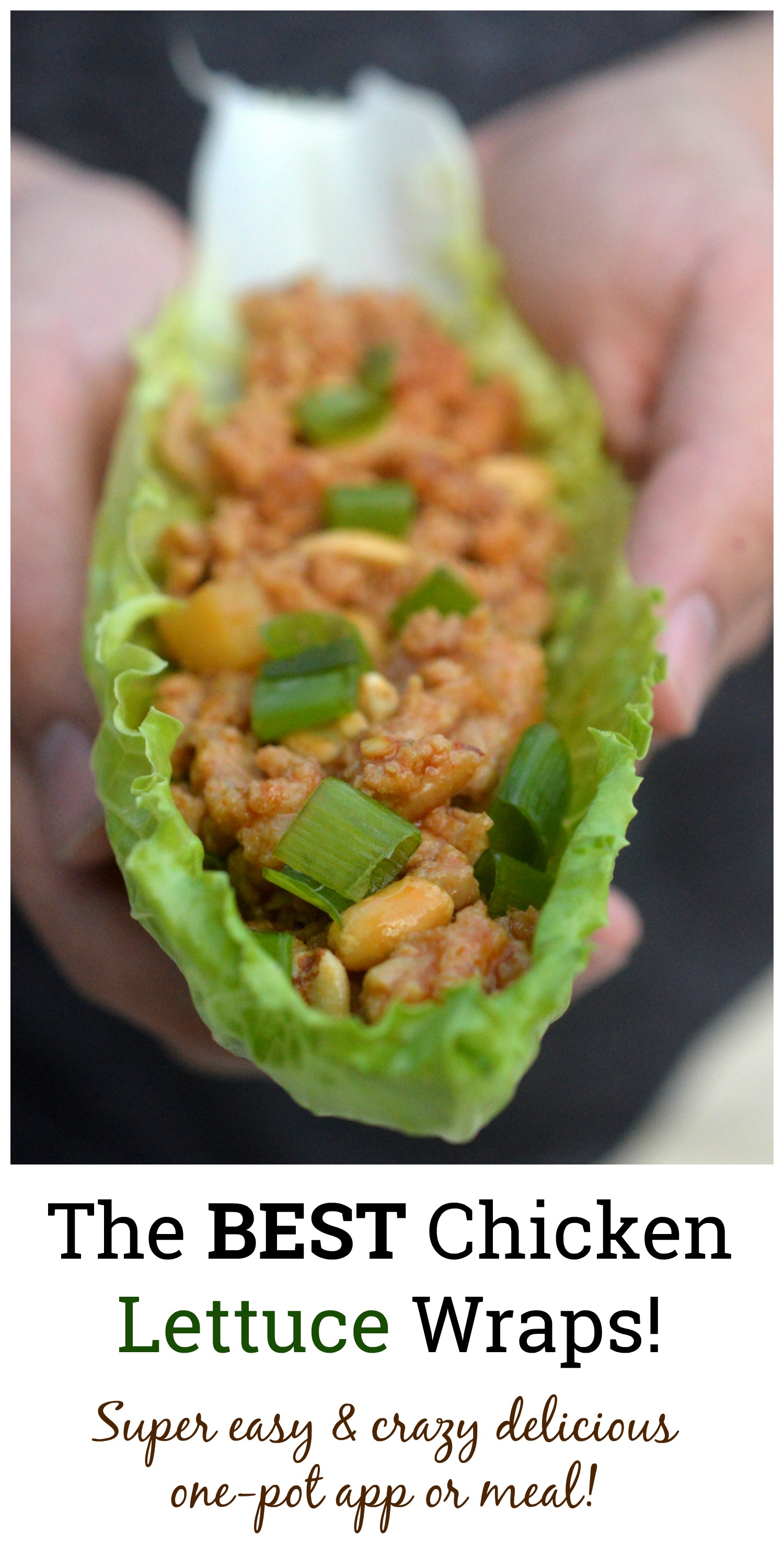 If you enjoy Asian flavors, check out my super-popular Asian Chicken Meatballs in Ginger Honey Sauce (you'd never guess they were gluten-free).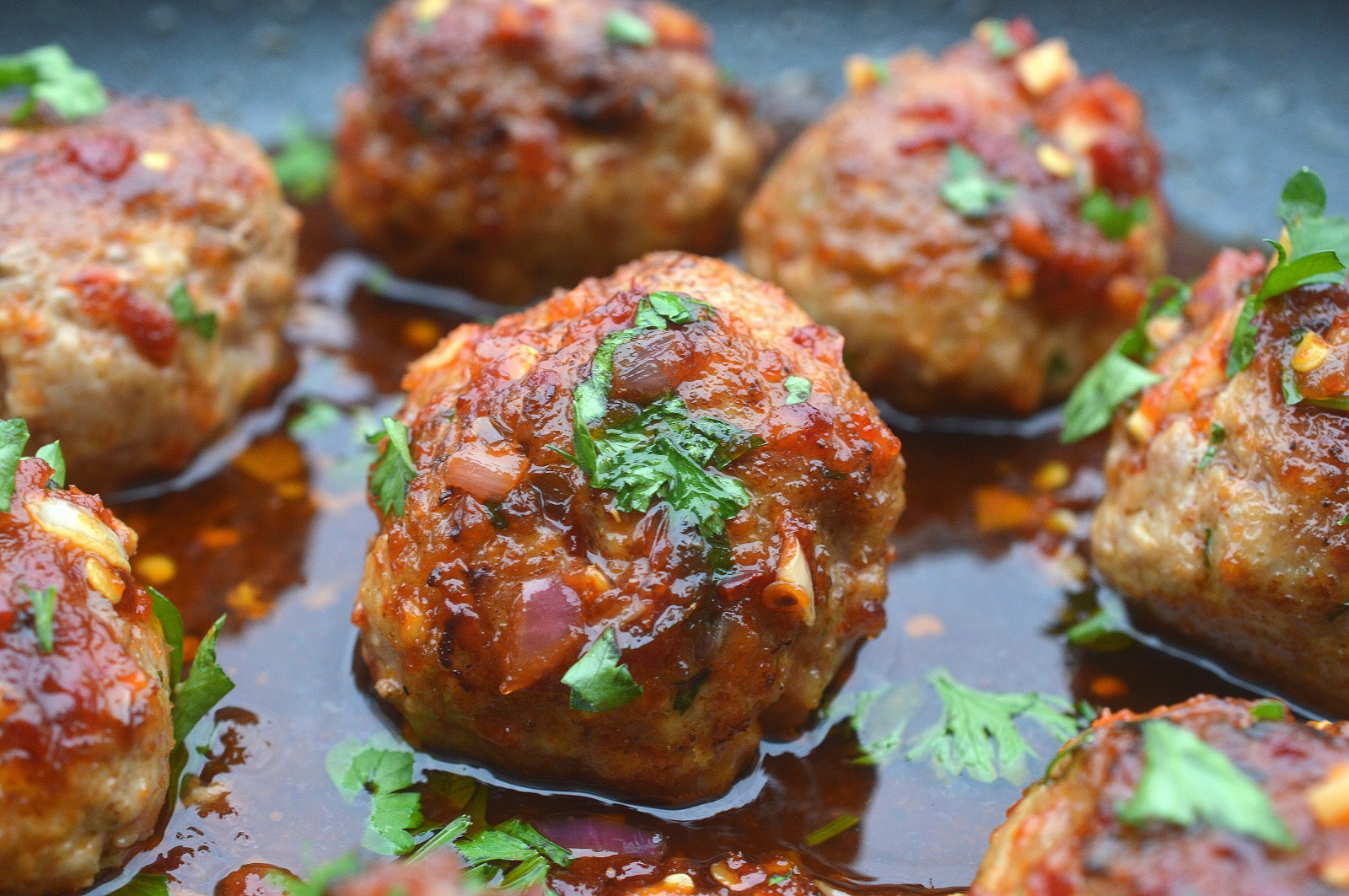 Or my Spicy Asian Noodles. People can't get enough of these!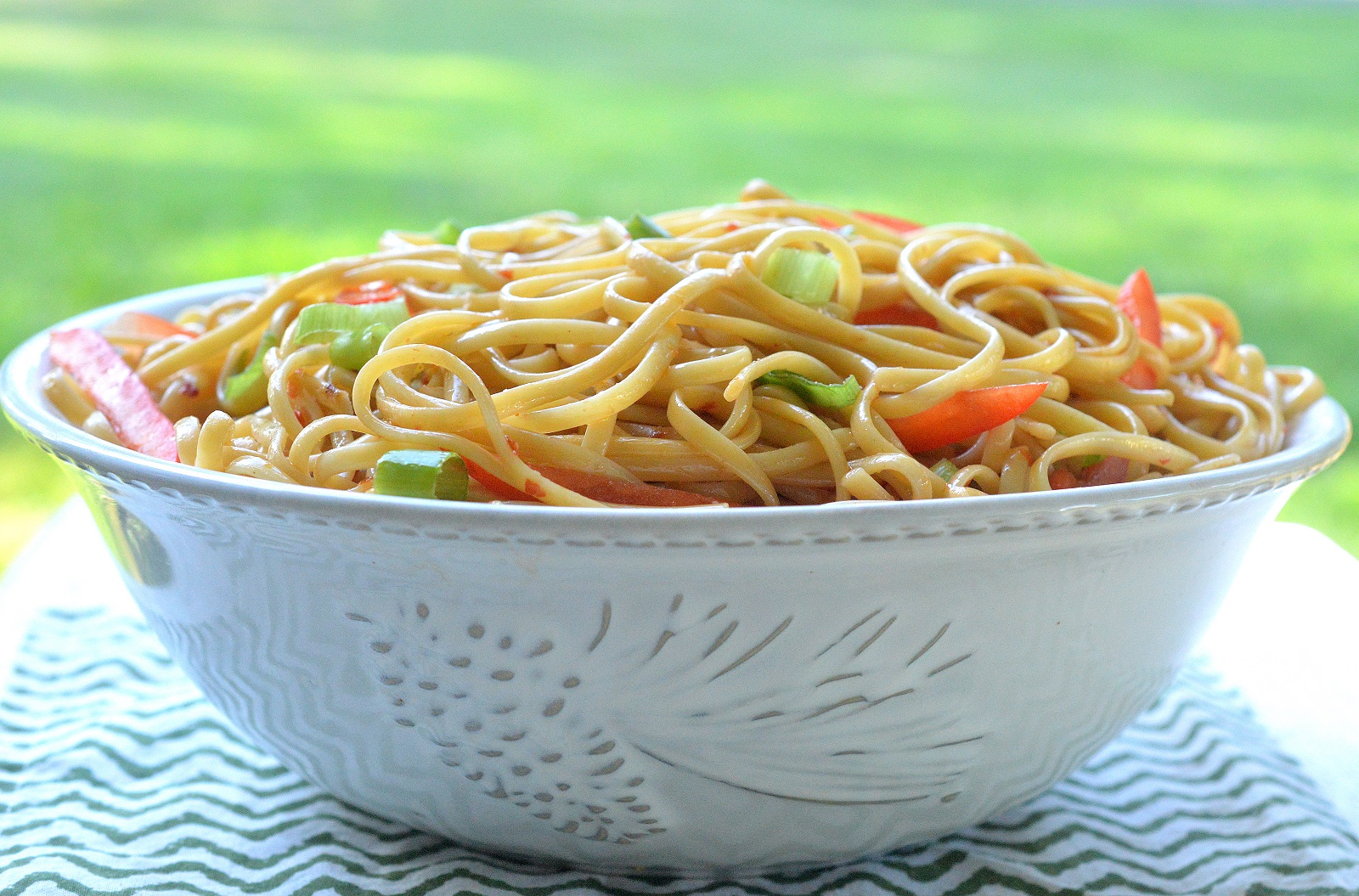 I hope you try these Lettuce Wraps out! Let me know what you think in the comments below OR tag me with your dish on Instagram! Love that!!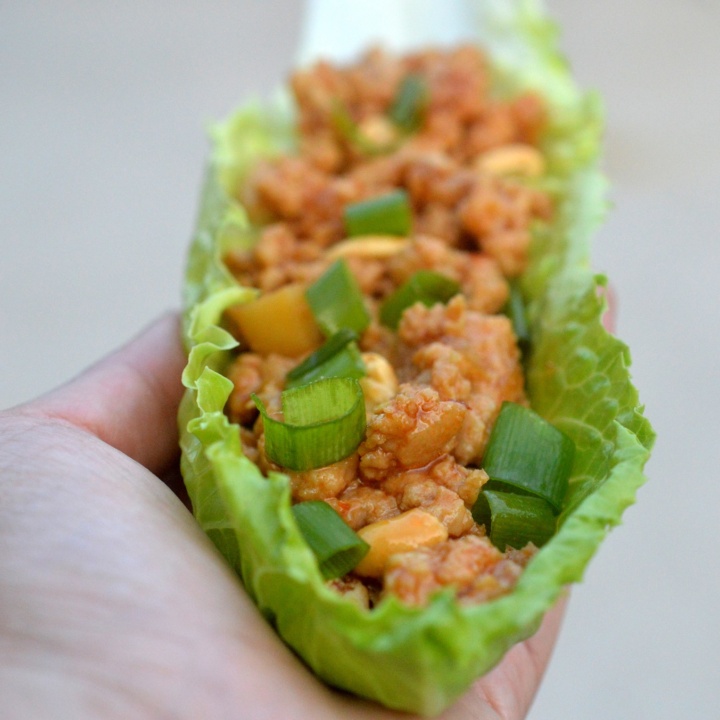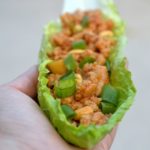 Print Recipe
Copycat PF Chang's Lettuce Wraps
How To Make Lettuce Wraps: Asian Chicken Lettuce Wraps are one of my, and my family's favorite meals! Such flavor! Plus they are light and SO easy to make! A one-pot wonder! Serve as an appetizer or main course.
Ingredients
1/4

cup

soy sauce

1/4

cup

ketchup

1

TBS

rice wine vinegar

4

teaspoons

Asian sesame oil

Red pepper flakes

1/2 tsp to 2 teaspoons base off of your enjoyment of heat/spice

3

TBS

brown sugar

1

teaspoon

cornstarch

1

TBS

olive oil

1/2

cup

diced onion

I like Vidalia

2

teaspoon1 minced garlic or 1 TBS garlic paste

1

pound

ground chicken

1/4

cup

chopped water chestnuts

or more

1/2

cup

cocktail peanuts

1

head iceberg lettuce

remove the core, separate into leaves or a head of Romaine lettuce (or a 3 pack of Romaine hearts) separated into leaves.

Optional: If you have chili with garlic sauce on-hand add in 1/2 TBS for an added depth of flavor
Instructions
In a small bowl, mixing cup or mason jar combine soy sauce, ketchup, vinegar, sesame oil and brown sugar, mix or shake well. Take 2 TBS of the sauce out and place in a ramekin or something small to mix the cornstarch and sauce together, forming a slurry, which will thicken your sauce. Set both aside.

In a large pot heat the oil over medium-high heat. Add in the onions and garlic and saute for 3 minutes, stirring often.

Add in the ground chicken, stirring often. Keep at it until chicken is no longer pink, about 4 minutes.

Carefully drain off any excess fat.

Add in 1/2 cup chopped water chestnuts if you enjoy them (found in a can in the Asian products grocery section).

Pour in the sauce mixture. Stir and allow it to come to a bubble.

Scrape in your slurry and allow the mixture to bubble and thicken for a few minutes.

If adding the chili with garlic sauce do so here.

Remove from heat and add in the water chestnuts and peanuts. Stir until well combined.

I like to then remove this from the heat and set aside for 30 minutes to an hour prior to serving. I feel the flavors just come together so nicely and reheat easily. You can also make this a day ahead. This is one of those dishes that just do well reheated. And I don't feel that way often.
Notes
Here is a great explanation of using cornstarch to thicken sauces as well as how to properly make a slurry.
Nutrition
Serving:
4
g
|
Calories:
615
kcal
|
Carbohydrates:
25
g
|
Protein:
42
g
|
Fat:
40
g
|
Saturated Fat:
7
g
|
Cholesterol:
101
mg
|
Sodium:
1172
mg
|
Fiber:
4
g
|
Sugar:
13
g