Jerk Chicken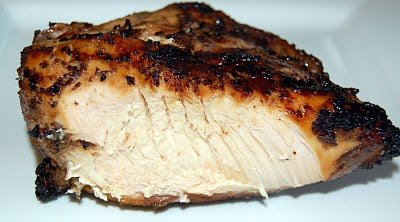 Wow, I can't believe that its been 100 posts now!
I have always loved cooking and sharing what I make with those around me, this just feels natural (except for the photography part lol...I am learning) and BTW is so much fun!! Thanks for making it so fun!!!
To celebrate 100 posts I have some giveaways!!!
1 - Pasta Bowl Set from Williams Sonoma - 1 - 13.5' inch serving bowl and
4 - 9' bowls representing the local palette of the Liguria Region in Italy - very pretty!
1 - $30.00 gift card for Harry and David
1 - Copy of my kids cookbook (with a twist) Picture Me Cooking
And 2 random prizes pulled from my grab bag...could be a cooking tool....could be a gift card...could be a subscription to Bon Appetit (my very favorite cooking magazine) - we will see what gets pulled out and ends up in your mailbox!
To enter all you need to do is leave a comment anywhere on here.
100 posts is a lot of recipes, take a look around and leave a comment anywhere you want, maybe you made a few or are inspired to...whatever.
Every time you leave a comment between today and noon EST Sunday June 6Th you earn an entry.
If you become a follower you earn an entry.
If you follow on Facebook or Twitter you earn an entryYou dictate how many entries, easy peasy!
Giveaway starts today and ends noon (EST) June 6th.
I will pick the winners the afternoon of June 6Th - Good Luck!
So happy BBQ season is here, can't wait to share some of my favorites!
Let's start with Jerk Chicken, I just love the flavors here and I kid you not, leftover boneless Jerk Chicken, thrown into red pasta sauce over pasta is so good it's nuts!!!
Jerk Chicken
adapted from Tyler Florence
1 bunch scallions, sliced thin (white and greeen)
4 cloves of garlic, chopped
5 Jalapeno, Habanero or Scotch Bonnet peppers - it depends on your taste for heat as well as the availability of peppers - Jalapeno gives a nice flavor I leave the seeds and inside stem for more heat - Habeneors will really kick it up the spice factor, these I remove the seeds and stem.
You could also use 1 or more Habenero's and the rest Jalapenos
1 cup chopped onion
4 TBS lime juice
3 TBS soy sauce
4 TBS light olive oil
1 TBS salt
1 teaspoon black pepper
1 ½ TBS brown sugar
1 TBS chopped fresh ginger
2 TBS fresh Thyme leaves
2 teaspoon allspice
½ teaspoon nutmeg
½ teaspoon cinnamon
3 pounds of chicken, your choice.
I make this for parties often and triple the marinade.
I use drumsticks, thighs, breasts and boneless breasts - that way everyone will find something they enjoy.
Make marinade by combining all ingredients in a blender and blend until smooth.
Marinate chicken overnight in gallon sized baggies - every so often grab the bags and massage the meat a bit to move the marinade around.
When ready to grill - be sure 1 hour prior you take the chicken out and let it get to room temperature.
Fire up your grill and cook chicken over med-high heat until well browned, some spots will char a bit, once the outside looks good, bring your grill to low (like an oven)close the lid and cook chicken until done.
Bone in chicken takes about 30-40 minutes, boneless 15 minutes or more, depends on the size of your pieces.
Enjoy!!
Colleen
PS don't forget to throw some leftover jerk chicken in pasta sauce...mmmmmmm!