What do you do when the weather can't seem to decide between winter or spring? One day I and grilling in flip flops and the next I have the heat blasting while I work in a sweatshirt and slippers craving comfort foods like this Mac & Cheese with Broccoli & Bacon.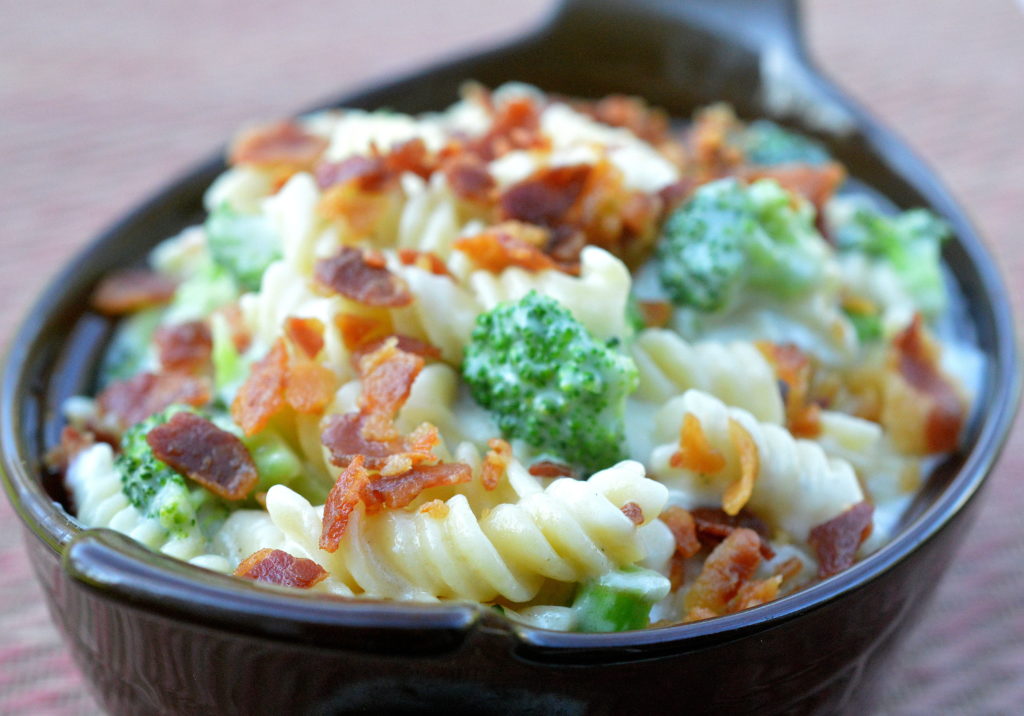 I can't figure this season out.
My kids would eat a macaroni & cheese dish, of almost any sort, 365 days a year if they had a say in the matter. Come to think of it...if said mac & cheese involved bacon. I would too!
This is an easy dish and it comes together quick, The only time consuming part is the grating of the cheeses, which you can always assign out to one or two of your minions. Kids make great cheese graters and it helps build great arm muscles...which is what "I" tell my kids!
Hey, people always take to tasks better if there is something "in" it for them 😉 Like if I said that this mack and chees would make any cellulite on your body disappear...Ummm a lot of us would be eating it every single day and possibly slathering ourselves with it...See what I mean??!! Then we could eat all the bacon!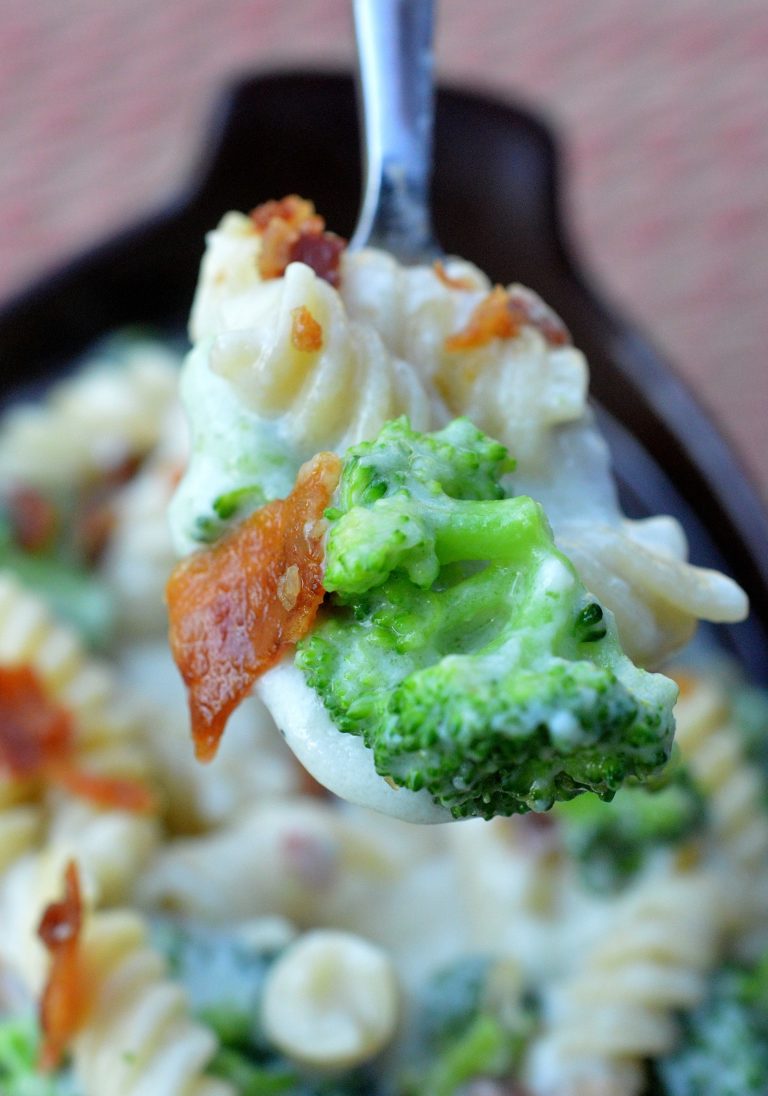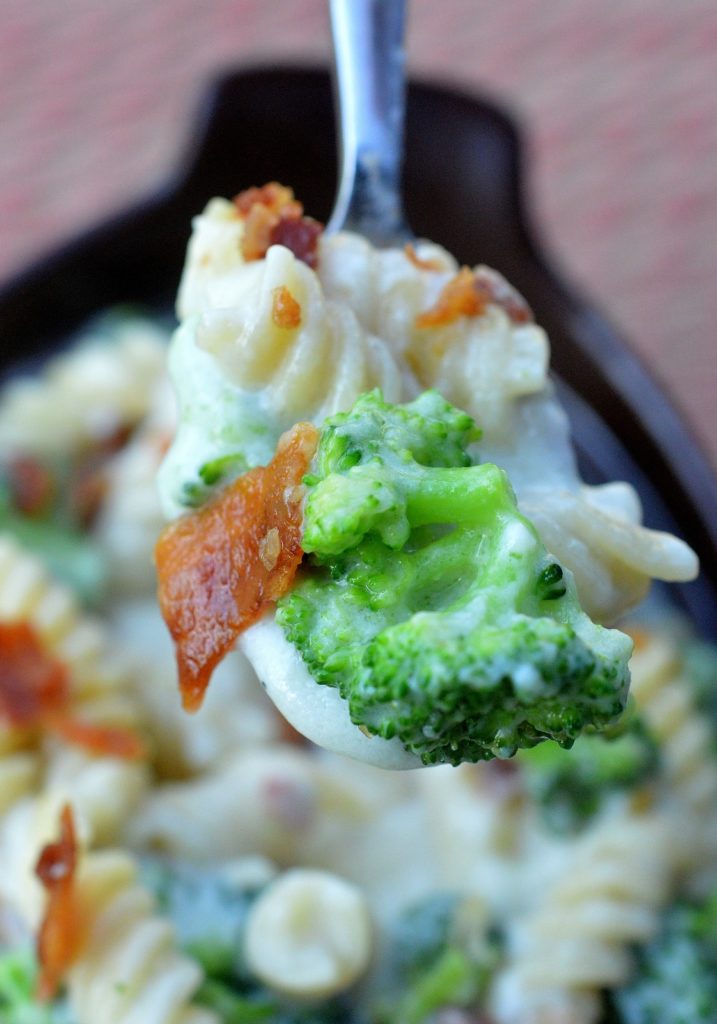 So...noodles, broccoli, bacon and cheese. Let's talk about the cheese. I like Cheddar for half of the cheese and for the other half, I rotate between Muenster, Gruyere or Monterrey Jack. If my kids get their way, they want the cheese to be half American. They are just not there yet when it comes to the bite of Cheddar. Go with your favorite for this.
For the noodles...Use which ever noodles you like, you can't go wrong here!
For the broccoli...I am a fan of steaming broccoli, not boiling it. My kids eat steamed broccoli like candy. That's it just steamed broccoli, without any seasoning. Gotta love that!
And bacon?? Whomever first coined the phrase bacon makes everything better was my kind-of food-lover!
This Mac & Cheese with Broccoli & Bacon does not need to go into the oven. But if you need to put it in there, go right ahead.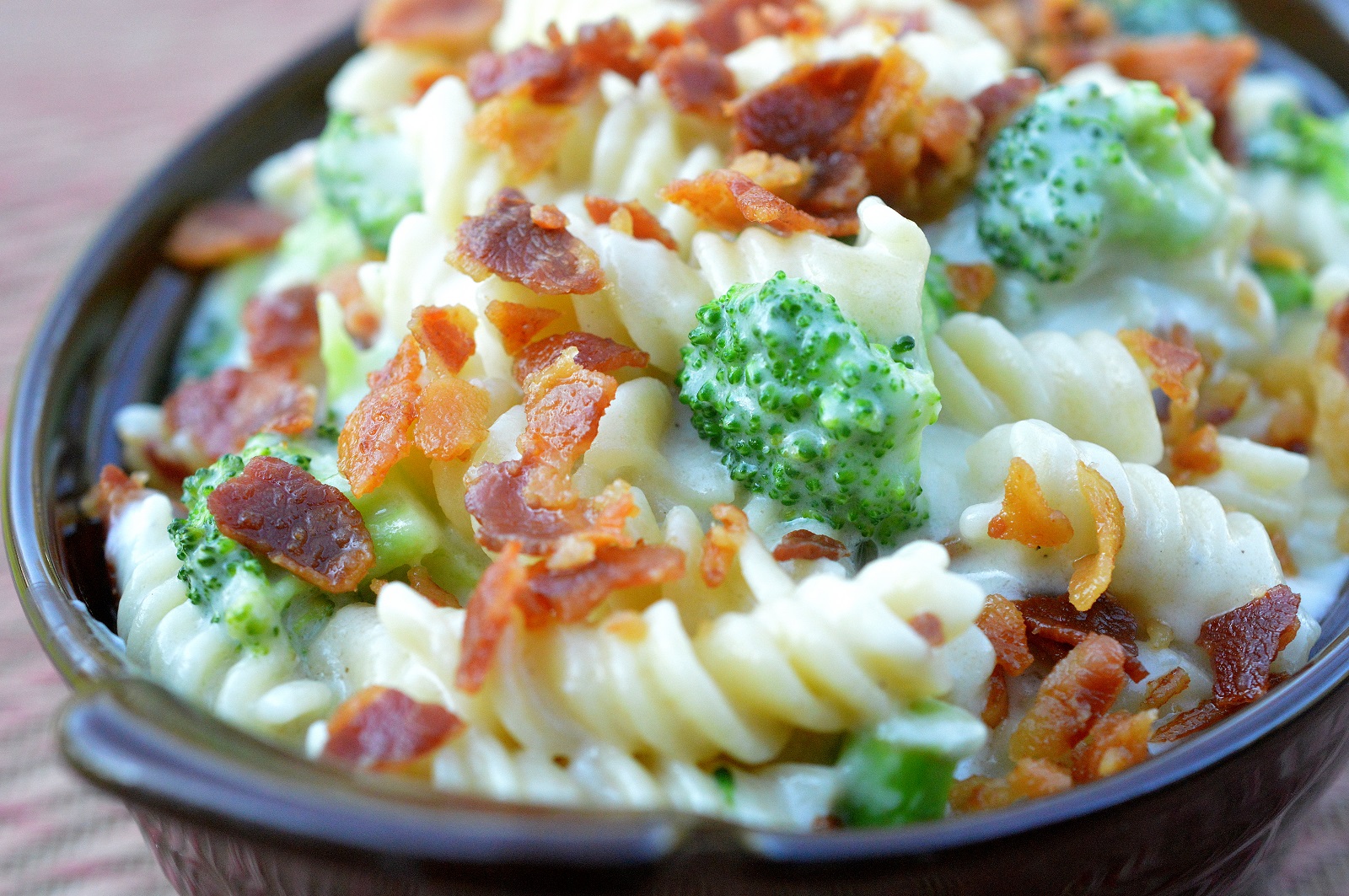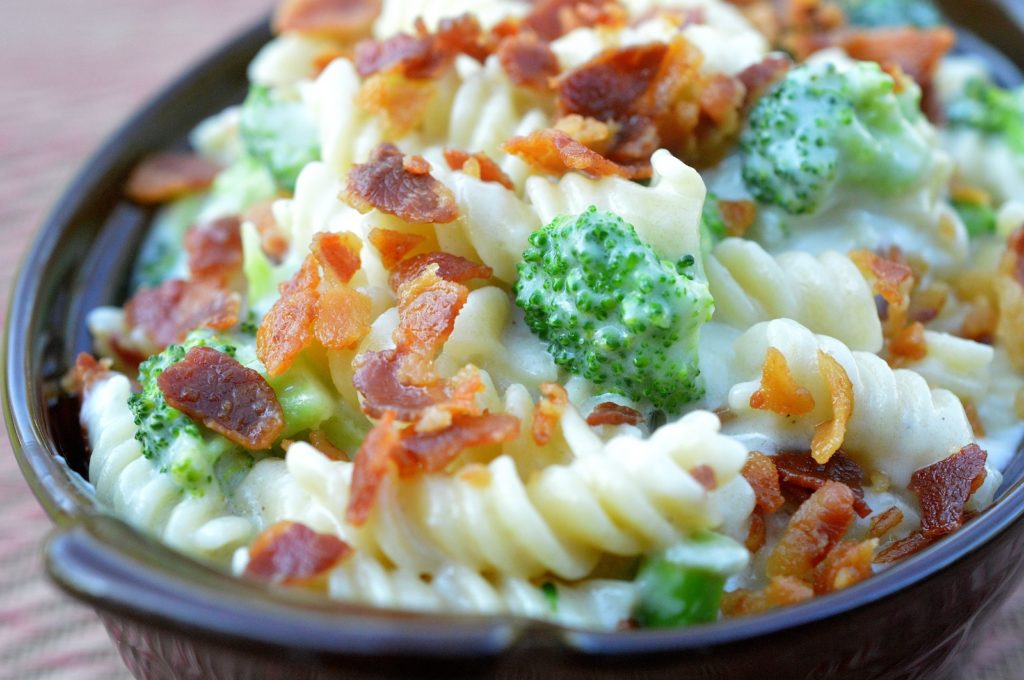 When I began making my mom's Mac & Cheese Recipe for my husband and kids about 5 years ago, I started adding bacon to it. So now, they can't seem to want mac and cheese without it.
Growing up we never had bacon in our mac and cheese...If we had, my life may have turned out very differently!! Mom...you know I never could get enough bacon growing up...with 5 kids, getting 2 slices was a big deal! ust keeping it real 🙂
Maybe now you know why I slept at Grammy's house so much!! I had allll the bacon (and Fudgesicles) a kid could eat...sometimes I had Fudgsicle's for breakfast!! Sigh...those were the days!
If you love mac & cheese as much as we do, check out this hunger-activating round up of mac & cheese recipes!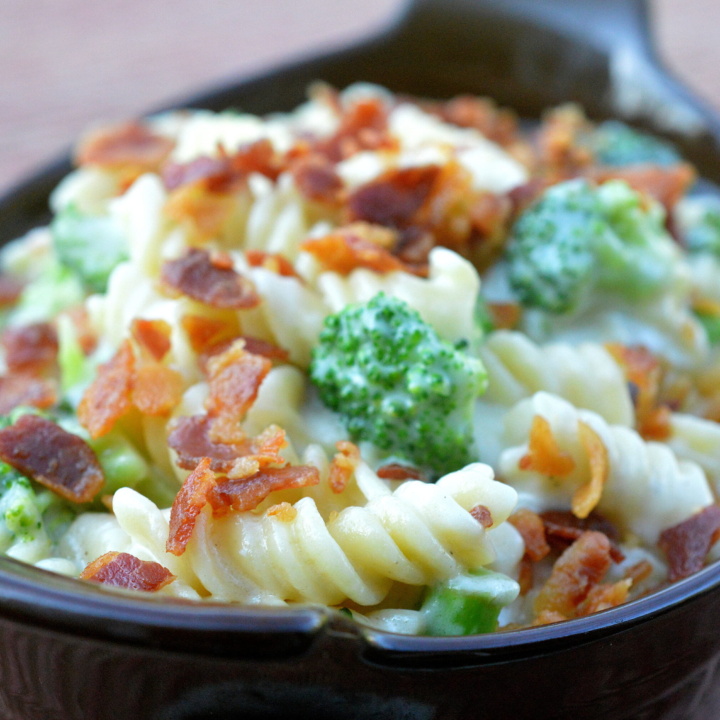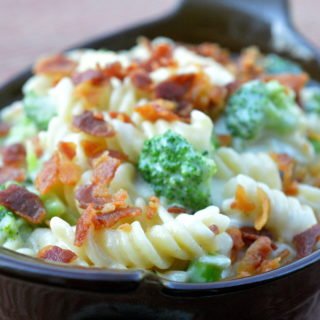 Mac & Cheese with Broccoli & Bacon
Ingredients
1

pound

box of your favorite noodles

10

slices

crispy bacon

4

TBS

butter

4

TBS

flour

4

cups

of milk

2

cups

shredded cheddar cheese

2

cups

of shredded Gruyere

Muenster, Pepper Jack, American or your go-to

Salt & pepper

A few shakes of red pepper or Tabasco if you want a kick

or thin sliced jalapenos

Steamed or blanched and drained broccoli florets

as much or little as you like
Instructions
Get your salted water boiling for the pasta and another pot for your broccoli.

Melt the butter in a small pot, whisk in the flour.

Slowly whisk in the milk.

Add the cheeses and whisk over low heat until melted.

Season with salt & pepper and if you like heat a little red pepper or Tabasco.

Steam or blanch your broccoli.

Cook your pasta according to box directions to al dente.

Once pasta is drained, pour the sauce over and fold it in. Taste and adjust seasoning if necessary.

Fold in the broccoli and the bacon and serve!
Notes
Feel free to add in thin slices of jalapeno if you want a little heat.
Follow me on Tik Tok for 1 minute videos