Monk Fruit In The Raw Sugar Cookies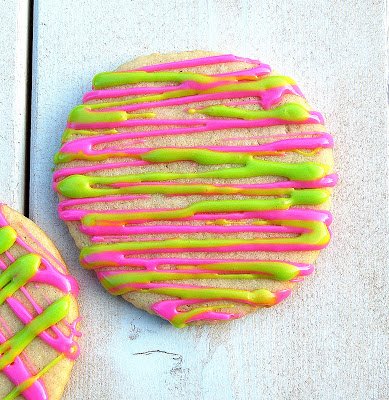 SO...you know how the Powerball jackpot was just 600 million dollars????
I bought a few tickets.
And guess what??
One was a winner!!
BUT...I only won 4 bucks.
SO, to console myself...my daughter and I made cookies!
BIG cookies!!
Cookies made with a new ingredient, which cut down the amount of sugar used.
I shared with you previously that I am attending Eat, Write, Retreat in Philly shortly.
One of the challenges I received in the mail was from the In The Raw Brand.  They asked us to make and decorate cookies, using their recipe which uses their newest addition to the brand Monk Fruit In The Raw.  It was exciting to receive the prototype bag full of Monk Fruit In The Raw, and it was light as air.  It was like  tiny dried snowflakes.  My kids immediately wanted a taste and they approved!
Monk Fruit In The Raw is made from monk fruit, a vine-ripened fruit native to Asia. A new product in the zero-calorie sweetener arena, Monk Fruit In The Raw is different from other monk
fruit-based sweeteners because unlike other products, Monk Fruit In The Raw does not contain added table
sugar, sugar alcohols or molasses.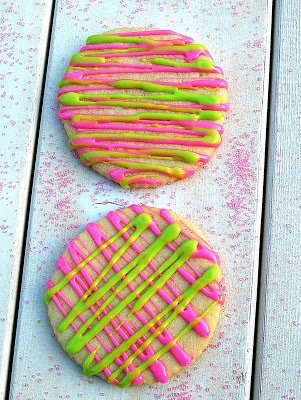 I am not one to go for any type of artificial sweeteners, I just don't like the taste and I have no interest in the added chemicals.  So when I read about this product, I approved.  Still, I was skeptical about the flavor the cookies would have.  But guess what...they were delicious!  Every member of my family...including me, gobbled up a HUGE cookie instantly!  They were better than many sugar cookies I have had in my life....and with less sugar...BONUS!!
If you follow my site you know it's not just me that cooks in our house.  My 8 year old is a force to be reckoned with in the kitchen...she just loves it and I would say she is involved in 80% of the cooking/baking in the house.  SO...when I told her about the challenge when the box came...she wanted in.  THEN when I told her their were possible prizes from Kitchen Aid, she was super excited!!  My crazy daughter put on her letter to Santa last December "The big mixer my mom has, but could I have red?"  Seriously what 8 year old asks for a Kitchen Aid stand mixer??  She also asked for a "cheesemaker" - whatever THAT is.
Santa did not bring her the mixer...but he did bring her a cookbook on cheese-making, lol!
First, my daughter wanted to make moon cookies??  I was like what are they...she explained what she was thinking...they were celestial-like from what I could gather and I have noooo talent in that department, so I said how about a simple cookie that you can put icing on.  Samantha decided to make BIG cookies they are where about 5 inches and she decided to go with neon colors, she said since so many of her summer clothes are these colors, it would be cool!  And she was right!
Can you tell which one I did and which one she did???  I can't!
When she took her first bite she proclaimed "THIS was the best part of my day!!!"  Then promptly took another bite.  One is going in her and her brothers lunchbox's  tomorrow and they can't wait!!
Disclosure: I was not compensated for this post, I did receive a bag of Monk Fruit In The Raw to make these cookies with and to try out in general.  I am also entered in to a competition at the upcoming Eat Write Retreat Conference I will attend. As usual, the thoughts expressed in this post are my own (and Samantha's!)
Monk Fruit In The Raw Sugar Cookies
2 cups unbleached all-purpose flour
½ teaspoon baking powder
¼ teaspoon salt
10 tablespoon unsalted sweet butter, softened
⅔ cup sugar
1 large egg plus 1 yolk, at room temperature
1 teaspoon vanilla extract
⅔ cup Monk Fruit In The Raw Bakers Bag
In a bowl, combine the flour, baking powder, and salt, set aside. In a large bowl, using an electric mixer on medium-high, beat the butter until fluffy, about 2 minutes. Add the sugar and beat until the mixture is incorporated for 3 minutes. Add the egg, yolk, and vanilla, beating well between additions. Add the Monk Fruit in the Raw Bakers Bag and beat until just combined. Reduce the beater speed to low and gradually add the dry ingredient, beating until the mixture is clumpy. Stop blending and use a flexible spatula to complete mixing the dough by hand.
Turn the dough out onto a counter covered with plastic wrap and divide it in half. The dough will be soft and sticky. Using plastic wrap to flatten the dough, shape it into a rectangle 4 to 5 inches wide by 6 inches long. Wrap dough and chill at least 3 hours or overnight in refrigerator.  To roll, place one cookie rectangle on a floured non-stick surface. Working quickly lightly dust top of dough with flour and roll out with rolling pin to ¼ inch thickness and 12 x 9 inch rectangle. Using a large 3-½ inch cookie cutter, cut out 6 large cookies. Repeat with the second dough. Place cookies 2 inches apart on parchment lined baking sheets. Let rest.
Preheat oven to 350.  Bake cookies on center rack for 10-12 minutes or until cookies are firm when pressed in the center and evenly pale gold in color. Let them rest 1 minute on the baking sheet. Transfer to wire rack to cool completely.
Decorate as you choose....then gobble them up!
Enjoy!!