I could literally eat Pico de Gallo every single day, with just a fork. I have long been obsessed with it. Sometimes I change it up and add in Mozzarella to make Mozzarella Pico de Gallo. It's a delicious twist and it rounds out the dish with the addition of protein which is about 8 grams of protein per ounce added. I like the texture the cheese gives the Pico as well.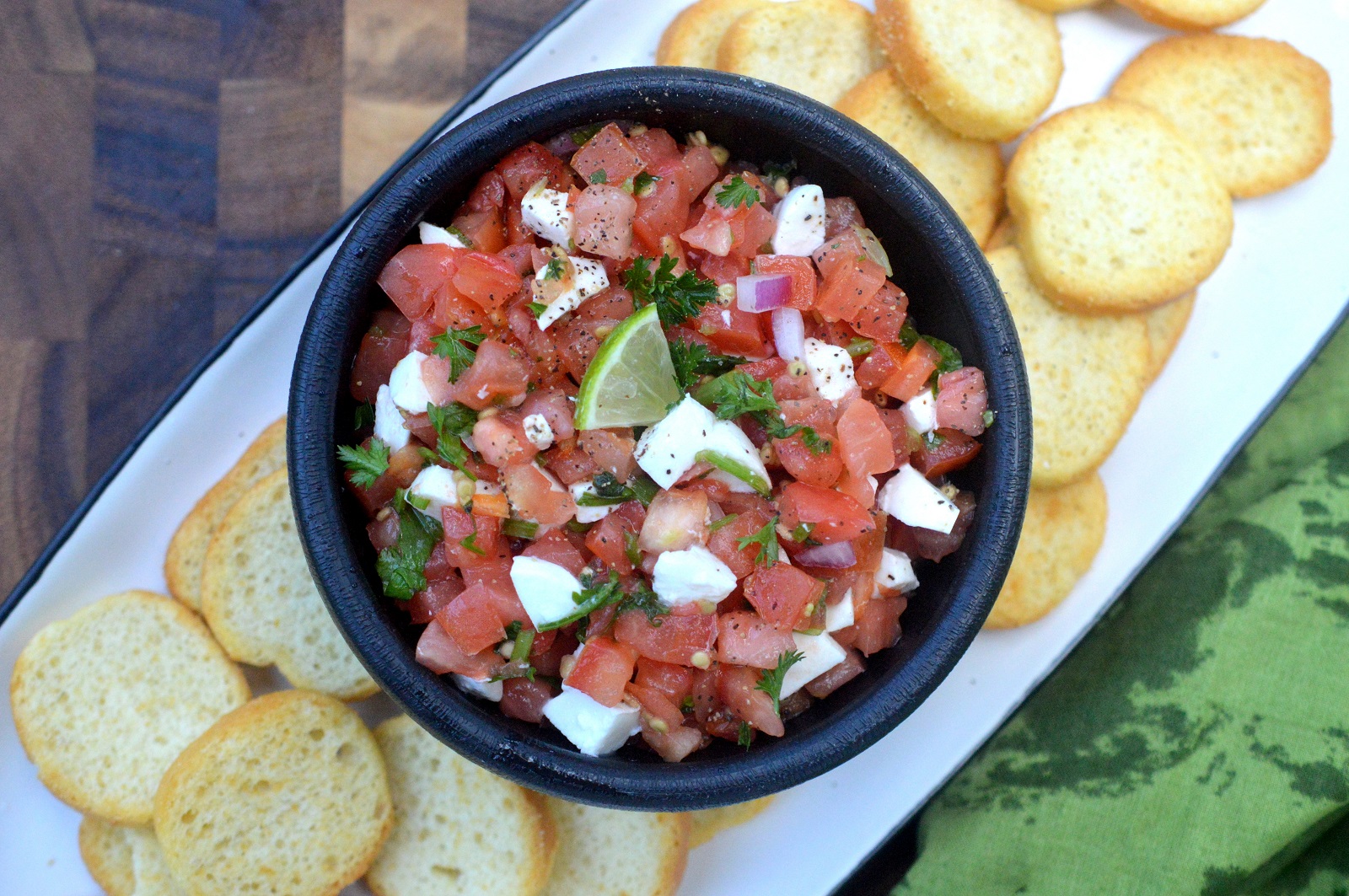 You can decide to enjoy the Mozzarella Pico de Gallo as is, with tortilla chips, as a component on tacos, burritos and salads and more.
Who else has a crazy obsession with tomatoes?? 
As a kid, my favorite lunch was a tomato and Miracle Whip sandwich with lots of salt and pepper...Not gonna lie, sometimes I just wanted a Miracle Whip sandwich, lol! Anyone else eat that as a kid??
Back then anything I could do to NOT eat meat...I did! You wouldn't believe me if I told you all the ways I would try to pretend I at the meat at dinner OR the places I attempted to stash chewed up meat...Haha! The only meats I wanted were bacon and chicken. My parents had their hands full with me.
I make this recipe for 5-minute salsa ALL-THE-TIME!! I take it everywhere and I can literally drink it with a straw, lol! It's perfect for making something in a hurry for guests or to take to a party. Plus it's so economical and it doesn't matter what the season is! Check out my post for it and learn the secret (get your straw at the ready!!).
These days, I am a total carnivore! I love pork, beef, veal, chicken, lamb and most things from the sea. I like it all, as long as it's cooked, barbecued, smoked perfectly, to my taste, I'm in!! One thing I have yet to try is goat. I've watched Top Chef for years and it seems like if you know what you are doing when you prepare it...It's amazing!
OK, back to the tomato love and this Mozzarella Pico de Gallo! It really is easy to make Pico...just chop up a few things, add in seasoning, fresh lime juice, and a lil honey and it's gold! I smother my crazy delicious White Chicken Enchiladas in Pico de Gallo and I really like adding a hefty few spoonfuls to various salads too.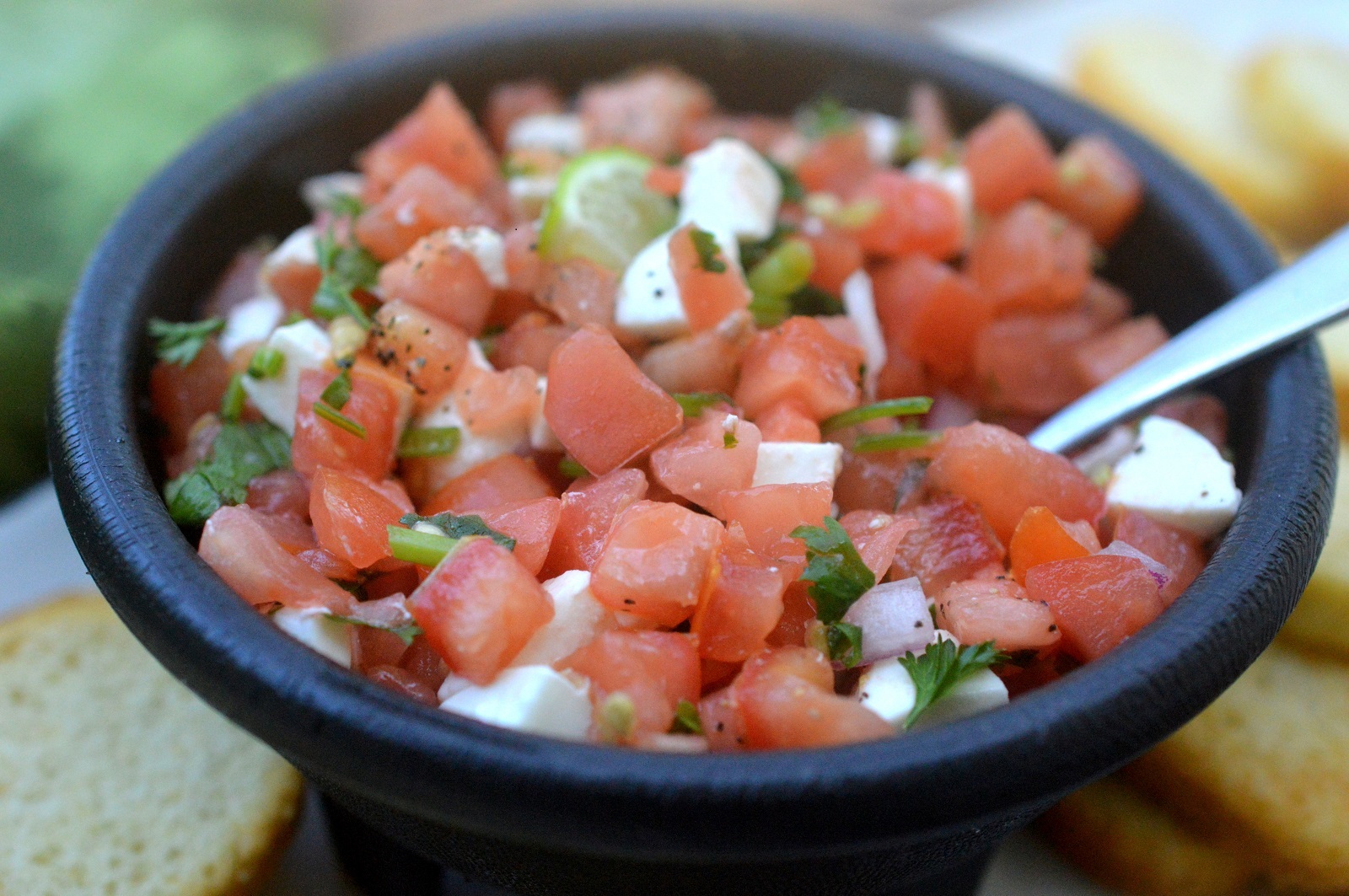 How Do You Make Mozzarella Pico de Gallo?
To make Pico de gallo at home, all you need are a handful of fresh ingredients. Fresh is why Pico is so darned delicious! Tomatoes, jalapenos, red onion, garlic, seasonings, fresh lime juice a drizzle of honey and cilantro (or if you are among the 10% or so of the population that detests cilantro and like Julia Child want to pick it out of things and throw it on the floor...opt for parsley, lol!!)
Chop it all up, combine the ingredients and let it sit for 30 minutes to develop more flavor. Give it a toss and you are good to go!
What Variations Can I Make To It?
Swap out the jalapeno for a serrano pepper or the hottest pepper you enjoy. If heat is not your thing, use green pepper instead for crunch and color. Honey is not necessary however I enjoy a small drizzle in my pico de gallo. You can switch out the type of onion you use as well.
YOU can add in chopped cooked shrimp or chopped avocado too. Make it your own!
I also really enjoy a drizzle of balsamic glaze on my pico.
What does Pico de Gallo Go With?
EVERYTHING!! Lol! Seriously I eat it like it's my job with just a spoon most often. Pico de Gallo goes fantastic with tortilla chips, its fantastic on enchiladas, quesadillas, salads, in tacos in or on burritos, on grilled shrimp, fish, and other proteins as well. If I have leftovers (almost never), I will toss with pasta and a drizzle of oil and call it a meal.
What Kind Of Tomatoes Should I Use To Make Pico de Gallo?
I have no idea what the die-hard traditionalists will say, in my opinion, any tomato will work. I have made Pico with Grape tomatoes (easiest IMO), Heirloom, Cherry tomatoes, Plum or Roma...whatever in-season ripe tomato you have will work fine. Sad tomatoes should not be used to make Pico.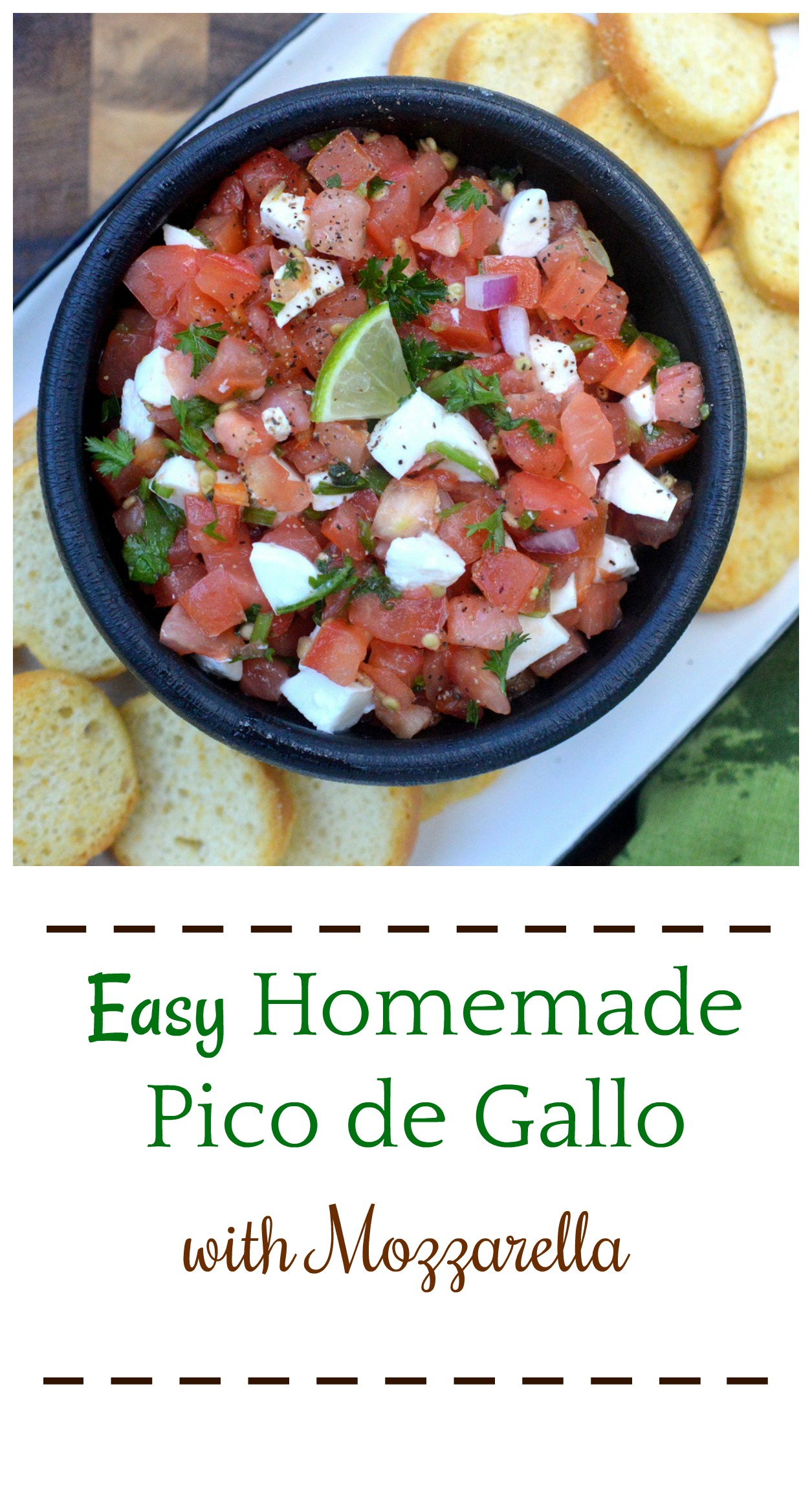 If you haven't made your own Pico de Gallo before, try it this summer. No better time to make it than when summer produce is at its peak!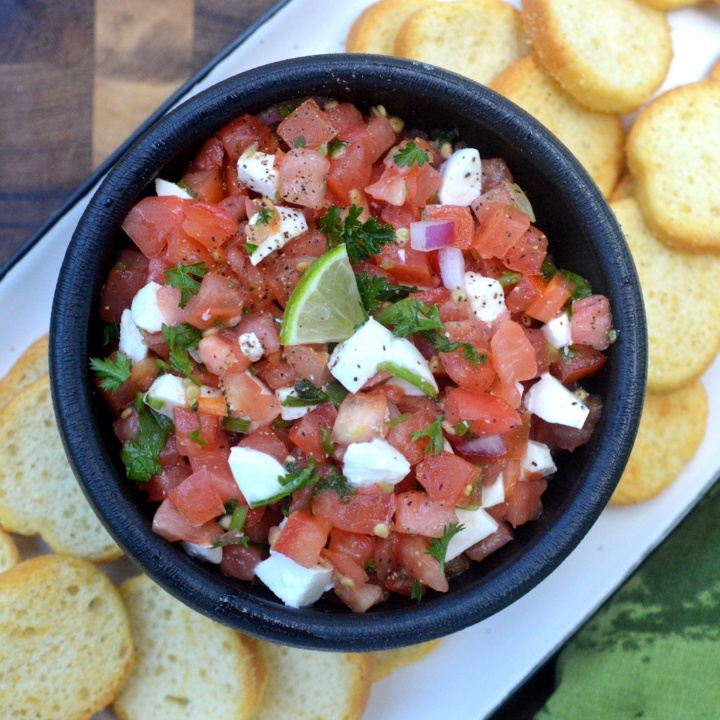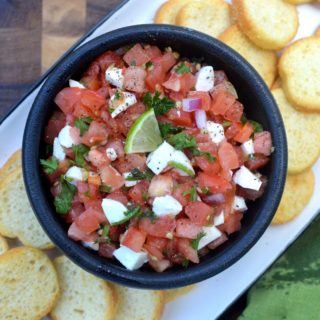 Mozzarella Pico de Gallo
Fresh Pico de Gallo lives up a number of dishes and is delicious as an appetizer. Add in cheese to make Mozzarella Pico de Gallo for both a flavor, texture and protein boost!
Ingredients
3

cups

diced tomatoes

seeded (see notes)

⅓

cup

minced red onion

1

jalapeno

seeded and minced (leave seeds in if you enjoy spicy heat)

2

large garlic cloves finely minced

¾

cup

or more diced fresh Mozzarella (Bocconcini or ciliegine are the smaller balls & work great)

¼

cup

chopped cilantro

or parsley

Juice of ½ or 1 lime

A few dashes of salt

1

TBS

honey

optional
Instructions
Seed and dice your tomatoes, mince your onions, jalapeno and garlic and add to your mixing bowl.

Toss gently.

Add in diced mozzarella, cilantro/parsley, lime juice and salt and toss to combine.

Drizzle on just a bit of honey if you wish and toss again./ Cover and chill for 30 minutes.

If you enjoy balsamic glaze, drizzle some over top and serve and enjoy!
Notes
If I make this with grape tomatoes, I don't worry about seeding them since they are not as watery as large tomatoes can be.
Rule of thumb is to cut your tomatoes in half, use a spoon to scoop out the seeds and pulp. If the core of the tomato seems white or tough, cut that out as well
As far as jalapenos go, you never know if the one in front of you is mild or hot as hades! I usually rub my finger across the inside of jalapeno and pop it in my mouth to see what I am dealing with (I like heat).
If spicy is not your thing OR you have a HOT one...Remove the seeds and stem from the jalapeno and discard. And of course, always be careful! Even hours later or even the next morning in the shower...avoid placing fingers that touched jalapenos in your eyes...trust me!
Nutrition
Serving:
4
g
Calories:
47
kcal
Carbohydrates:
7
g
Protein:
8
g
Fat:
1
g
Saturated Fat:
0.6
g
Cholesterol:
3
mg
Sodium:
113
mg
Fiber:
2
g
Sugar:
4
g
Follow me on Tik Tok for 1 minute videos