If you enjoy apples and caramel, you're going to love this Caramel Apple Bread recipe! It's a quick bread, so not much effort is needed when making this.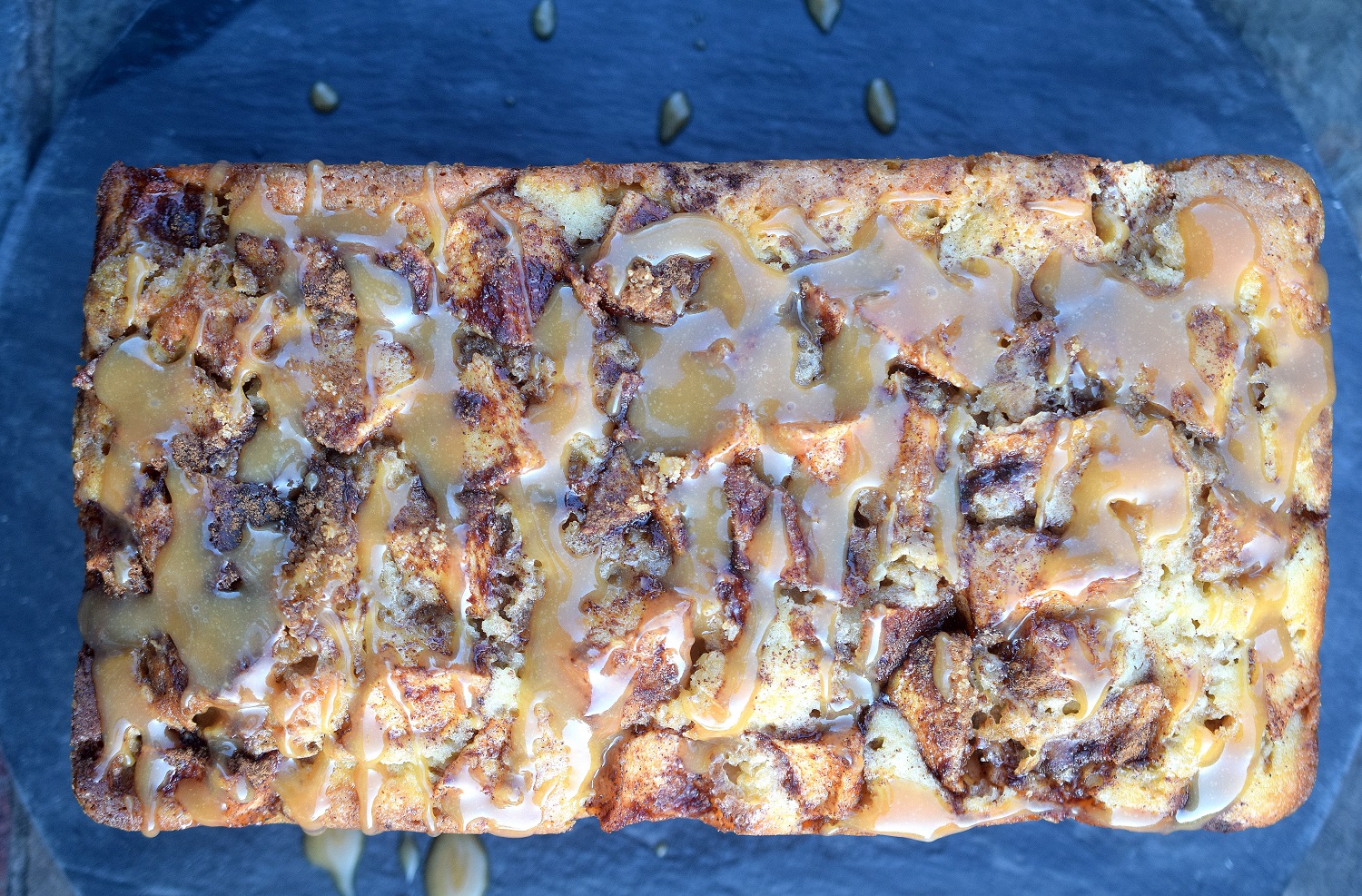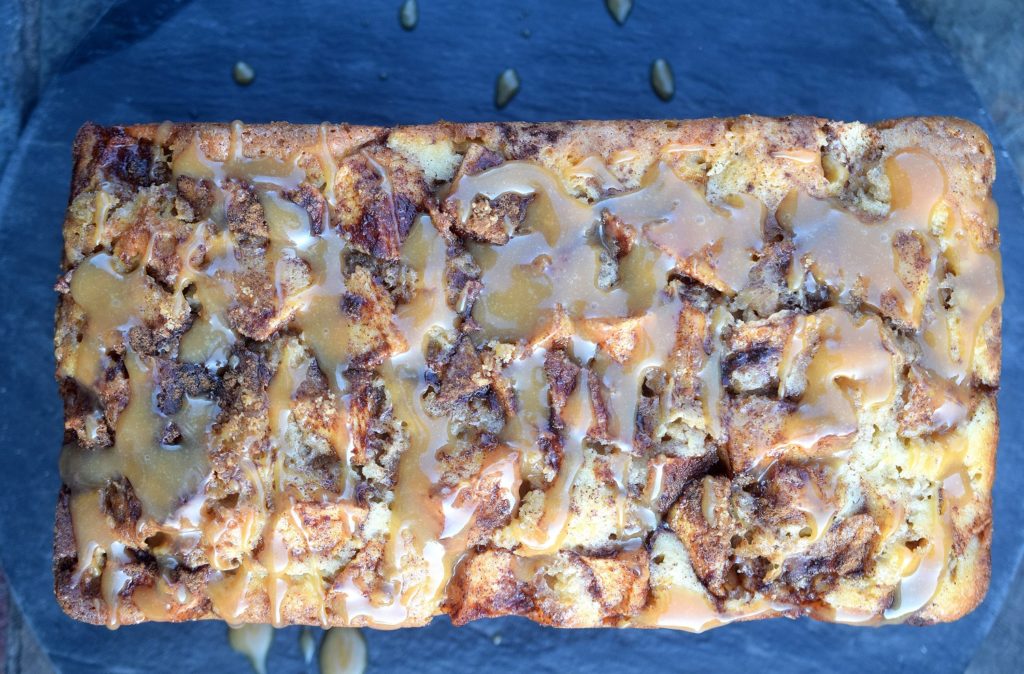 One of the first desserts I can remember making is an "Apple Jewish Cake" that my friend Chris had the recipe for (from someone in her family).  I loved that cake and made it often from my late teens into my early thirties.  Back then, I never experimented with it because…well I thought it was perfect! That cake was present for many milestones and memories of mine…probably more than any other dessert for sure.
Besides remembering the flavors (which were yummy), I remember how dense the cake was and how long it took to bake (a loooong time). Flash forward to a busier life filled with kids and a zillion other things to get done and you get this Caramel Apple Bread (modeled after the ease of a Banana Bread).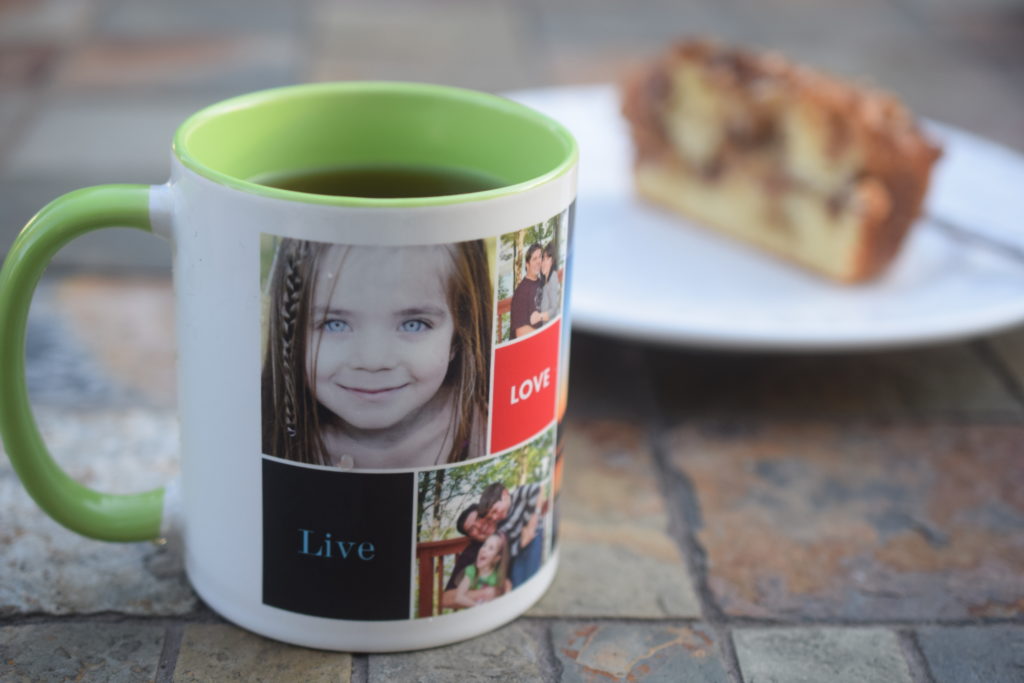 I had to also share my new mug!! You know how sometimes your child or spouse creates a photo gift for you and you just love it? Well creating your own special keepsake is pretty epic too!  I am an emotional momma, lol!  So I really enjoyed picking out a few photos that have strong memories for me to create my mug and I seriously love it! Making this mug is the best thing I did for "me" in a while!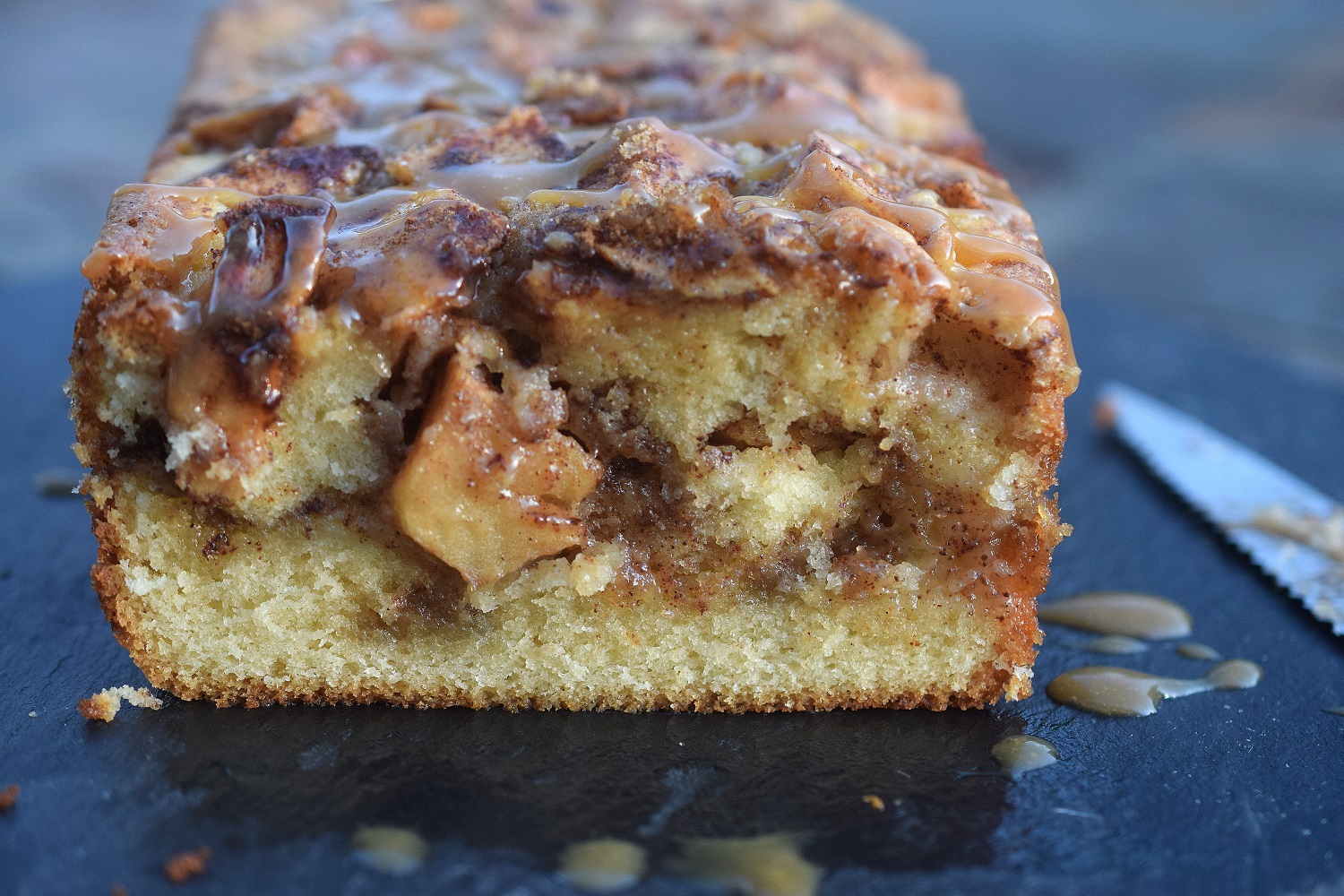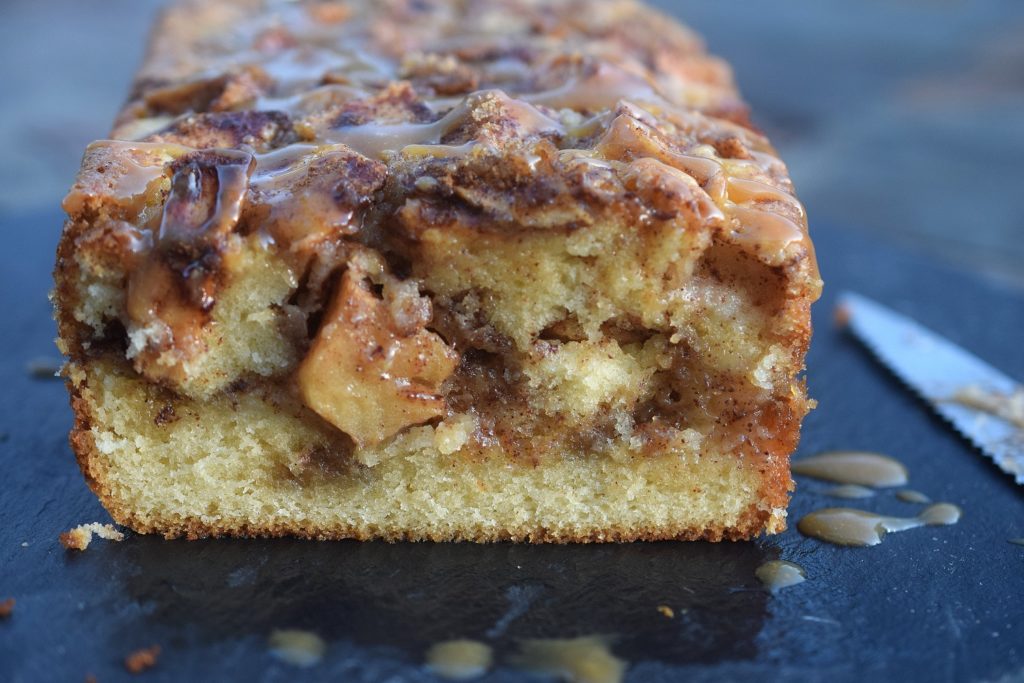 I also whipped up a perfect treat to accompany my new tea-filled mug!  Now I look at my mug and get filled with joy at the miracle that is my family as I nibble away on this simple, flavorful & delicious Yeast Free Caramel Apple Bread that my whole family enjoys!
This scrumptious Caramel Apple Bread bread is easy to make and makes your whole house smell delicious.  Have a teenager who hangs out in their room or a husband who hangs out in his man cave?  They will come out in search of the morsel behind the smell...trust me!
The bread itself is sweet and moist, its loaded with apples and the caramel on top brings it to another level! My daughter loves making caramel, sometimes just because. Luckily for me I was able to snag some of it for this!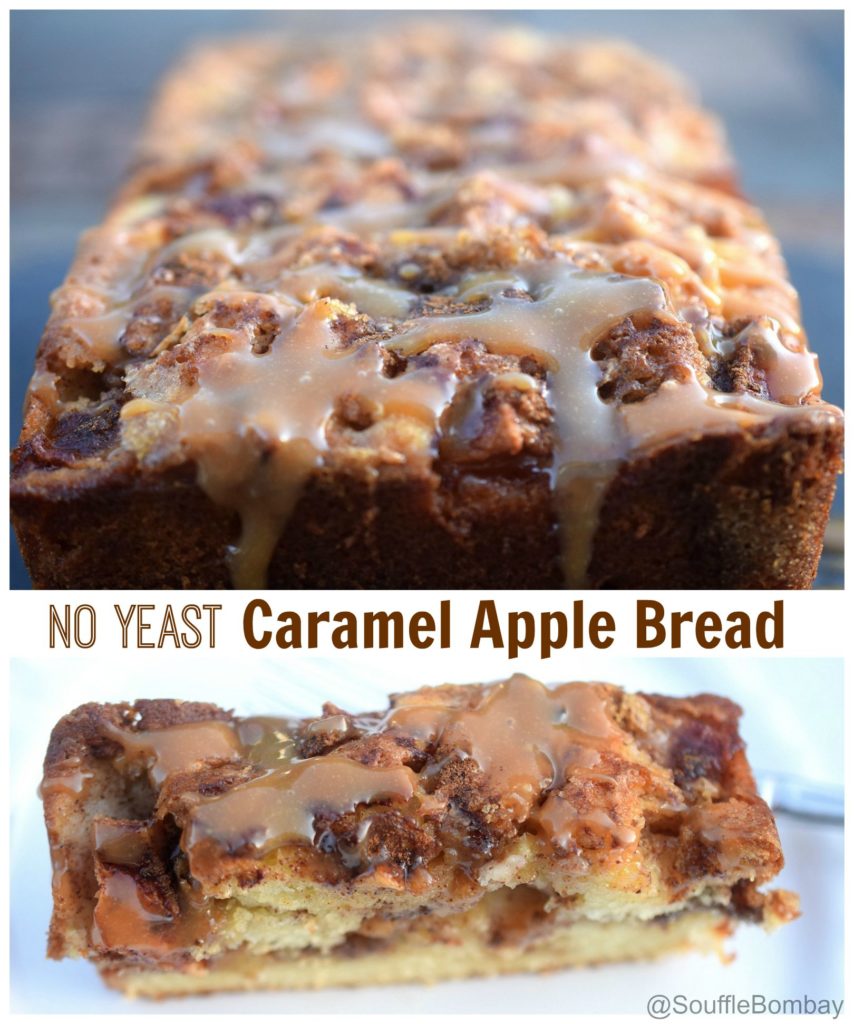 Make this Caramel Apple Bread a few times this fall!! That is all, lol!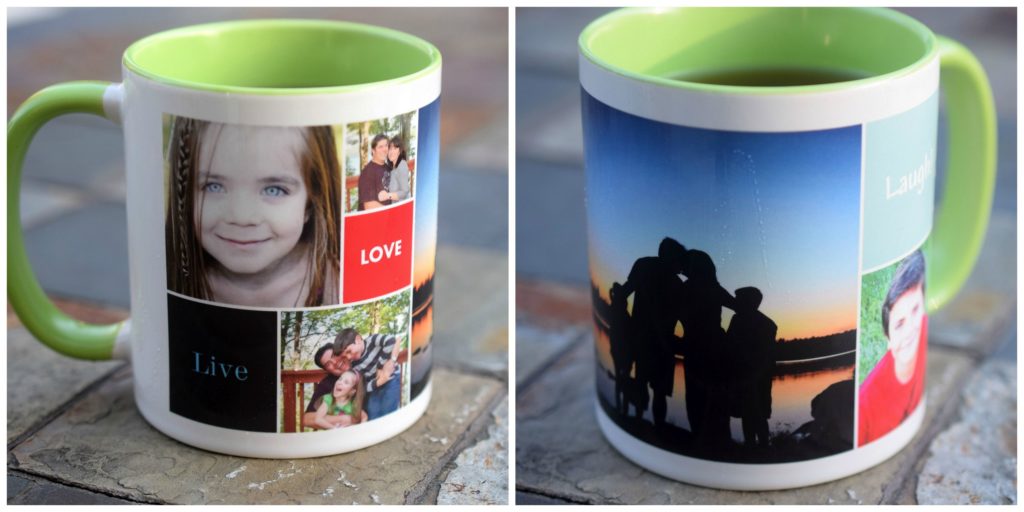 Enjoy the Caramel Apple Bread!!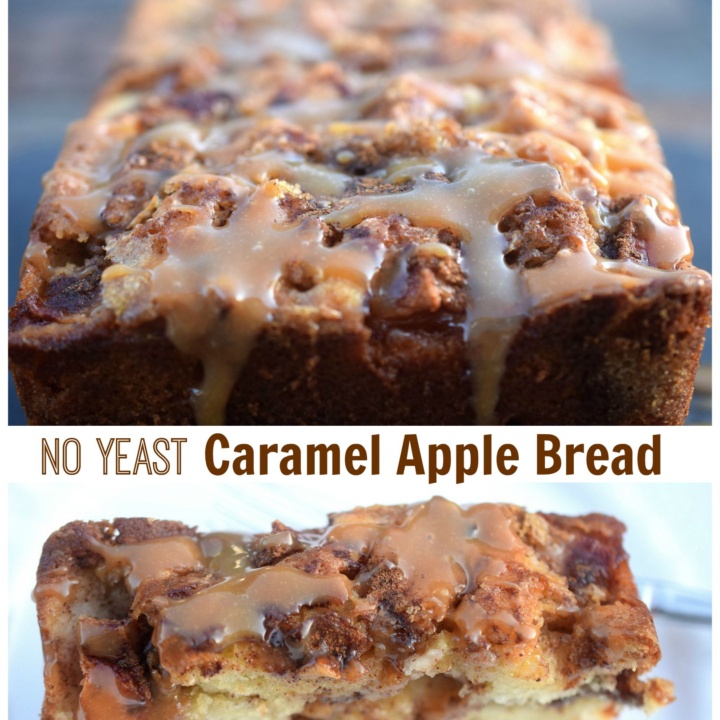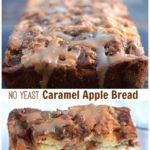 Print Recipe
No Yeast Caramel Apple Bread
Ingredients
1/4

cup

white sugar

1/4

cup

brown sugar

1

TBS

cinnamon

2

apples

peeled and cut into chunks

1

stick butter

1/2 cup, room temp

3/4

cup

sugar

2

eggs

1

TBS

vanilla extract

1 1/2

cups

flour

1

tsp

baking soda

1/2

cup

whole milk

Homemade or store-bought caramel
Instructions
Preheat your oven to 350 degrees and grease a 8x4 or 9x5 loaf pan.

Cut a piece of parchment paper to fit into your loaf pan with plenty hanging out from the long side of the pan (non on the short ends). You want to use this to lift the bread out after it cools a bit...that way your top will stay perfect.

Combine the 1/4 cup of sugar and the 1/4 cup of brown sugar with the TBS of cinnamon in a bowl big enough to toss your apple chunks.

Reserve 2 TBS of the cinnamon sugar mixture for the top of the bread.

In a mixer or by hand, combine butter and sugar until creamy.

Add in the eggs and vanilla and mix until smooth.

Add in the flour, sprinkle the baking soda over-top of the flour and mix it in until smooth.

Mix in the milk until smooth.

Scrape 1/2 of the batter into your prepared pan.

Layer 1/2 of the apple mixture on top.

Cover with the remaining batter and place remaining apples on top.

Coat the top with your remaining cinnamon sugar mixture and bake until a toothpick inserted into the center comes out mostly dry about 50 minutes.

Cool in pan 15 minutes before gently lifting out the loaf by first running a knife around the edges that touched the pan then using the parchment paper to loft the loaf to a cooling rack.

Drizzle with caramel and serve.
Notes
I swear by Ina Garten's Caramel Recipe
I have replaced the milk with vanilla yogurt with success.
Feel free to add chopped nuts to the top if you enjoy that.