Fresh, delicious summer corn, cut from the cob, then sauteed with Old Bay Seasoning until perfectly cooked...THAT my fellow food lov-ahs, is my idea of perfection!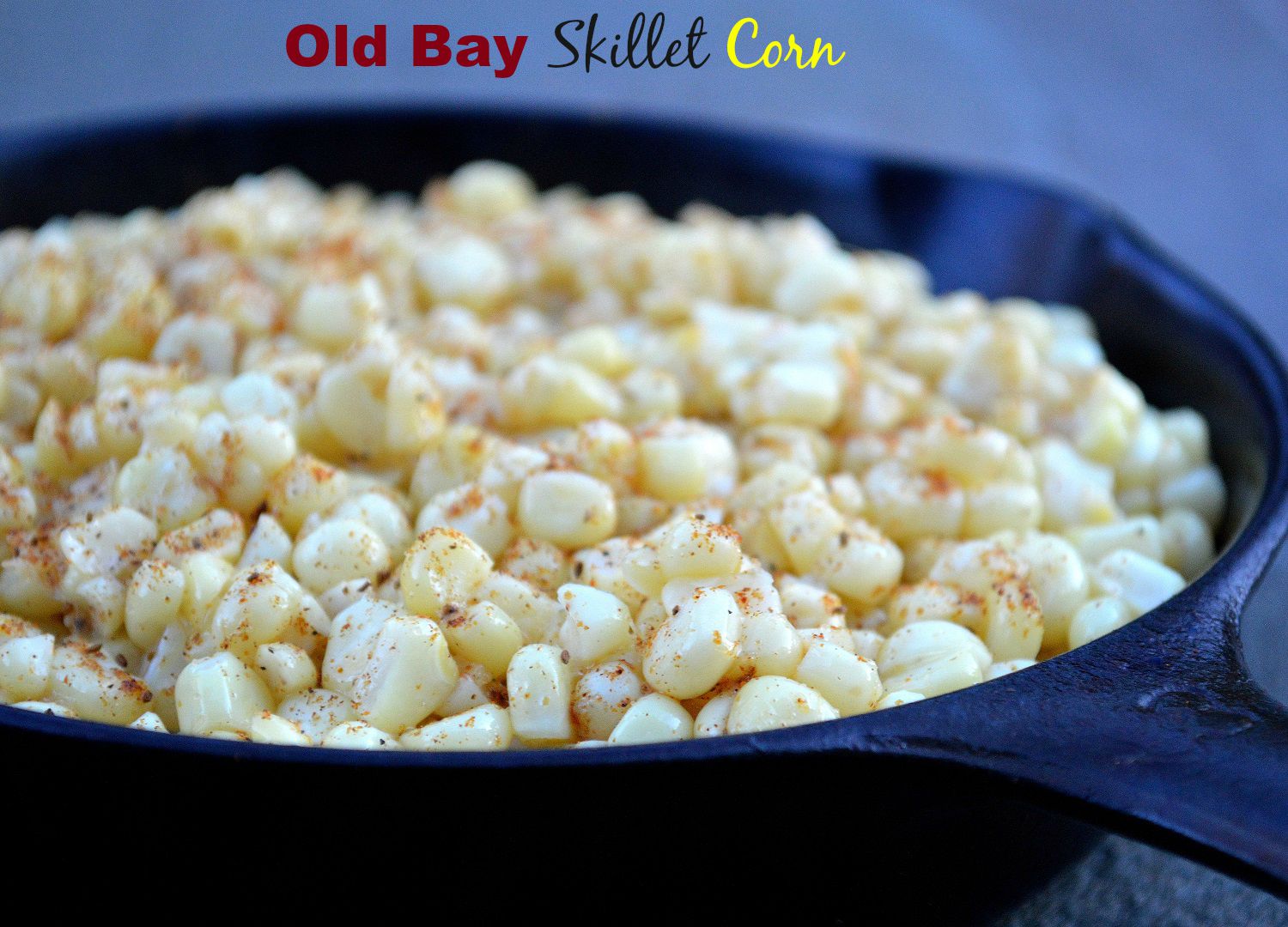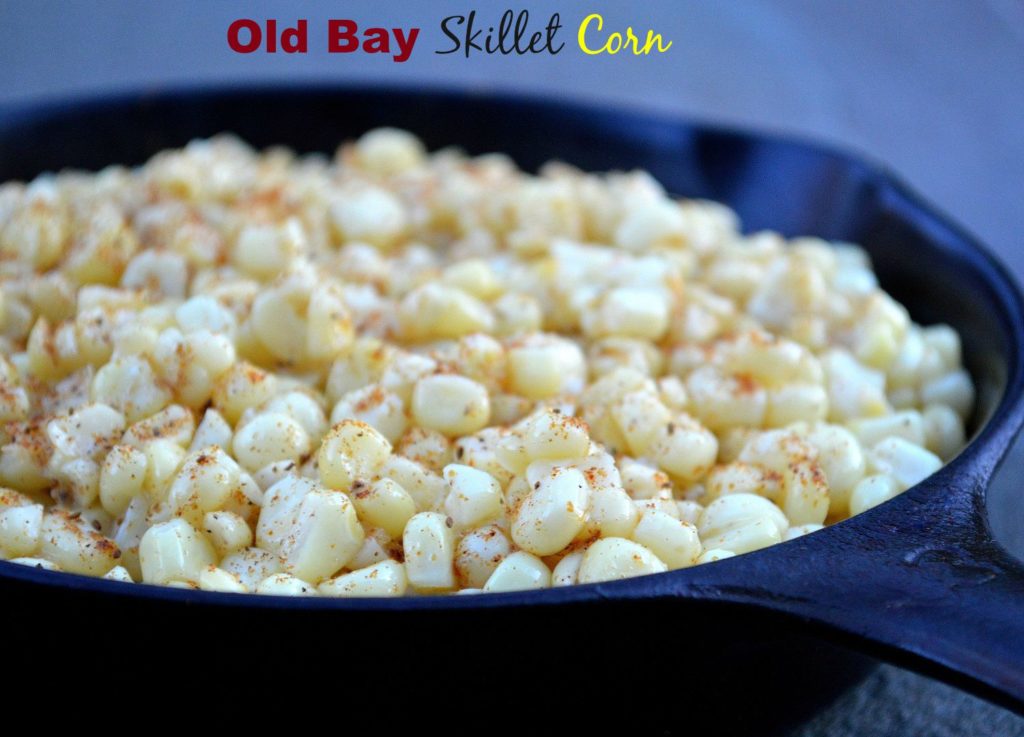 Every single member of my family loves corn on the cob, and my husband just may be able to win a contest (if there was one) for how fast a human being can strip an ear of corn clean...he's like a human typewriter!
My family's love-affair with corn on the cob began when we were kids.  After a 10+hour drive, from PA to Ohio, we would arrive and head right for the corn fields to see who could top their previous years record of ears of corn devoured...I mean eaten.  My dad was always the clear winner!
Corn eaten on the cob is delicious and an American rite of passage, however I was never one for the corn getting stuck in my teeth.  So at a young age I began cutting my cooked corn off the cob. Something I had watched my Uncle Roy do.  When my parents would say "Colleen what are you doing?" Because, let's face it...a kid wielding a steak knife at the dinner table trying to cut her kernels off the cob and catch them on her plate...had corn flying in every direction!  I would simply reply "Uncle Roy does it!".
I began doing this because I didn't want the corn bits stuck in my teeth.  I continued doing it because, the butter and salt would coat every single kernel and highlight the perfection that is summer corn, to me it was way better than eating it on the cob.
I'll admit it...I'm a corn snob.  If I take a bite and its blah.  Nope...not gonna eat it.  I patiently await peak season corn (I am the same when it comes to watermelon, lol).
My second born is a summer baby. For her 1st birthday, we invited 60 people and had a huge backyard pool & BBQ party.  I knew corn had to be on the menu, however no way was I going to add all the heat, time and mess of boiling pots of water to the party.  Instead, I decided to cook it in batches in a huge pot off the cob.  I had never had it that way, however I just knew it would be good.  Because I love spice and bold flavors...I shook some Old Bay Seasoning on top of it.  Once I tasted it...Ohhh baby I continued to shake and shake the Old Bay on and boy was it a smashing success.  everyone loved it and I have been making it that way ever since!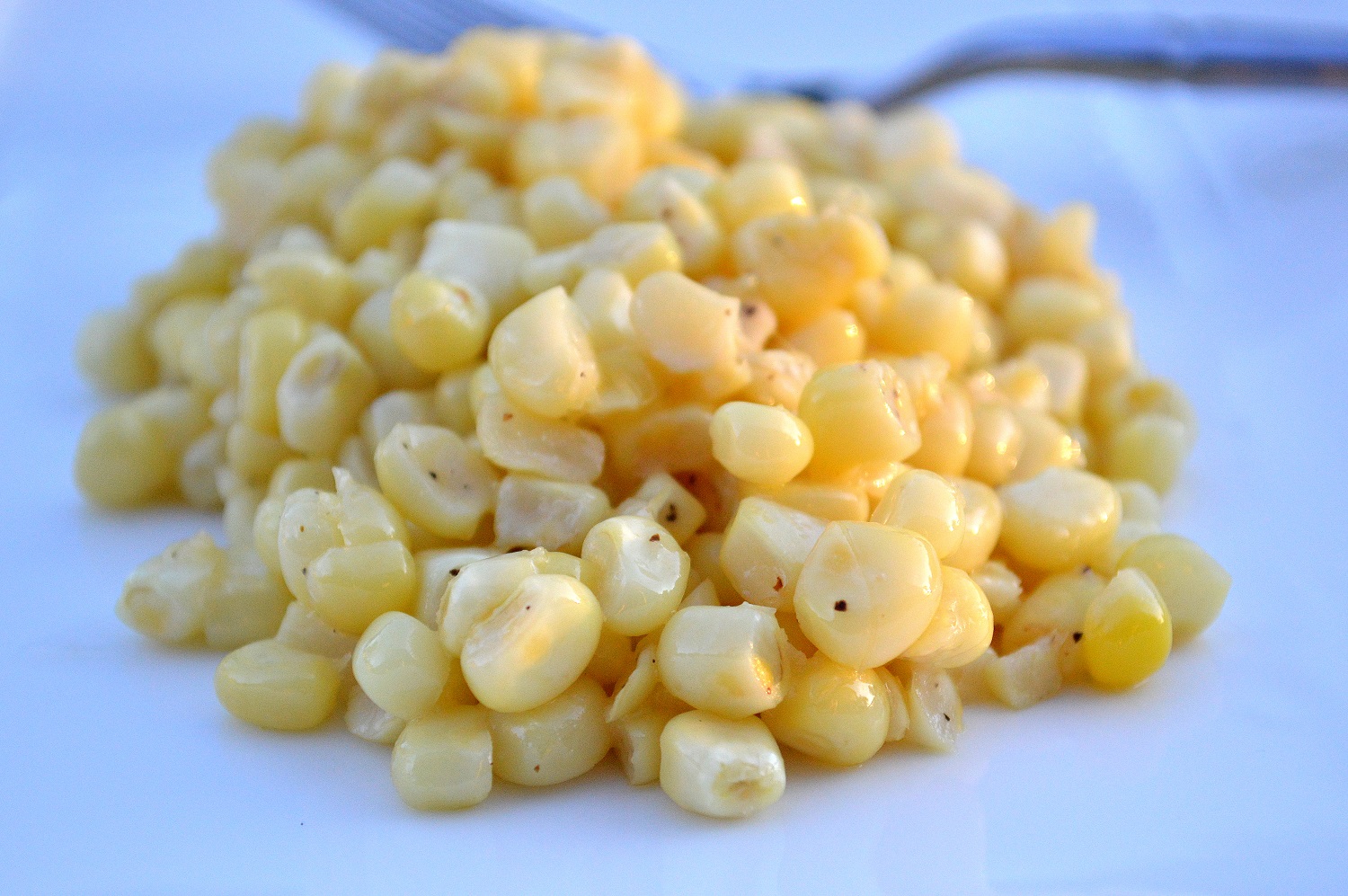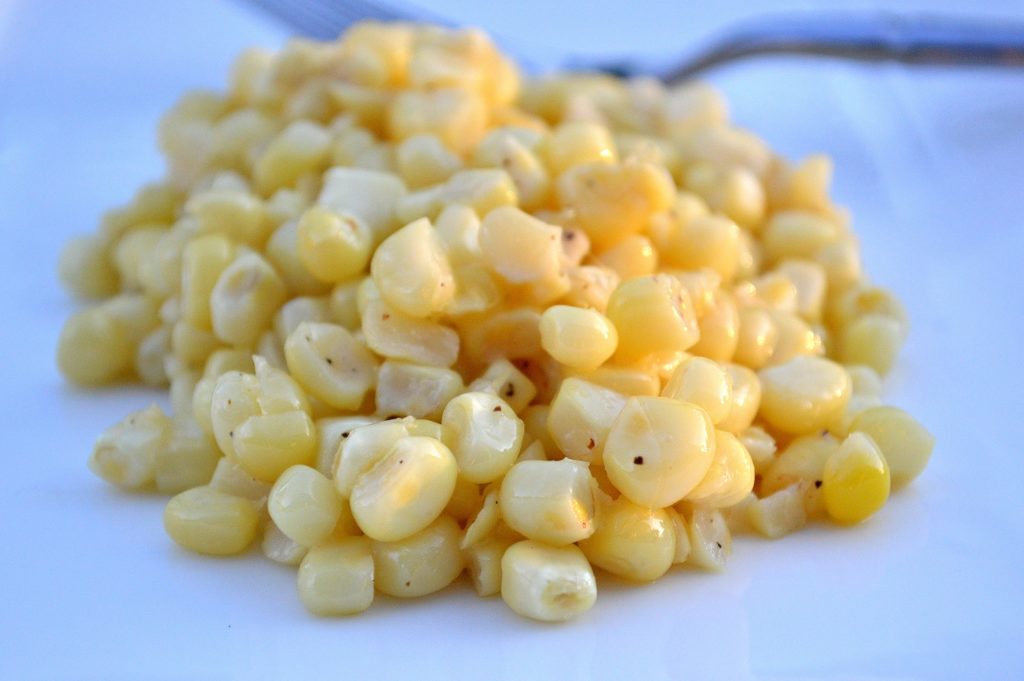 What's great about Skillet Corn, especially when cooking for a crowd is that it is easily customizable.  One pan can be spiced up and the other can just be butter and salt with a hint of pepper.  Yummmm!  And everyone is happy...unless you don't love corn...WHATTT???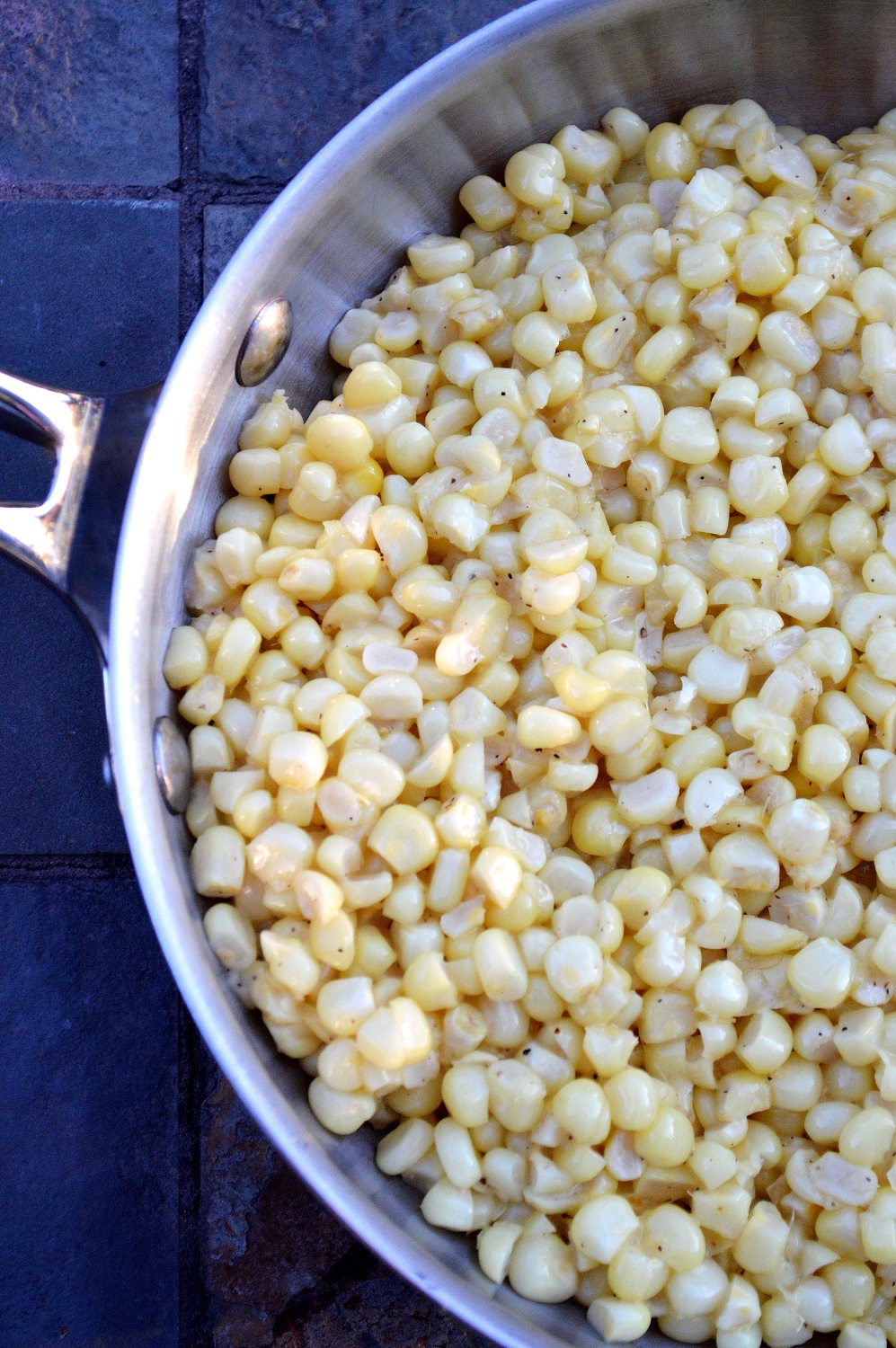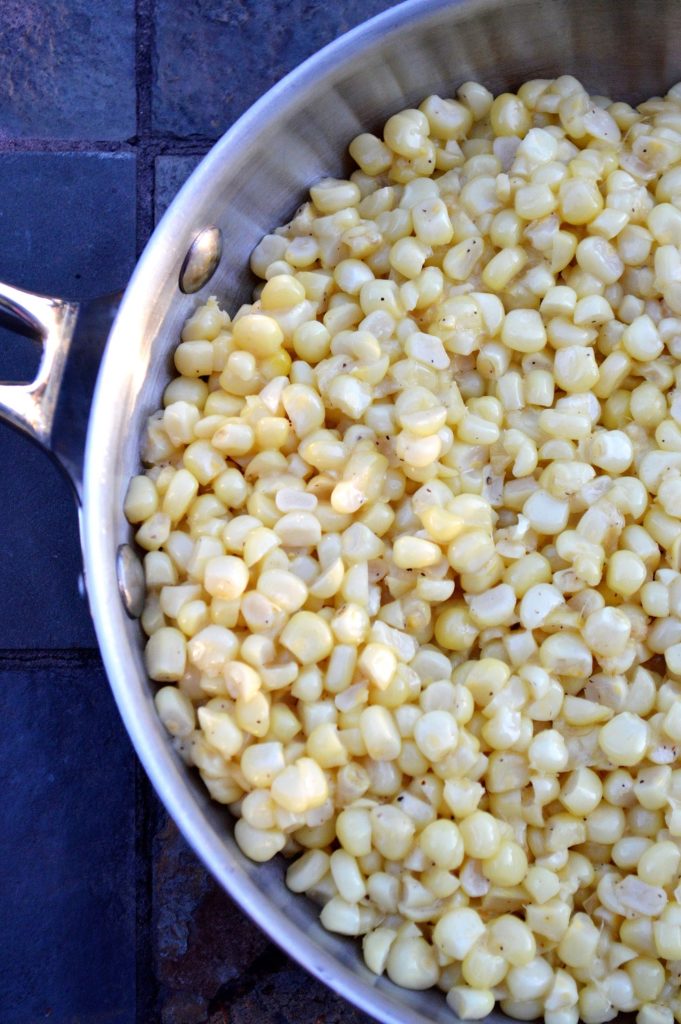 If you have never made Skillet Corn before, grab some August corn, put the kiddos to work shucking it and in under 15 minutes...you'll be closing your eyes, happily munching and crunching on one of the very best parts of summer!
If you make this...please tag me on Instagram or Facebook @SouffleBombay!  I'd love to see it and hear how you liked it...Spice it up!! 
Enjoy the heck out of this corn!! xoxo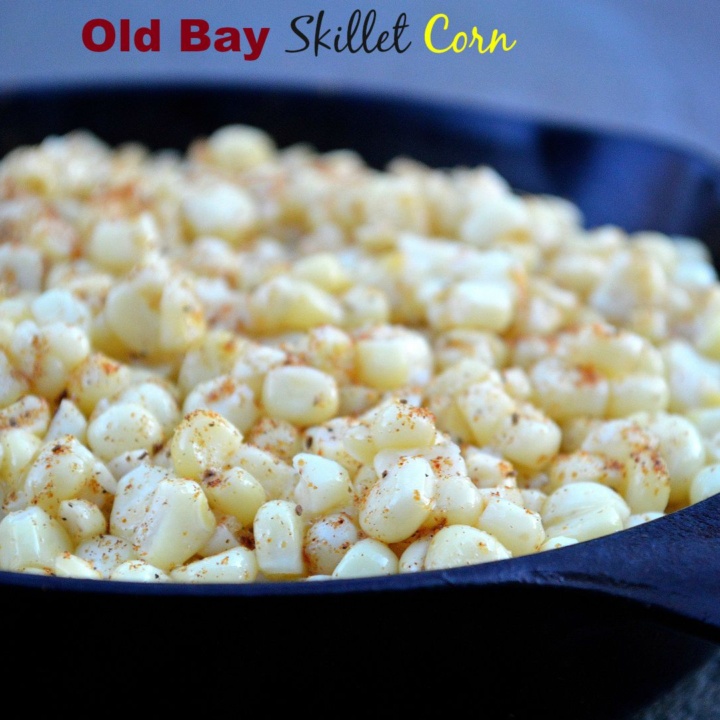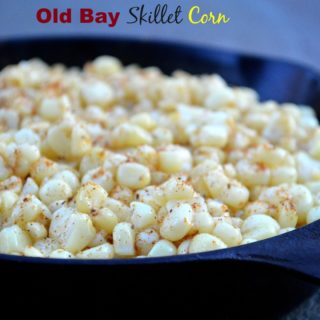 Old Bay Skillet Corn
Ingredients
6

ears of corn

peeled

5

TBS

butter

1

TBS

Old Bay Seasoning

Salt & pepper to taste
Instructions
Heat your butter in a large skillet until melted.

Add in the corn and toss with a spatula or large spoon until its coated with the butter.

Sautee over med-high heat for 3 minutes, stirring often.

Add in the Old Bay Seasoning, stir until evenly disbursed.

Cook for another 3-5 minutes or until corn is tender and done to your liking. Taste, season with some salt and pepper if you like or throw in some more Old Bay, serve and enjoy!
Notes
Sizes of ears of corn vary, feel free to add in additional butter if you feel you need it (can't go wrong with buttah!!).
For extra heat, add in some red (cayenne) pepper.
If you just want plain Skillet Corn, which is delicious too, simply omit the Old Bay Seasoning.
If you want to make a pit full of this for a crowd. I have made up to 30 ears at a time in a large pot with lots and lots of butter! Just keep stirring...larger quantities will take longer to cook through, but will be delicious!
This is yummy left over as well 🙂
Follow me on Tik Tok for 1 minute videos