This One Pot Cajun Shrimp & Sausage Over Rice is an easy one dish meal that will leave your taste buds singing!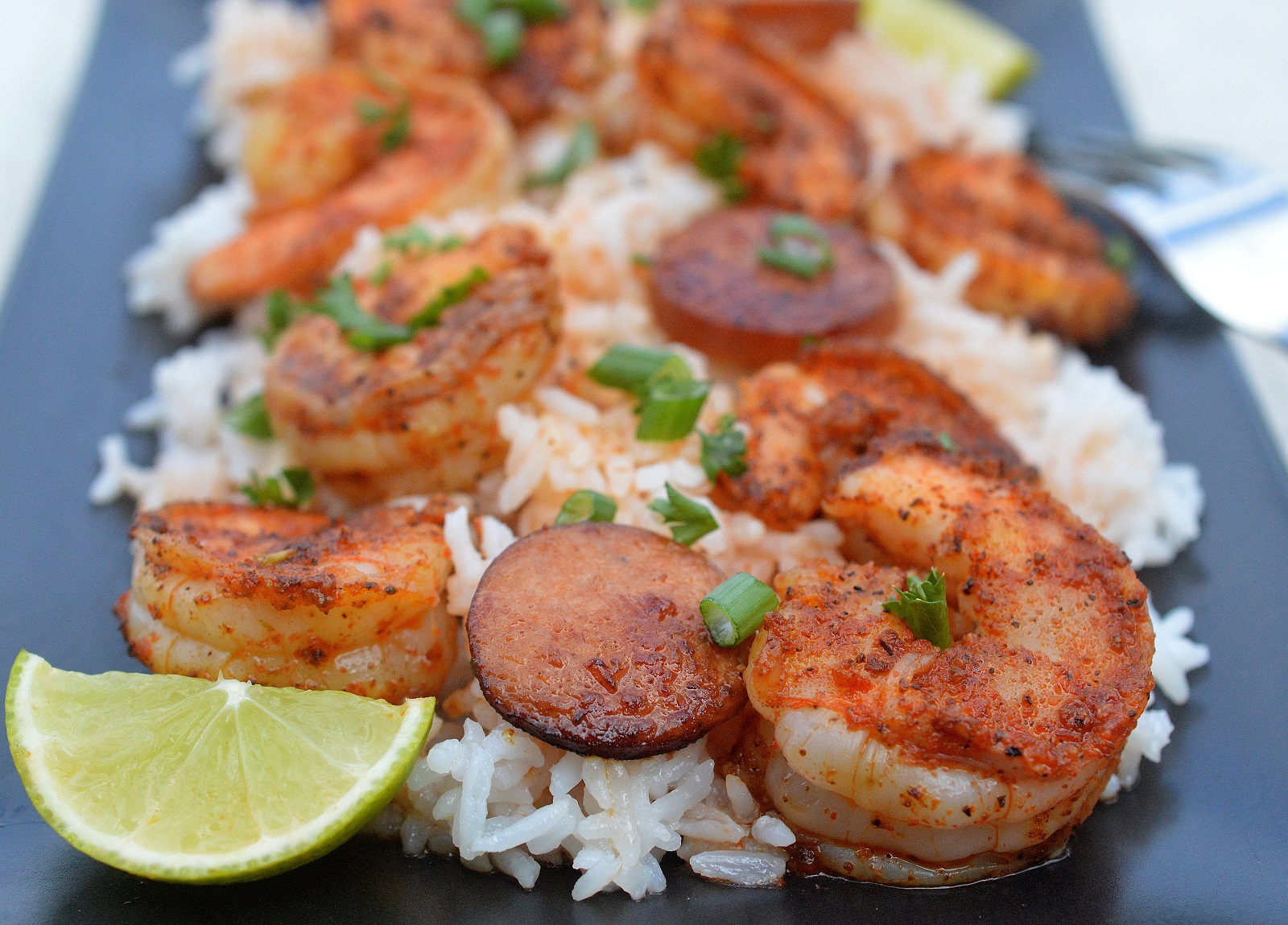 Thanks to the genius that is Veetee Rice, this One Pot Cajun Shrimp & Sausage Over Rice is so easy to make!
My husband and I am all about spice, flavor and heat. The same goes for my family (with the exception of my dad…he wants food mild, always has). My son, who is about to turn 15, totally enjoys heat in his food (yay). And my daughter, who recently turned 12, seems to lean towards my fathers feelings on the matter. She enjoys black pepper, maybe a pinch of Cayenne or a hint of jalapeno. However for now that's as far as she goes.
This One Pot Cajun Shrimp & Sausage Over Rice can be made in less than 20 minutes and with just a handful of ingredients. Pair it with a salad and you have yourself a great weeknight meal in no time at all, and only one pot…or in this case…skillet, to clean. Woot!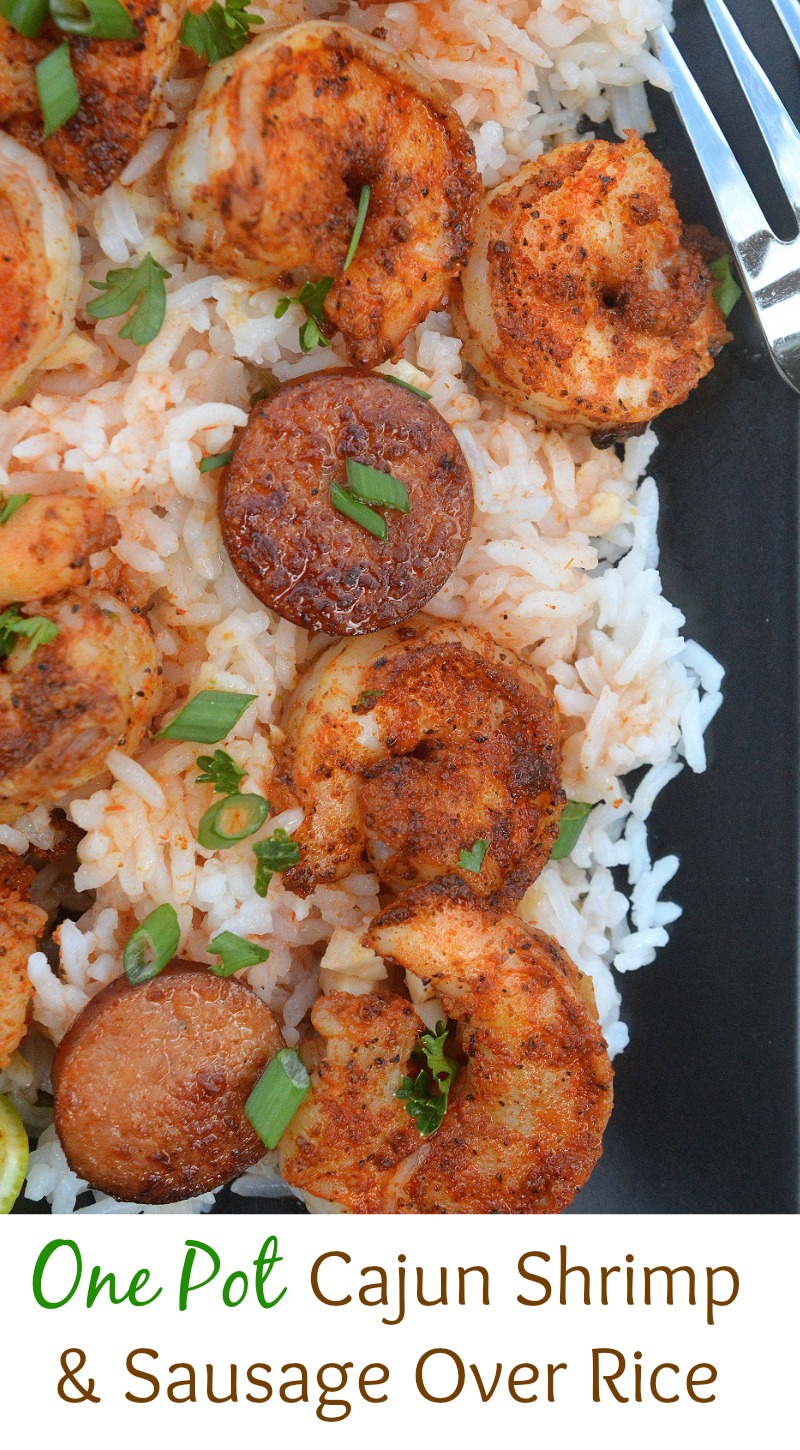 Delicious food doesn't have to take an hour (or more) to make. That's one of the points I like to make here on Souffle Bombay. Anyone can make delicious, memorable dishes without a ton of effort. Especially when you discover foods that you trust and enjoy that help make that happen
I've talked about Veetee Dine In Rice and sung its praises with you before. I discovered them last year and became smitten! I am excited to partner up with them again in a 3-recipe post series.
Why you ask?
Convenience – Fast and no clean up! Literally 2 minutes and boom…you have rice!
Taste – Sure its fast, however it IS delicious!
GMO & BPA Free– Coming from the U.K. Veetee has high standards for both their product & packaging.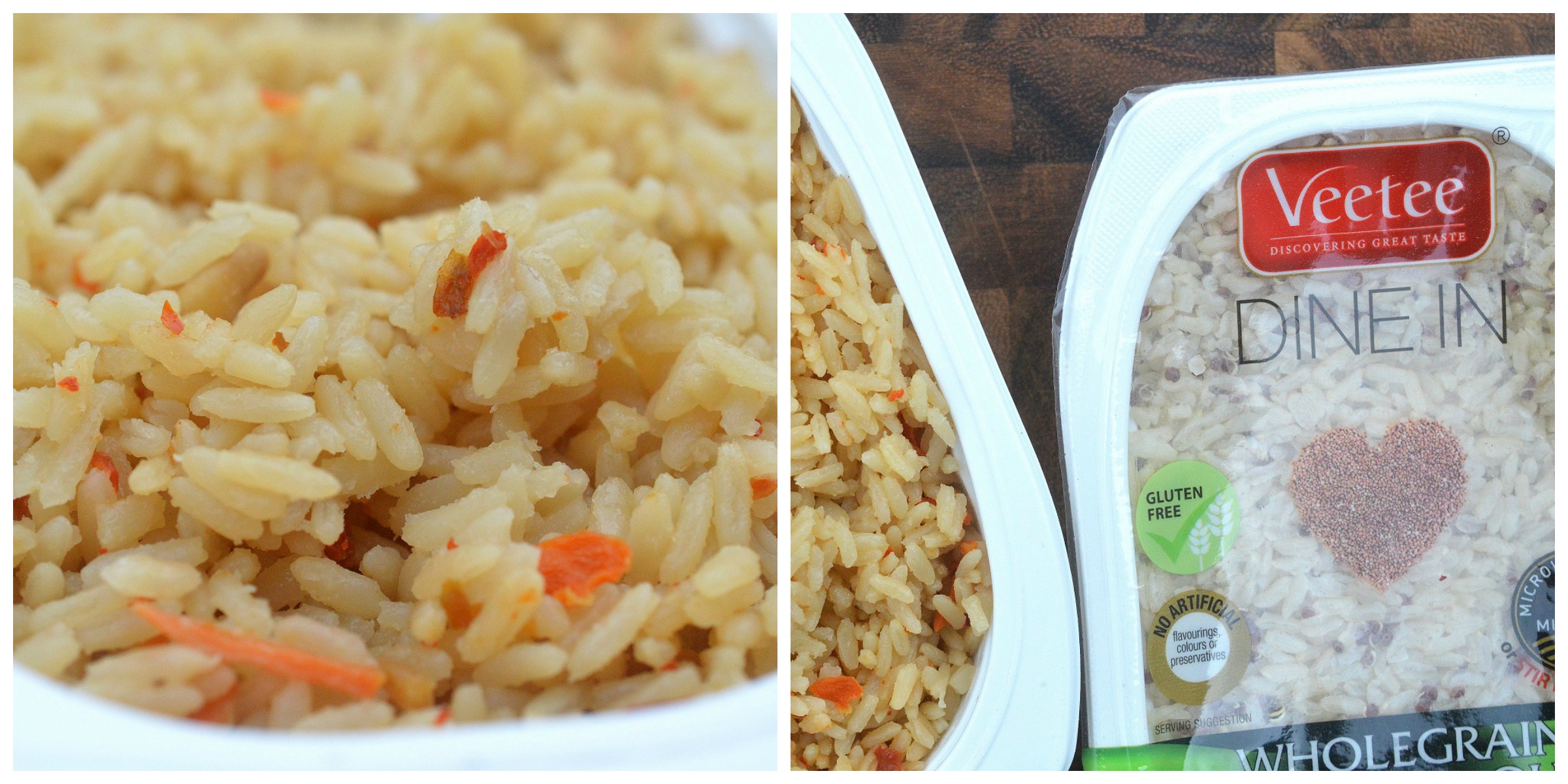 Now because of the convenience of Veetee Dine In Rice, anyone can grab a package and 2 minutes later enjoy hot, delicious, organic rice! Take it to work or use Veetee to expedite your dinner like I did making my One Pot Cajun Shrimp & Sausage Over Rice.
Veetee Rice hails from the UK, is GMO free, is suitable for vegetarians, ovo-lacto vegetarians and many varieties are suitable for vegans. Plus the flavors!  They've got white, brown & flavored. I seriously love their Basmati and Thai Jasmine Rice!
"Since 1987, Veetee's sole passion has been a hunger to produce great quality food.  From our first site in London (UK) to the international customers we satisfy everyday throughout the US and UK, we always go that extra mile to create products which not only taste amazing, but help to make your life that bit easier, too."
Look for Veetee Dine In Rice and Dry Rice in Shoprite, Walmart or your local grocer or use their store locator.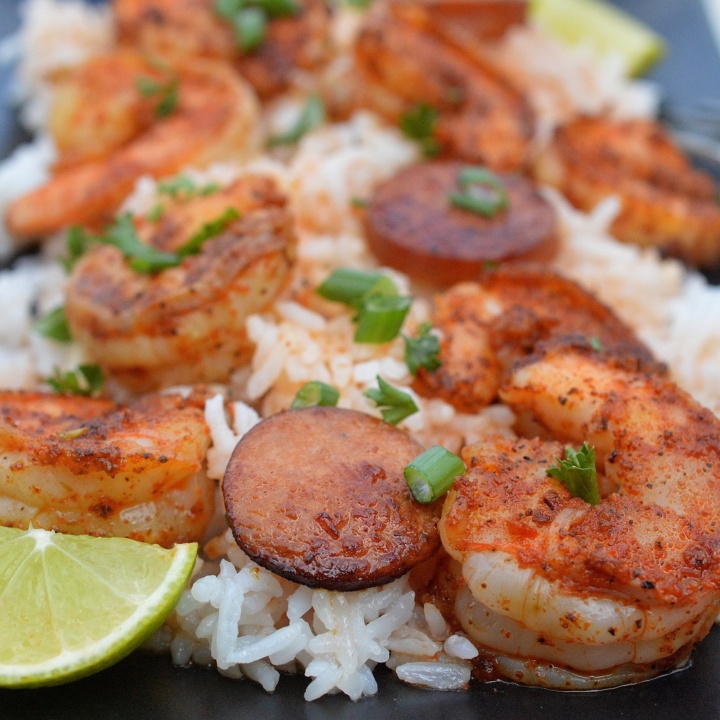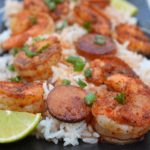 Print Recipe
One Pot Cajun Shrimp & Sausage Over Rice
Ingredients
1

pound

21-25 shrimp

cleaned and peeled

1

pound

Andouille sausage

Grapeseed or olive oil

Cajun seasoning

2

packages of Veetee Dine In Rice - Basmati

White Long Grain, Brown Rice or Red Beans and Rice New Orleans Style
Instructions
Season your shrimp with Cajun seasoning. Don't be shy. I like Slap Yo Mamma, which is HOT! Choose the seasoning you enjoy.

Heat a non-stick skillet with just about 2 TBS oil over med-high heat. When hot add your shrimp (cook in batches so as not to crows the shrimp, add more oil when necessary).

Cook the shrimp through until pink about 2 minutes per side. Place on a plate tented with foil.

Slice your sausage into bite-sized pieces and saute until browned a bit. Add more oil if necessary.

Meanwhile cook your Veetee Dine In Rice in your microwave or wok according to the packages directions.

Assemble your meal by placing the shrimp, sausage and any juice remaining in the pan over your rice and enjoy!