Orangetini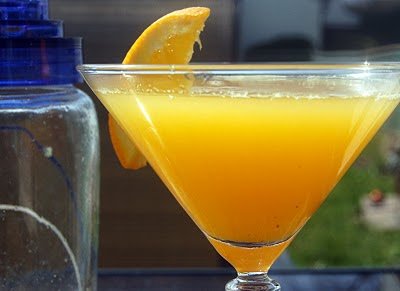 Last night my siblings and I had a surprise party for our Mom.
She was more than surprised...she was stunned.
It was a fun night with so many important people from her life and a fun opportunity for her kids to show her how much she means to each of us!! (Love you Mom!!)
My sister and I decided to have a cocktail in her honor, we came up with "The Kathie Cocktail"....Sunshine in a Glass, an Orangetini, just like her!
If I say so myself...and I can because I had a few...it is so very tasty!
And hey...at the same time you get some vitamin C!
The party was catered (aaaah) with the exception of me making one additional appetizer, dessert and the base for this drink.
I have an old fashioned juicer and I LOVE it. My husband has wanted to buy me a fancy electric one from Williams Sonoma and just can't seem to understand why I absolutely will always want the old fashioned kind.
He was on juicer duty yesterday while I prepared the items I needed to and spent 2 hours with the help of our 5 year old daughter juicing oranges...the kitchen smelled fabulous!!! Thanks baby!
Orangetini aka: The Kathie Cocktail
Oranges
Absolute Vanilla Vodka
Triple Sec
Seems like ¾ OJ, ¼ vodka and a dash of Triple Sec do the trick
Martini Glasses
Cocktail Shaker
Ice
Squeeze your oranges and reserve the orange juice in a small pitcher or measuring cup. Seems like 4 oranges will make 2 to 3 martini's...depends on the size of your glasses and the amount of vodka you like.
(I like to not taste alcohol...my sister like to taste it, we are opposite ends of the spectrum there...as are many folks, so I am not stating measurements here)
When ready to serve, add vodka and triple sec to your orange juice to taste, pour into to your ice filled shaker, shake for a bit until chilled and pour into your glasses and enjoy!
I am telling your now - you will want to grab a crate of oranges because this drink goes down smooth and easy - perfect for a girls night!!
Also if you don't want to purchase vanilla vodka - just substitute and use the vodka you have (preferably a good vodka) and add a few drops of vanilla extract - mmmmm!!!! I think I like that way even better!
Cheers!
Colleen