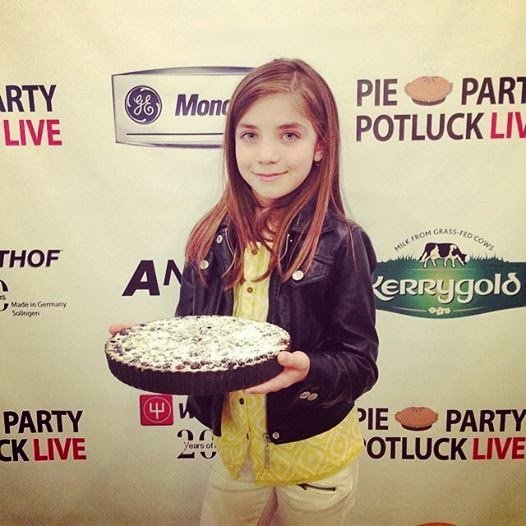 Last Thursday, I headed to NYC to attend to my second Pie Party hosted by Jackie aka The Diva That Ate New York and Ken aka Hungry Rabbit once again in the gorgeous setting of Manhattan's GE Monogram Showroom.
What exactly is a Pie Party you ask?
You know the saying "when people come together, good things happen"?
Well, when people come together with PIE...GREAT things happen!
These tickets are always a hot item, its a free event and the tickets go fast, many end up on the wait-list...hey PIE is involved after all!!
Food Bloggers from NY, NJ and a few from PA come bearing some sort of sweet or savory pie - anything with a crust really. Hand pies, tarts, traditional pies...you get the idea! I immediately had the idea to do something with alcohol, something I often inject into what I am bringing to food blogger gatherings...for example over the four The Big Potlucks I have attended...I have brought these almost famous Make Ahead Frozen Chambord Margarita's, my favorite Bloody Mary Shrimp Shooters, Apple Pie Moonshine and even worked in Car Bomb Brownie Bites and to the NYC Cookie Swap I brought these Chocolate Chambord Cookies...I think it took me till now to realize I like to cook/bake with alcohol!
What made THIS year so special for me was the fact that Samantha (you know her as My Little Chef) came with me...pie in hand! Last time I went to Pie Party, she was 7 and she really wanted to come. I was like...nope! This time, at the ripe old age of 9, she asked to come and she was lucky enough to score a ticket and you know what...she deserved it. You see her on here from time to time writing a post about something she either cooked herself or cooked with me. She cooks a bunch of times each week at home, so I told her if you make a pie...you can go, after all you are a little food blogger! And that is exactly what she did!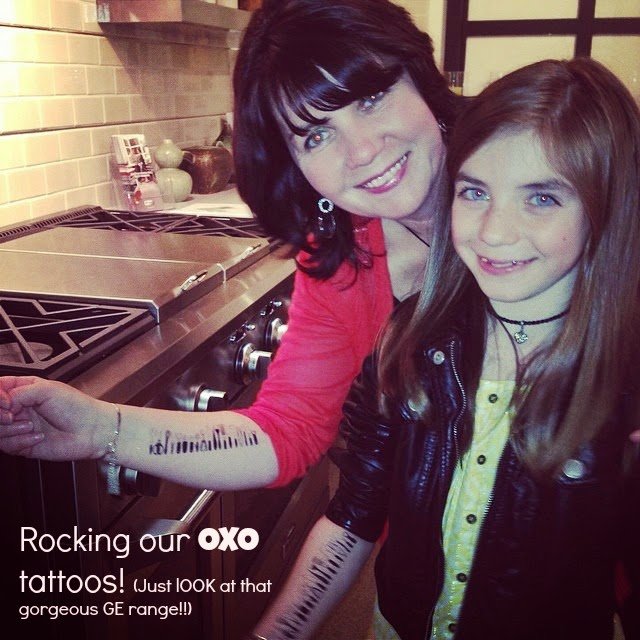 She had a BLAST!! She literally "worked" the room on her own. I kept looking around to see where she was and what she was up to and I'd see her chatting away to someone. One person, who I didn't know came up to me and said "your daughter gave me her card". I was like what...what card?? Turns out she had gone back to our bag, found my Souffle Bombay card's and passed a couple out. Seriously, lol!
When it came time to start cutting pies, most people headed to the savory section (about 23-28 pies). That's what I did anyway since Samantha wanted to taste a Potato Cheese & Bacon Pie that she had spied. I found out a little later that my little one went straight for the desserts (about 45-50 pies), and the first thing she did was take a slice of her own pie!!! How funny is THAT?? I wonder if she did that because it really is her favorite tart or of she wanted to make sure it was up to her standards. Either way its a memory for the two of us now. After that she dove in and tasted a handful of pies, one at a time.
At one point, I saw her sitting on a stool in front of a wall of windows that overlooked the busy street below happily chomping away at something small (a hand pie). The second she saw me she lit up and said 'Mom, mom, THIS is SO good!" I said "oh can I taste it"? She looked at me, she looked at her plate, looked back at me then looked over to the sweet pie tables and said "there are more over there". Lol!! A few minutes later she came running by me with one of those gorgeous Strawberry Cheese Hand Pies in each tiny hand (made by Angela of Mind over Batter) and squeaked...These are the last 2!!! I am taking them home!!! My girl knows a good thing when she finds one!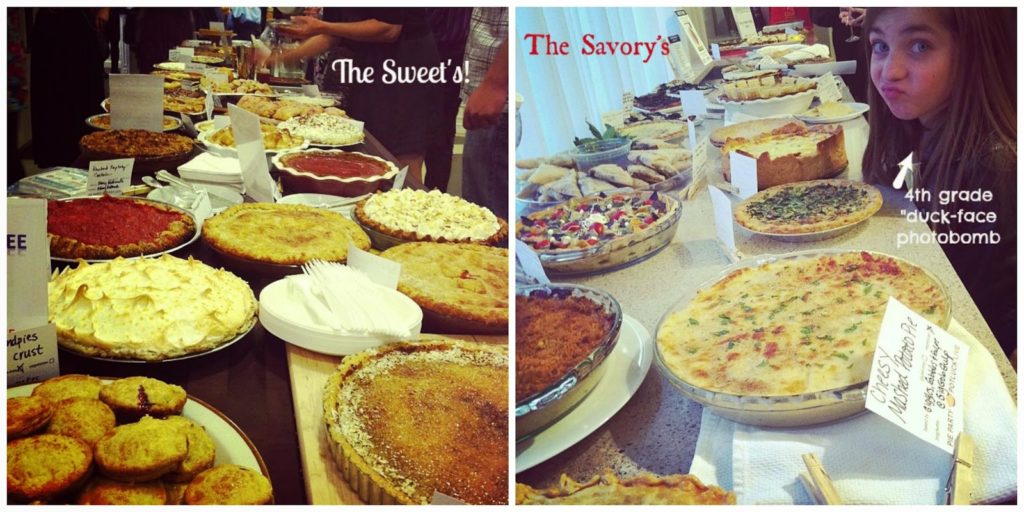 Later she announced her 2 favorites of the night and yes those Strawberry Cheese Hand Pies were her #1 and she tells me the second Angela posts the recipe she wants to make them. Lucky for me, I did go and grab one to see what Samantha's fuss was all about (and darn if she wasn't right!). Her #2 was Soyna's Spicy Pineapple Apple Pie and yes, she took a slice of that home as well! To see the bloggers who came as well as the type of pie they made, visit here.
Two of my favorite PA food blogger friends Linda who made a Cheesy Mashed Potato Pie and Heather who made a Strawberry Rhubarb Goat Cheese Pie, went for the first time with their pies in hand. We had fun traveling together. But let me tell you carrying 2 heavy pies/tarts in a double-decker basket and watching out for my 9 year old in the business of the train stations and subways, etc was not an easy feat! Hence only Instagram shots - no camera came with me...I KNOW my limitations, lol! My girl and I made new memories...her proudly holding her pie on the red carpet area as we entered will stay etched in my mind and her running up...crazy excited...telling me her pie was the first sweet one gone made me so happy for her. She really does love to cook and just like her mama enjoys making people happy through food. Matter of fact the next morning, we were headed to a Communion and she wanted to make another Blueberry Lemon Shortbread Tart to bring, she said to me "Mom, I HAVE to make 2 because people are going to want this" and I just smiled. That's my girl!
If you ever get a chance to get yourself into a GE Monogram Showroom...do it!! First off...the oven's and ranges are to-die-for, I mean there are little LED lights shining down and illuminating the burner dials...what??? If I had one of those beauties, I would sit on the kitchen floor, all night long just gazing at them with a glass of wine (I really would!)! The refrigerators are ridiculous - I am totally in love with this one...my whole family could fit in there...just think of how organized my/your food items would be...sigh!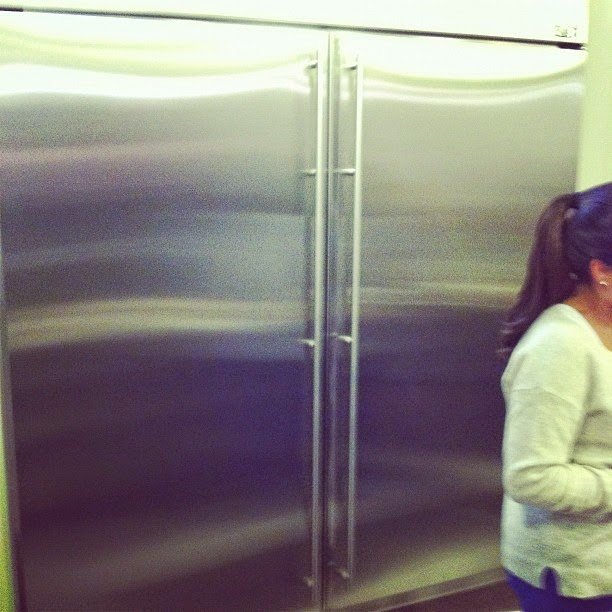 AND you just never know when Jaren Leto (my-longtime-love) and the 30 Seconds to Mars guys might just stroll in! Seriously, ask my friend Paula who runs both the NYC and Chicago GE Monogram Showroom - it happened in Chicago...swoon! I think the only thing prettier than a GE Monogram Range with those LED Task Lights might be my boyfriend Jared (insert cheesy smile here).
Stop back tomorrow when I will share the recipes for the Limoncello Tart I brought to #PiePartyGE as well as Samantha's Blueberry Lemon Shortbread Tart.

Samantha and I had SO much fun seeing familiar faces, meeting new ones and tasting the night away. Thanks so much to the sponsors:
Thanks Ken & Jackie, thank you for making such a fun event possible and for sending us each home with a great bag full of surprises!