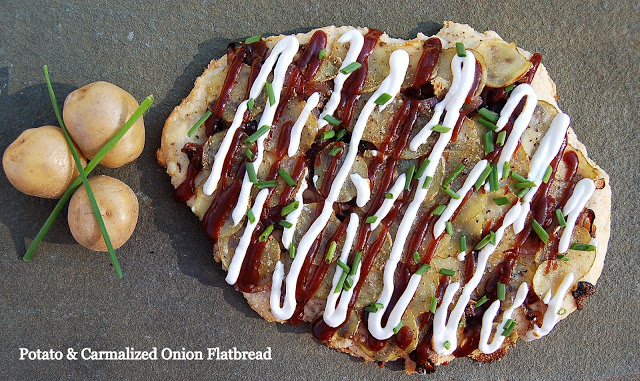 In less than 3 weeks I will be heading to downtown Philly (my birthplace) for the weekend to attend Eat Write Retreat Conference. I attended my first one in DC the summer of 2011 and really enjoyed my whole experience…from the people I met, to the food we ate, to the speakers, workshops and excursions, it was fantastic! I can't wait to see some familiar faces and meet some new food loving friends!
One exciting feature of this years retreat is the Culinary Challenge. Attendees received a mystery box in the mail with one of the following – California Raisins, US Potatoes, California Ripe Olives or California Figs. One entry from each category will win some awesome prizes at an awards ceremony during the retreat. So fun!!
Honestly, I didn't even know which ingredient to wish for since they are all so great!!
What did I get?? Po-ta-toes!!


My kids and I had so much fun going through the variety of potatoes I was sent. My son and daughter may now know more about potatoes than anyone in their elementary school…I wonder if they will ever have a test on that?? Lol!
Who doesn't love potatoes?? They may seem humble, but man you can do SO much with them!! In addition to their incredible versatility, did you know that potatoes are naturally fat free, gluten-free and only have about 110 calories for a medium sized potato? Yup!! And my dear food-loving friends…leave the skins on…I almost always do! The additional nutrients the skins offer are just too good to pass up. Plus, I find that often I like the look the skin lends the dishes I make.
Whether you are watching your weight, in a hurry or just looking for a nutrient packed bite (hello vitamin C & Iron), potatoes are a great vehicle for so many foods, are spectacular on their own and pair so very well with an amazing amount of foods from eggs to kale! Did you know that potatoes lead the pack in the 20 top selling fruits and vegetables when it comes to potassium? Potatoes come in at 620 mg followed by broccoli at 460 mg and bananas at 450 mg! Who knew? Makes me love them for my family and I even more now! I grew up knowing the saying "an apple a day keeps the doctor away". Maybe they should change that to a potato!! For more information on the nutritional powerhouse that is the potato…click HERE.
For my appetizer, I thought about tiny pies, mini stuffed potatoes or hand pies but then I decided on a Flatbread, which are trendy at the moment but have long been delicious. Initially, I made it with prosciutto, potatoes and chives. But then I decided to make it meatless and substituted caramelized onions. I thought that a super satisfying meatless app was a great way to go! I have to say that both ways were good and my husband ate all of the taste tests I gave him. Love you babe!
Here is the beauty of this dish, you can take it anywhere you want it to go. Meat, no meat. Jazz it up with truffle salt, more herbs or cheese shavings. You can section it out to serve as apps or whip up half the recipe and make yourself a quick lunch or dinner, The whole thing can come together in 30 minutes.
Care for a closer look??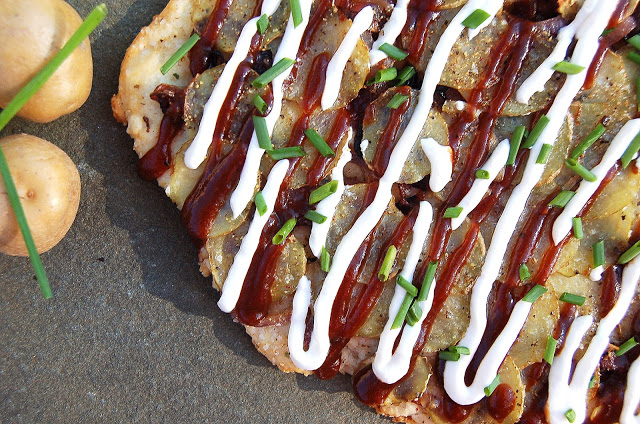 And guess what?? I snuck some grated potatoes into the bread itself, skins too – which now gives the flatbread more of a nutritional bang for your buck! I decided to drizzle some BBQ sauce and Greek yogurt on the flatbreads for an extra depth of flavor. I know many instantly think of sour cream for potatoes – but the Greek yogurt is a healthier alternative.
The creation of this recipe was a family affair – my 8 year old budding chef learned how to use a mandoline and sliced the potatoes for the top of the flatbread – I have the OXO Good Grips Mandoline and it is so easy and safe that I completely felt at ease with her using it (it is worth every penny…I use it more often than you would think). My 11 year old son grated the potatoes for the flatbread using our OXO Coarse Grater (which, I have to say, is hands-down is the best, easiest and quickest grater I have owned to-date) – it was done in an instant! And of course my taste-testing hubby gave me the thumbs up on the final recipe to go with. Love that! I hope this is a dish that you and your family can enjoy as well – Instead of your next Pizza Night – why not change it up and have a Flatbread Night, and don't forget to reach for potatoes!!
Potato & Caramelized Onion Flatbread
Potato Flatbread:
2 cups flour
1/4 cup grated potato, skin on
1 tsp baking powder
1/2 tsp Kosher salt
A couple dashes of black pepper
1/2 cup plus 1 TBS water
1/3 cup olive oil
1 tsp honey (optional)
Combine flour, baking powder, salt and
pepper in a bowl and whisk until combined. Dig a small well in the middle
of your mixture and add in your water, olive oil and honey. Stir until
combined. Form into a ball (add a few drops of extra water if necessary).
Halve your dough and in between 2 pieces of parchment paper, roll out
your dough, one piece at a time, into a rustic shape about 1/8 of an inch thick.
*If you make your dough a bit ahead of
cooking time, just place a damp paper towel over each piece to keep it moist.
Or wrap it tightly in plastic wrap.
Potato and Caramelized Onion Topping:
1 medium red onion, sliced thin
1/2 TBS olive oil
5 Petite potatoes (the tiny ones), sliced
very thin, skins on
Olive oil for brushing
Kosher salt & black pepper to
taste
10 chive sprigs
1/4 cup Plain Greek yogurt (optional)
1/4 cup BBQ sauce (optional)
Saute your onions in the olive oil over
medium heat until they soften and begin to caramelize. Remove from heat.
Once you are ready to cook your flatbread(s). Heat your oven to 425
degrees. Lightly brush your flatbread(s) with a bit of olive oil.
Scatter the caramelized onions over-top, arrange your potatoes,
overlapping them to one another over-top the onions. Brush the potatoes
lightly with a tiny bit of olive oil, sprinkle with salt and pepper and bake on
a parchment paper lined baking sheet for 12 minutes (parchment will brown a bit
– that is ok). If you don't have parchment paper, oil your baking sheet
lightly. Remove from the oven when done, drizzle with the BBQ sauce and/or the Greek
yogurt, snip chives over-top and serve. You can cut the bread(s) into strips
or you can set them out whole with a knife alongside so folks can cut to order.
Colleen's Notes: If you do not have a mandoline to
slice your potatoes, just slice them as thin as you can with a paring knife.
You may need to turn the broiler on for a couple minutes to help the potatoes finish cooking if they end up on the thicker side. You could fire up the
broiler at the 10 minute mark.
This Potato Flatbread is delicious on its own and I just love the nutritional value the potatoes add. I have been whipping
this up and making it for a snack for myself and my family by itself…I keep
spreading fig jam on it, I am obsessed…guess what I had for breakfast??
My kids have been gobbling the Potato Flatbread up warm from the oven.
It literally takes 6 minutes to make it and 10-11 to cook it.
If you are making the bread by itself –
you can choose to roll it thinner to make it almost cracker-like. Season
it up differently – you can make it sweeter with some sugar and cardamom (yum)
or very savory with a ton of black pepper and a pinch of salt. If you do
make the Potato Flatbread on its own, the cooking time may be closer to 10
minutes – depending on the thickness of your dough.
You can also combine some BBQ sauce with
the Greek yogurt for a single flavor-filled drizzle or add some Ranch spices to
the Greek yogurt for a different take.
I so hope you and your family enjoy this
one!
Disclosure: I received samples US Potatoes and a variety of OXO graters because I am a registrant for Eat, Write, Retreat. As usual, all thoughts and opinions are my own.