Roasted Pineapple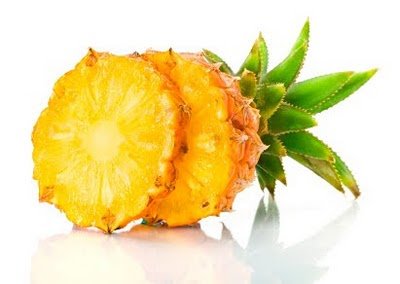 Recipe #11 in my 40 Day Challenge
For whatever reason, I only seem to eat pineapple at a Chinese restaurant or at parties. I totally like pineapple mind you but I forget about it.
My husband enjoys it as well, however seeing as I forget about , so does he.
The kids however want no part of it...yet!
I came across a note in a cookbook I had been reading (once again Big Flavors by Jim Fobel)where he talked about the incredible flavor that comes from roasting a pineapple. I though to myself...I have to try that, and try it it did!
OMGosh was this amazing - I literally ate half a pineapple by myself.
The juice was dripping down my chin and hands and I didn't care one bit, I was slurping up every morsel of the warm, sweet juicy goodness. The kids were talking to me and I was like "mmmgh ummgpfh mmrumpsh" and I just kept on going!
I had to push dinner back a bit that night because I was so full of pineapple lol.
Did roasting change my kids opinion of pineapple? Nope! That's all right - there was more for me!
Slow Roasted Pineapple
1 whole pineapple
Preheat your oven to 325 degrees.
Slice the leafy green top of the pineapple off, cutting just to where it ends.
Place your pineapple standing up on a baking sheet and roast it for 1 hour in your oven (if it is a super large pineapple...add 15 minutes). Turn off the oven, leave the door closed and allow the pineapple to cool in the oven for an additional hour.
*If you need the oven...it's ok remove the pineapple and let it cool on your counter.
After an hour of cooling...serve by slicing off the top and the bottom. Cut off the skin and the eyes. Slice into rounds and eat around the core or core the slices and serve the halves. Either way - serve it warm and enjoy the deliciousness! (My mouth is watering as I type this!!)
Enjoy (and grab a few napkins!!)