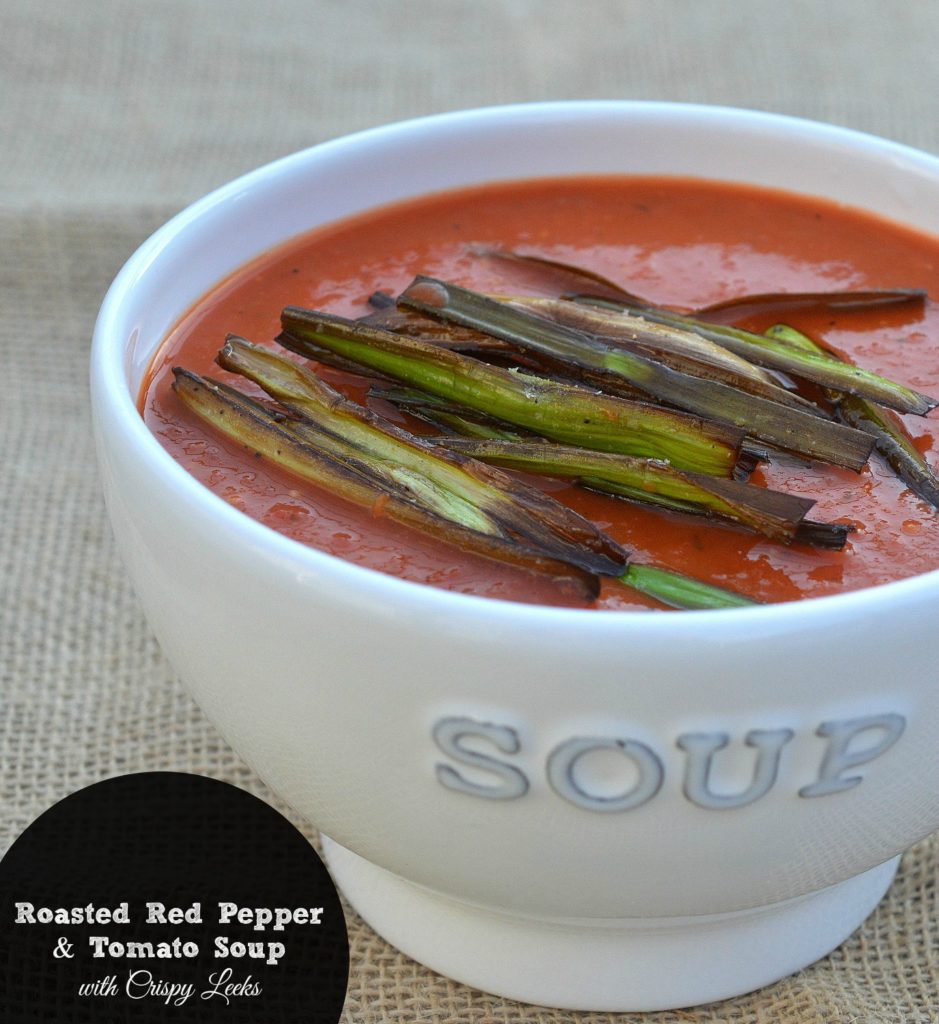 It's no secret that I love a good soup! I have to admit, when it comes to enjoying food, sometimes I get in my own way due to my perceptions of what I like and what I don't like. This Roasted Red Pepper & Tomato Soup is a perfect example of that.
There are a lot of cooked vegetables that I don't like and cooked traditional peppers are high on that list. However, I finally figured out a few years ago that when I use roasted peppers in dishes…I like it. Especially in soups and spreads. BUT try to throwing a tiny piece of green pepper in my omelet, meatloaf or sauce and similar to the story of The Princess and The Pea…I KNOW it's there and my dish is contaminated! Weird right?
I am seriously odd when it comes to my own set of food rules and often after years and years of thinking I absolutely won't eat something...all of a sudden I am like "man this-is-good!" So I chalk it up to (aka blame) my parents for possibly boiling that particular item to death or my preconceived notion that its blech or that because I know something is good for me…my mind actually opens and gives it a chance, tricking me into thinking I like it…Haha! Who knows! However nothing in this world will get me to like an oyster…even the smell of one…shudder!!
I seriously dig a good soup. I look for flavor, a robustness as well as ease in making when it comes to homemade soup. This Roasted Red Pepper & Tomato Soup hits on all of those in my opinion. Plus it's healthy and gluten free too! I need some type of crunch in almost every soup I enjoy, for this one I cut rounds of the bread I had on hand out and quickly fried them up on a frying pan, like you would a grilled cheese. I loved the buttery crunch it lent the soup. If you want to skip the bread, why not take 3-4 minutes (that is ALL it takes) to quickly slice up a part of a leek and crisp it up in oil? You get the crunch without the carbs! I charred mine a little for added smokiness.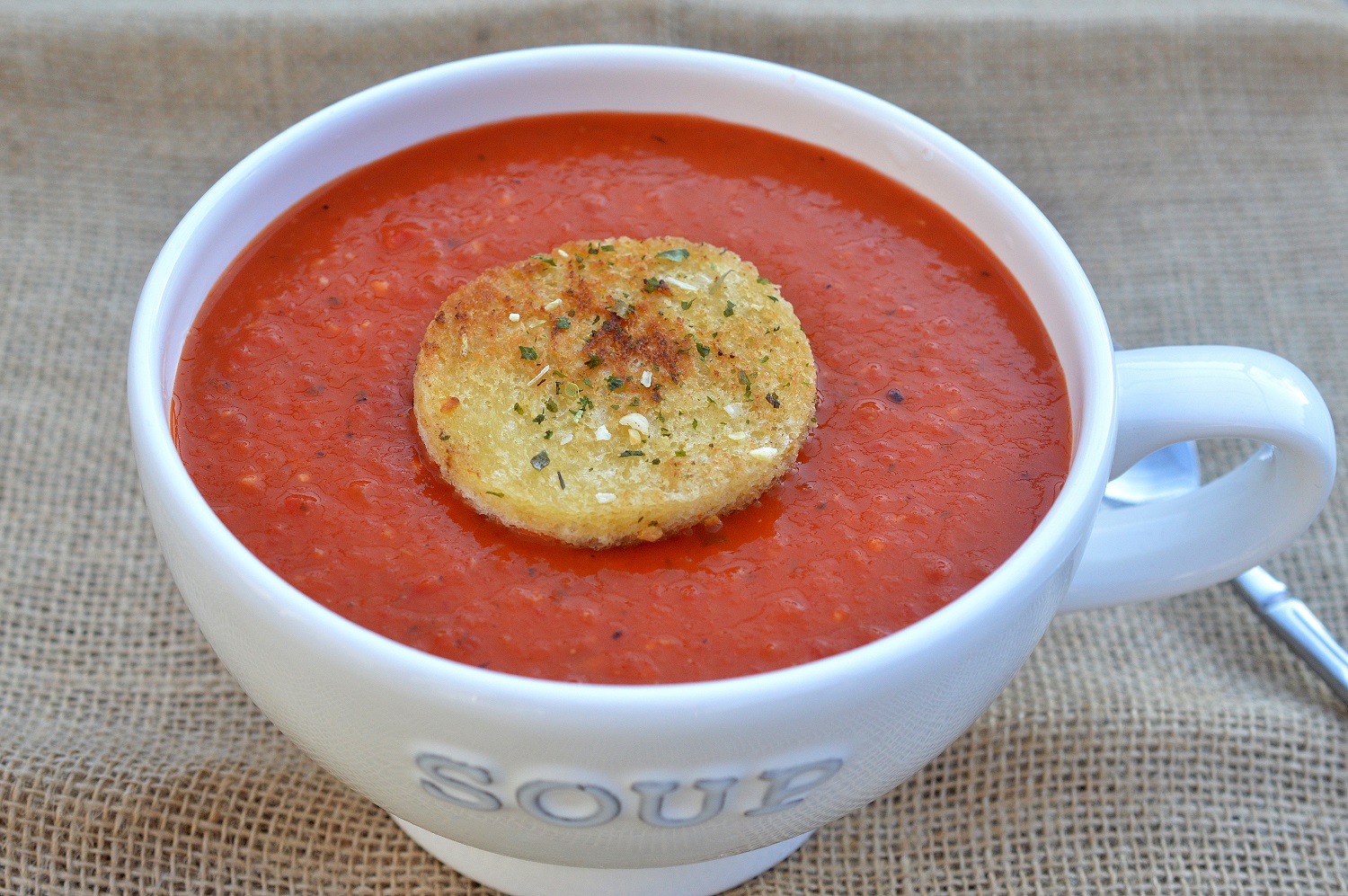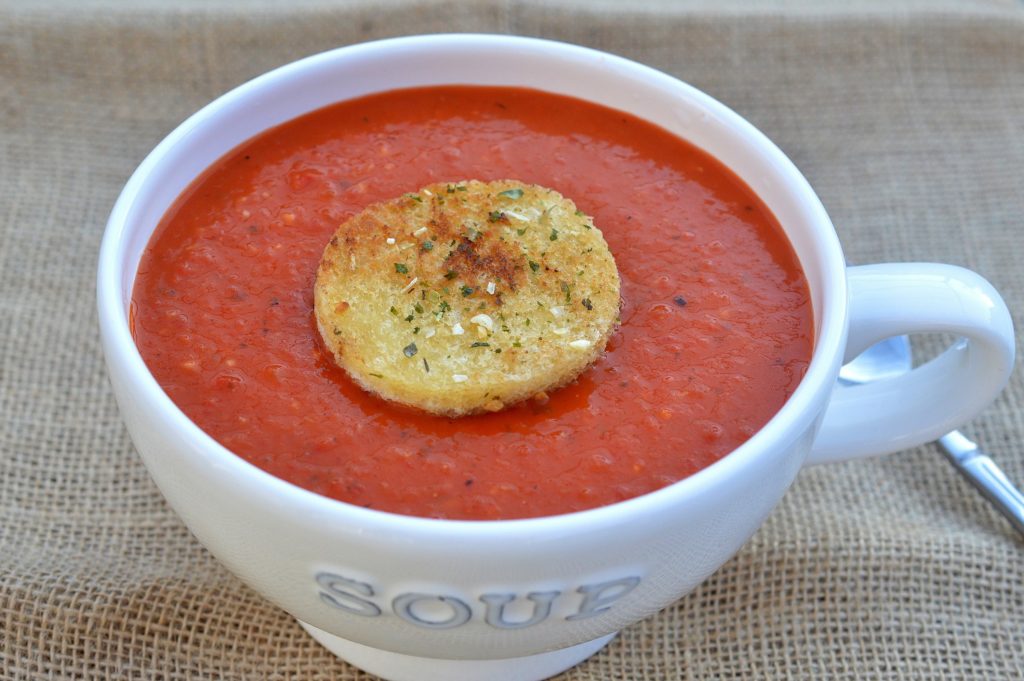 I like to make crispy leeks to top burgers, steaks and soups. Usually I eat the first batch while I cook the rest, I can't help myself. They are so good!
If you are looking for a quick to make, healthy soup this season, give mt Roasted Red Pepper & Tomato Soup recipe a whirl. Roast the peppers yourself or use jarred. The flavor is great either way.
Some of my other favorite soups to make are below. I also have a Pinterest Board dedicated to crazy delicious looking soups which you can fins HERE. If I have missed your favorite soup…I need to know…tell me so I can try it out 🙂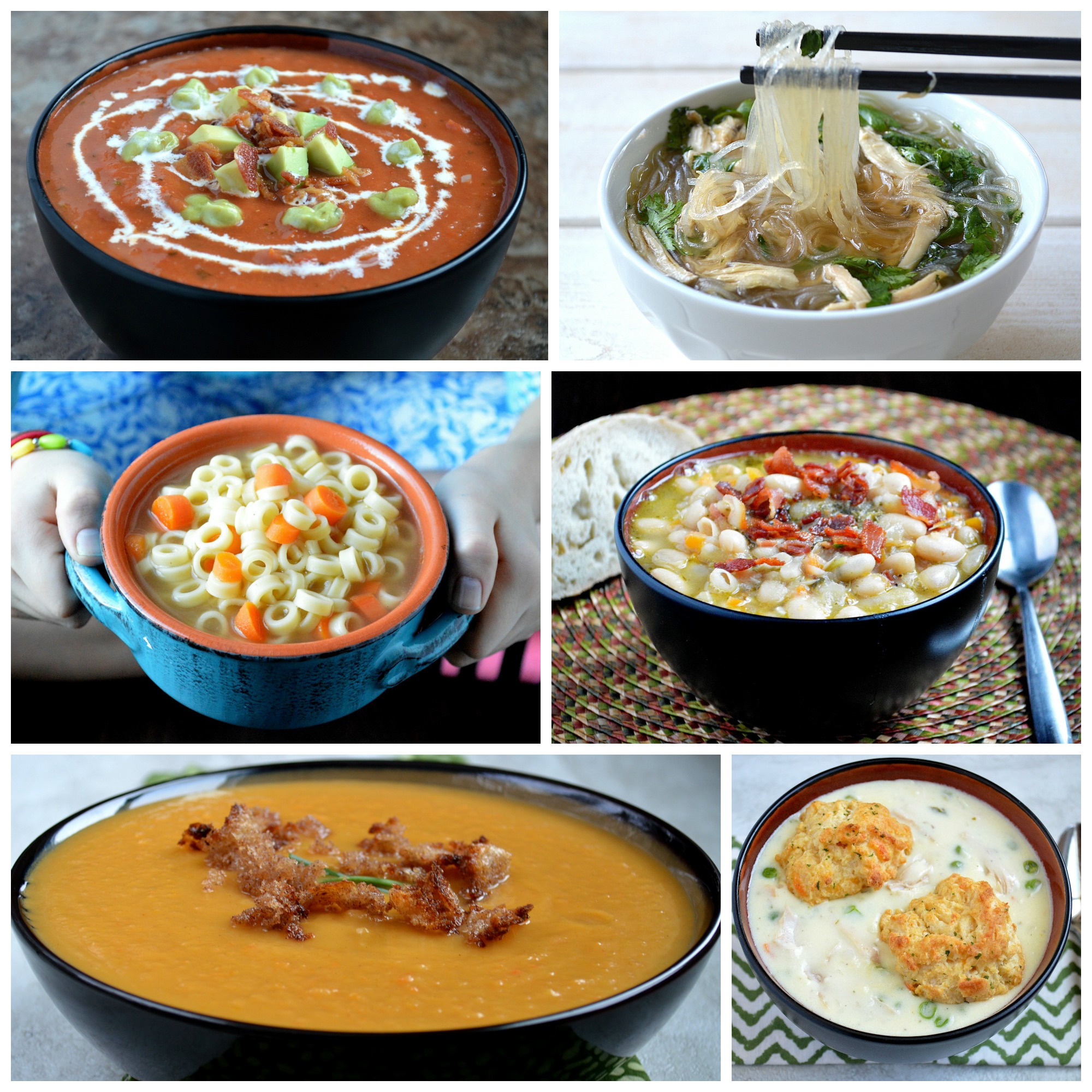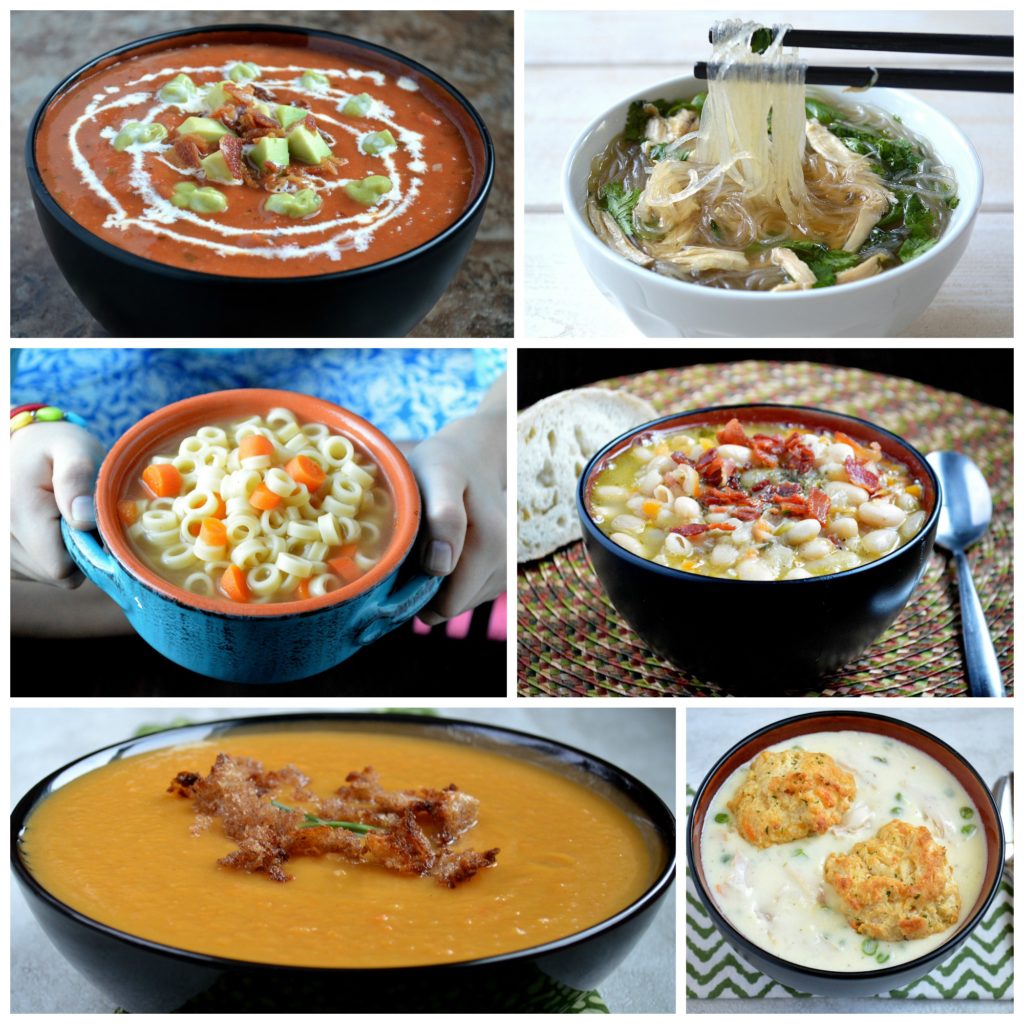 Some of my favorite soups to try:
Enjoy!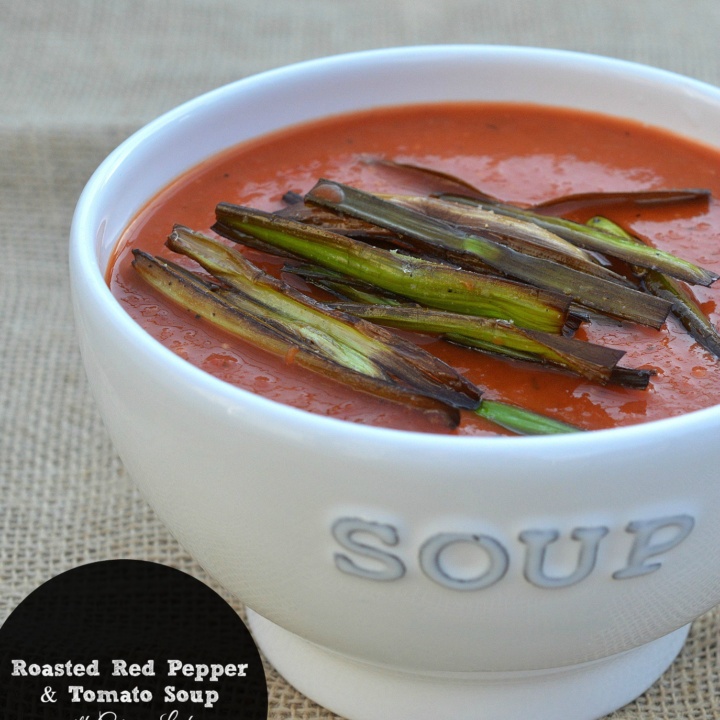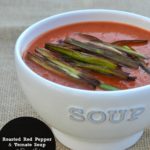 Print Recipe
Roasted Red Pepper & Tomato Soup
Ingredients
2

TBS

grapeseed or olive oil

1

cup

chopped sweet onion

5

cloves

garlic

minced

24

oz

jarred roasted red peppers

or your own, rough chopped

1

X can of plain tomato sauce or crushed tomatoes*

32

oz

chicken broth

Kosher salt & pepper

A few dashes Worcestershire sauce

A shake or two of Cayenne/red pepper if you enjoy some heat

1

tsp

copped Thyme or 2 TBS fresh basil

neither is necessary but nice if you have one

See Notes for Crispy Leeks and/or Crouton garnish
Instructions
Heat oil in a medium pot, saute onions for 2 minutes. Add garlic and saute a minute more.

Add in peppers, and saute for 1 minute.

Add in tomatoes/sauce and broth. Stir until combined.

Bring to a simmer. Add in salt and pepper. Simmer for 15 minutes.

Add in Worcestershire, Cayenne pepper if using and Thyme or Basil of you have some on hand.

Taste and adjust.

Allow to cool a bit then puree soup with an immersion blender or pour into your blender and carefully pulse until smooth.

Reheat.

Serve topped with Crispy Leeks, Crouton or as is.
Notes
For Crispy Leeks:
Slice the stem of a leek lengthwise into 3-4 inch long strips. Heat 1/2 inch of oil. Once oil is hot, fry leeks in batches for a minute or until parts of the leeks crisp up leaving a little green. Remove with a slotted spoon onto paper towels and immediately sprinkle with salt & pepper. Repeat. Use within an hour after making.
For Crouton:
Use a biscuit cutter or a large mouth glass and cut circles from bread slices. Melt butter in a frying pan and fry on each side over medium heat (like you would a grilled cheese) until crisp. Season with salt, pepper and dried or fresh minced parsley.
You can use vegetable broth in place of chicken broth if you like.
Slice leeks as equally as you can, this way they will cook evenly.