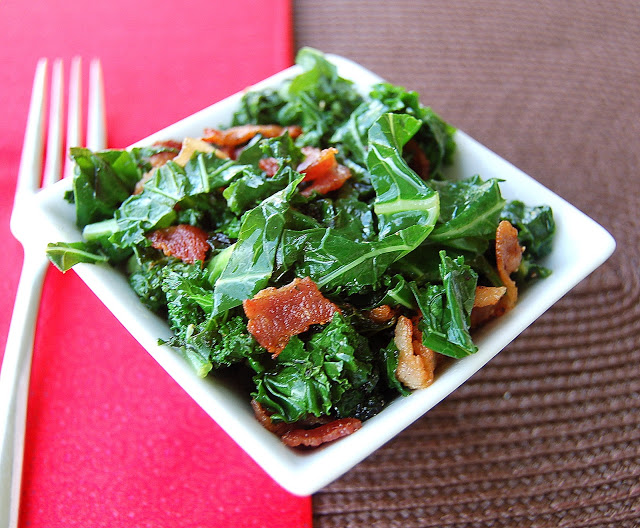 How many nights do you have a great idea for your main course for dinner, then quick try to come up with a couple of sides. I mean, just how many salads can one eat?
I love a good salad, but I can only handle that about 3 times a week between both lunch and dinner. I like to crave my salads thus enjoying them much more.
Here is a quick side that is bursting with goodness – both in the taste and nutriment departments.
Kale is a super food, right?
Bacon is a SUPER food…are you with me on that?
Kale is rich with beta carotene, vitamins K, C and calcium and it is said to be packed with natural chemicals that block/fight cancer cells. Kale is one of those global foods that so many countries use as a staple in their diet, it's just not fully mainstream here in the U.S. I would say only about 25% of my friends and family eat it here on the East Coast.
Bacon is one of the best parts of life (insert the clouds parting a sunbeam shooting through and angles singing here), it goes with just about everything and in my opinion a little goes a long way! Breakfast, lunch, dinner or dessert…bacon can be a star player. I do have to confess something…even though my love of bacon runs deeeeeep, I have never had it in a dessert. Nope. Not gonna do it. I hear its glorious, but I juuuust can't wrap my head around it.
What say you on that topic? Convince me!!


To my husband and I the simple combination of kale and bacon are delicious. We leave no leaf behind.
My daughter will eat a few pieces, our son just wants the bacon. They will come around!
You can whip this side up in 20 minutes and if you want to you can turn it into a salad or a meal…add in some cannelloni or black beans at the end and or some diced tomatoes and its a hearty lunch or dinner.
Here are a some of my favorite side dishes:
Zucchini Cakes
Roasted Potatoes with Bacon & Parmesan
Grilled Eggplant, Tomato & Mozzarella Stacks (this is a favorite lunch of mine as well)
Goat Cheese Stuffed Tomatoes
Here are some other ideas for enjoying Kale:
Curtis Stones' Spaghetti with Kale…yummmm!
Gnocchi with Kale & Sausage
Lean Green Power Salad
4 strips bacon, snipped into 1 inch pieces
3 cups chopped kale
2 tsp balsamic vinegar
Sea salt and black pepper to taste (go easy on the salt, the bacon does that for you)
In a medium sized deep frying pan, cook your bacon pieces over med heat until almost crispy. Add in your kale and toss to get it worked into the bacon drippings. (If your bacon yielded little drippings, add in a splash of olive oil). Sautee over medium heat until the kale is wilted and tender, about 15 minutes. Add in your balsamic vinegar, salt and pepper, toss it well to get an even coating and serve.
Notes: For additional flavor, add in a shallot, minced, just before you add the kale and/or add in some Cayenne or red pepper flakes at the end.
Taste the kale as you go, you might find you like it a little more crisp vs wilted.
Enjoy!!