Sesame Noodles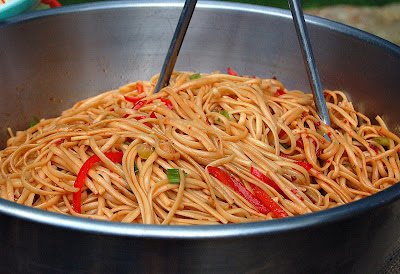 This is one of my husbands absolute favs! Mine too for that matter!!

I have been making this for as long as I can remember, and I really have never thought to change it up by adding meat or anything else. The simplicity of it is spot-on, plus it is perfectit alongside some kickin' barbecue!
When I first started making this, I would go to an Asian grocer and purchase their noodles, but you know what, I actually like it better with linguine. It's your call!!
It's funny how certain dishes link bank to memories and these Sesame Noodles do just that for me…for whatever reason I never make these for just us at home, instead, I reserve these for parties and get-togethers and those are some good times!
Sesame Noodles
1 pound of linguine, cooked to package directions for al dente
1 red pepper, slice into toothpick-like slices (or more if you are into peppers…not me I just use it for color)
3 scallions, sliced thin both the white and green
1/2 cup soy sauce
2 TBS red wine vinegar or rice wine vinegar
2 TBS olive oil
3 TBS sesame oil (in the Asian section of the grocery store)
1 TBS plus 1 TSP sugar
1 1/2 TBS chili sauce with garlic (in the Asian section of the grocery store)
Make your sauce first by combining the soy sauce, vinegar, olive oil, sesame oil, sugar and chili sauce with garlic. Shake vigorously in a mason jar or pop the sauce in your blender for a minute to mix well.
While your pasta is cooking, slice your peppers and scallions.
As soon as you drain your noodles, run them under cold water until cool.
Blot noodles dry with paper towels.
Assemble the dish by throwing into the pasta your peppers and scallion, then the sauce, work it through with your hands to get every inch of pasta coated. I usually do this in the pot I made the pasta in then turn out the coated noodles in the serving dish. If you make this hours or a day ahead, make some additional sauce (half the recipe) to freshen it up prior to serving – it's really good the next day too! I personally like these noodles at room temperature, but they taste great cold too!
Enjoy!!! I swear this is one of those leftovers that you HOPE your spouse didn't finish before you could get some lol!! ARE YOU READING THIS SWEETIE???
Enjoy!!
Colleen