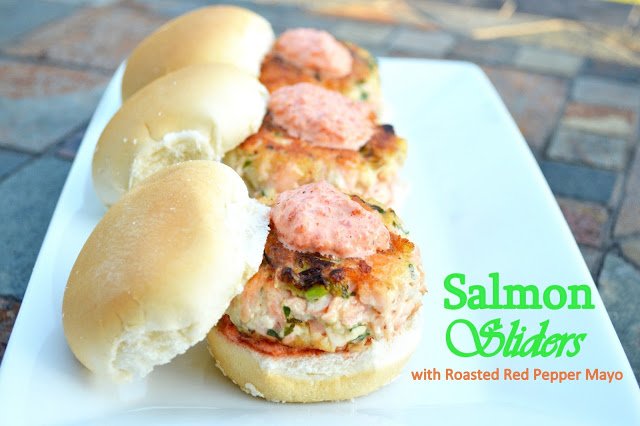 We hosted a last-minute 4th of July Party (and boy do I mean last minute). I quickly threw together a menu for what I would make, and those that came filled in the rest.
I decided to keep it simple and just have burgers – but as my husband always says "Colleen is incapable of cooking burgers and dogs…if she says she's doing that you will end up with lobster and something else she dreams up"! Haha, what can I say…he does know me!
So I really did do burgers, a trio of burgers actually…crab-jalapeno, salmon and beef. I did the crab and the salmon as sliders and for the beef, I dressed it up in a way none of our guest had tasted previously and you know what? People were nuts for the food. One of my friends said "Colleen out of all the things you ever made – this (the beef burger) was the best and the salmon slider was a close second". A couple days later people were still talking about the burgers. Huh?? I was shocked – all the time & energy that goes into some of dishes I have made and this is what got so many excited – a variety of burgers!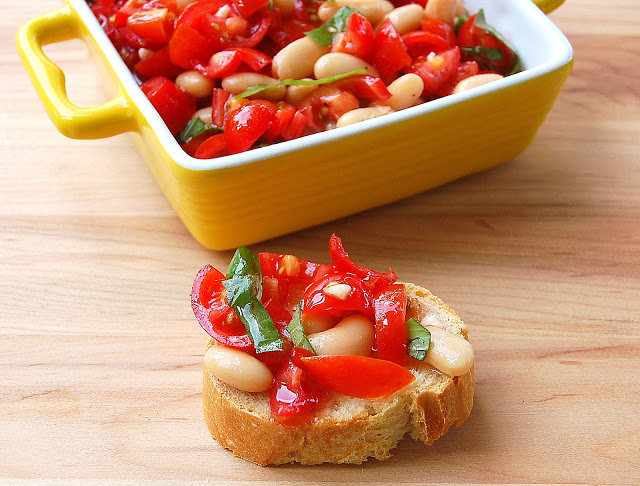 I also made potato salad, my Tomato Caper Salad, Strawberry Mojito's and couple of apps. I was almost 1 hour behind when people showed up – so I kicked them outside so I could finish. One friend made fruit & marshmallow skewers for the kids which they enjoyed, she also made this Tomato & Bean Bruschetta (which is to-die-for – see photo above, the flavors of summer explode in your mouth!). Others brought tomato & mozzarella salad, pasta salad, quinoa salad. My sister whipped up tray full of shrimp wrapped in bacon for the grill, half were glazed in BBQ sauce the other in honey mustard and everyone loved them. Lucky for us that the party went on till late so some ate twice! It was a good day, filled with family, friends, food, kids swimming and laughing and lots of games of cornhole! I hope yours was just as fun!
I will soon share the burger recipe – which you really will have to pinky swear to me that you will try! Today I am sharing the Salmon Sliders which I topped with a Roasted Red Pepper Mayo. I hope you enjoy!
Did you try a delicious new-to-you food this 4th of July?? If so, I would love to hear what it was!


Salmon Cakes with Roasted Pepper Mayo

2 lbs of salmon fillet(s)
1/2 cup scallions, sliced thin (whites and greens)
2 eggs
1/4 cup parsley (flat leaf), chopped
2 – 2 1/2 cups fresh bread crumbs from a loaf of French bread
A few dashes (or more of red pepper)
1/4 cup mayo
2 TBS Dijon Mustard (Grey Poupon Country Dijon is my fav)
2 TBS olive oil
Kosher salt & pepper to taste
Salmon Sliders/Cakes
Fill a medium saucepan halfway with water. Place salmon in the pan, cover and cook over high heat until simmering. Reduce heat to low and cook for about 5 minutes. You want the salmon almost cooked through.
Remove from heat, remove your salmon from the pan and let your salmon cool for 10 minutes. Place your salmon in your fridge for a minimum of 30 minutes (or overnight).
When ready to assemble your sliders/cakes, use a fork and flake the salmon into a bowl (my kids love doing this part). If your salmon looks really wet, gently blot it dry a bit with a paper towel. Add in the scallions, eggs, parsley, breadcrumbs, red pepper, mayo, mustard, salt & pepper. Gently combine well with your hands, spatula or large spoon. Don't overwork it. Form into patties and place on a parchment or wax paper lines plate, separate layers of sliders with additional parchment. Taste and adjust seasoning to your preference. Cover with wrap and chill for at least 60 minutes or overnight.
Roasted Pepper Mayo
2 roasted peppers (from a jar is fine)
2 TBS rice wine vinegar (or white wine vinegar)
2 TBS Dijon mustard
A good dash of Sea or coarse salt and black pepper
1 tsp (or more) of red/cayenne pepper
2 TBS light olive oil
1/4 cup mayo
For the Roasted Red Pepper Mayo
If your peppers are wet, blot them dry. Place your peppers in your food processor. Give it a few pulses. Add in the vinegar, mustard, salt & pepper, red pepper, olive oil and mayo then pulse until smooth. Cover and chill until ready to serve.
To cook the salmon sliders/burgers, place 2 TBS of olive oil in your frying/saute pan and heat the oil over medium high heat. Carefully place the cakes in the pan and over medium heat, cook about 2-3 minutes a side or until each side is nicely golden-brown/brown.
Spread a spoonful of the Roasted Red Pepper Mayo on rolls, top with a Salmon Cake and serve.
Colleen's Notes: Be sure you salmon isn't too wet from the poaching, if so, just blot it with a paper towel. Remember you cooked the salmon previously, so when you go to cook the burgers/cakes – you are just warming it through and browning each side. Don't dry the fish out. You can make these as mini and use mini rolls or you can make them burger size. You can also forgo the roll – your call.