Shrimp Cakes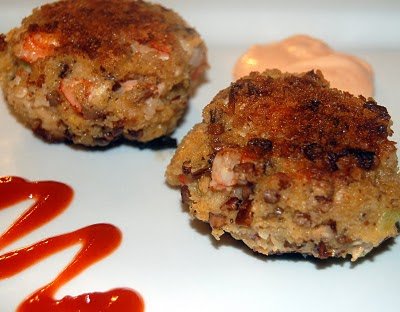 In February, I had a contest and asked folks to tell me what their "signature dish" was. It was so interesting to read the answers, plus it made me HUNGRY, lol!
Since beginning this site in November and making some new friends around the country and beyond, I have just loved seeing what folks are eating.
Some of you got back to me and shared your favorite recipes and I made them myself...my absolute favorite (and the winner of the contest within a contest) was Simply Forties Shrimp Cakes!! Congratulations!!!
If you are a regular reader of this site you may notice I have a weakness for shrimp - I think if I was going to the moon to live for the rest of my life...and could take only 5 foods...shrimp would have be one of them...and bacon...oh yeah bacon!
I have always thought about making shrimp cakes...but guess I was just to greedy and always end up making my crab cakes....I loved these, I spiced them up a bit...the husband is all about spicy (me too...mostly) and I just can't wait to eat them again!! I would have never thought to add the pecans and I agree with Mary they do add a special something!
Visit Mary's site http://www.simplyforties.com/
It is a wonderful mix of tips, thoughts, recipes and more written by a smart, savvy woman in her 40's. I know you will enjoy her posts!
Speaking of 40's....I am now there....eek! Actually It's not so bad. However my brain has not fully caught up - why does it sometimes think I am still in my 20's?
You know how it is, busy Mom trying to do all that home life, work life, friendships, family and more demand. I swear I never look in the mirror - I may USE the mirror in the morning to dry my hair and put on make up...BUT I don't LOOK at myself...not the whole day! THAT is just weird, I used to look, touch up make up etc all the time in my youth...so when I see a picture of myself...I am like whoooaaa! Who the heck is that and what did she do with me lol! I am sure some of you can relate!
I hope you enjoy these Shrimp Cakes as much as we did!! Thanks Mary!
Shrimp Cakes
adapted from Simply Forties
1 pound uncooked shrimp, peeled, deveined and tails removed
1 large egg
½ cup mayonnaise
2 green onions, sliced thin both the white and the greens
2 tablespoons fresh lemon juice
1 tablespoon Dijon mustard
1 tablespoon minced fresh cilantro (optional)
1 teaspoon hot pepper sauce (Tabasco)
A few dashes of red pepper (optional for a bit more heat)
¼ cup chopped pecans (optional but they add a surprisingly delicious flavor)
1 cup Panko (Japanese breadcrumbs)
2 TBS (or more)light olive oil
Chop shrimp, into about 5 pieces per shrimp.
Mix egg, green onion, lemon juice, mustard, mayonnaise, cilantro, hot pepper sauce, red pepper and pecans. Add the shrimp. Add 1 cup Panko and blend all the ingredients together. Form your cakes, pressing hard while you do. This recipe will make 4-6 shrimp cakes depending on the size of cake you want.
Place your cakes onto a plate and allow them to "set" for an hour in the refrigerator.
Optional if you want a crunchier texture on the outside of your cake - I chose to not add the additional breadcrumbs...I am all about the shrimp!!Roll cakes in remaining 1 cup Panko; transfer to waxed-paper-lined plate. Refrigerate 10 minutes. (Can be made up to 4 hours ahead. Cover and refrigerate.)
Heat 2 TBS of oil in heavy large skillet over medium-high heat. Fry cakes until cooked through and golden brown on both sides, adding more oil to skillet as needed, about 3 minutes on each side.
Transfer to a preheated 350 degree oven to finish for an additional 10-12 minutes.
Serve with a bit of Chili Garlic Sauce and/or whip up a sauce of mayonnaise and chili galic sauce with a few drops of lemon juice and you will be good to go!!!
Enjoy!!
Colleen