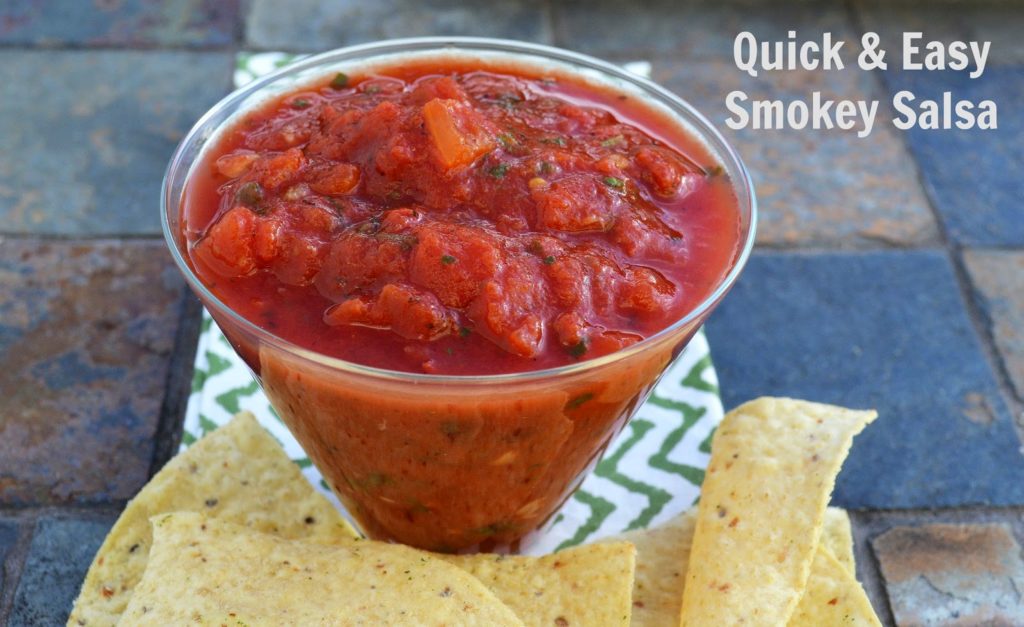 Sadly the last garden tomato is gone, so its time for our back-up plan when it comes to salsa. In my opinion, if you buy the right kind of canned tomatoes, you can still whip up an amazing salsa. I go for Organic Fire Roasted Muir Glen Tomatoes for this.
When it comes to salsa it seems everyone has their opinion of what "perfect" is. Some want it super spicy, some full of chunky tomatoes and others want it with more juice (like my daughter). My husband wants his without a trace of cilantro, while I want as much cilantro as possible! So funny!
Since my daughter eats little meat (allergy), we like to pack things like salsa, cheese, veggies and lettuce and cheese burritos for her lunch. Since Samantha is such a fan of salsa but not yet a fan of onions, I do not put onions in my homemade salsa (or guac either for that matter)…you can simply add in some red onion if that is what you enjoy in a salsa 🙂
This is a simple salsa that is packed with flavor, seriously…sometimes I just want to drink it!
And you know what?? I even throw it over pasta as a sauce occasionally as well, I just ass a healthy dose of Cayenne pepper and instant sauce!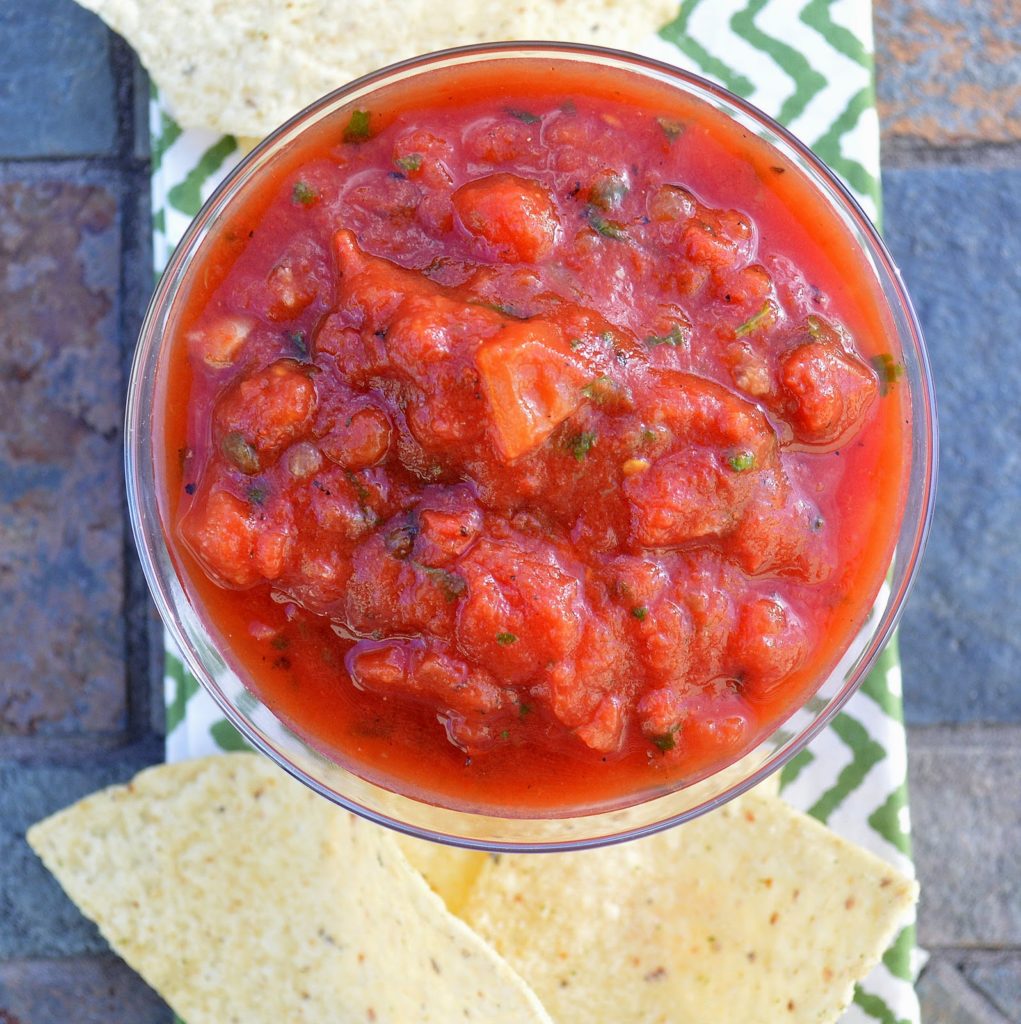 The tomatoes I mentioned above are fire roasted so they are already somewhat smokey, so all I do to add to that is quickly pan-roast a jalapeno and cloves of garlic. You could do the same in the oven if you like…I just do it that way because its quick.
Simple Smokey Salsa
1 jalapeno
4 cloves garlic (unpeeled)
28 oz can fire roasted tomatoes (whole or diced)
2 TBS lime juice
Kosher salt
Black pepper
Red/Cayenne pepper (optional for added heat)
1/2 cup rough chopped cilantro
(Optional) red onion
In a small nonstick saute pan over medium heat, "roast" your whole jalapeno and unpeeled garlic cloves, turning them occasionally for about 10-12 minutes. They will begin to char which is where the smokey flavor comes from. (If you are using onion, you can add it in quarters to the pan as well)
Remove them from the heat and let them cool enough for you to handle. slice of the coarse end of the garlic clove and pop out the garlic into your food processor. Cut your jalapeno into 4 segments and throw it into the food processor (**remove some or all of the seeds first if you are not into spicy).
If you are using onion throw that in as well.
Pulse the jalapeno and garlic (and optional onion) in the food processor, now decide what consistency salsa you want…pictured above, I keep all the juice since my daughter loves it that way. If you want a chunkier salsa, either partially drain or fully drain the tomatoes.
Pulse tomato, garlic and jalapeno mixture until incorporated. Sprinkle in a liberal amount of salt, pepper, red pepper if using, the lime juice and the cilantro. Pulse until combined and the texture you enjoy.
Taste and adjust to get the flavor you enjoy most. Sometimes I add in a pinch of sugar and/or a drop or two of Liquid Smoke.
Colleen's Notes: If you can't get your hands on fire-roasted canned diced tomatoes…you can take do what Mark Bittman does and simply heat your oven to 375 degrees. Drain a can of whole peeled tomatoes and reserve the liquid. Halve them, place them in a roasting pan that you greased with a little bit of olive oil then sprinkle with 2 tablespoons oil Roast, turning once or twice, until lightly browned, about 30 minutes. Use wooden spoon to scrape up browned bits from pan, adding a little liquid if necessary.
Dip away and enjoy!!