Whipped Cream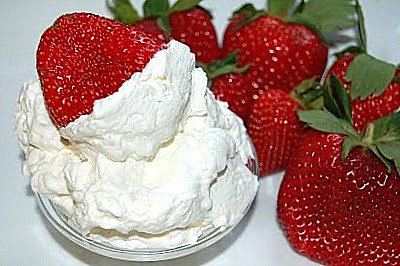 Out of the mouths of babes...right!!
So a few minutes ago, I whipped up a batch of whipped cream to go along with some beautiful strawberries I had picked up. Would I have ever considered posting how to make whipped cream?? Noooooo. However.
The kids are on spring break this week and at the moment my niece, who turned 6 Saturday, is over playing...The girls were painting in the kitchen, I had the mixer going when my daughter runs over and peeks in the bowl and says mmmmm whipped cream.
My niece Skylar cries out "YOU ARE MAKING WHIPPED CREAM!!"??
"Yes", I say
She says excitedly..."Aunt Colleen!!! YOU ARE ACTUALLY A REAL CHEF!!!"
OK seriously - I have cooked everything you can think of for her or with her at some point from food to treats to drink concoctions, we are always together on the weekends, I have been a guest "chef" at her school for her kindergarten class, she knows I wrote a cookbook and was on QVC...she saw it...BUT the event of me making REAL whipped cream is what gave me validation...that is a memory I will now carry forever.....thanks Skylar!!!
This brings me to a point...we are all so stinkin busy, many of us rely to much on ready made foods. Some are good, some are OK and some are full of super bad stuff.
Making your own whipped cream doesn't take very long, it is something I almost always do...many do it - but man - it is one of the joys of life...forget all the bought stuff - THIS is a treat for everyone, slow down this week, make it and dig in!!!! And then my friends...you will be a real chef just like me lol!!!!
Whipped Cream
Heavy cream (or light cream...but hey if you are gonna do it...indulge)
Sugar
Recipe depends on how much you want to make..I would say 1 cup of cream to 1 TBS of sugar...just depends on what you are serving it with and how sweet you want it.
Place cold cream in your cold mixing bowl and mix on med-high speed until the cream begins to get firm, add in sugar and continue until nice and thick and peaks hold their place - all told this takes about 2 ½ to 3 minutes.
You can add a bit of vanilla, strawberry or lemon extract...whatever you want to give it any additional flavor or color.
This is best the day you make it. Just ask the girl who just ate about 3 tablespoons worth...and I am not done yet!!!
Enjoy!!! I so know you will!
Colleen