White & Dark Chocolate Toffee Cookies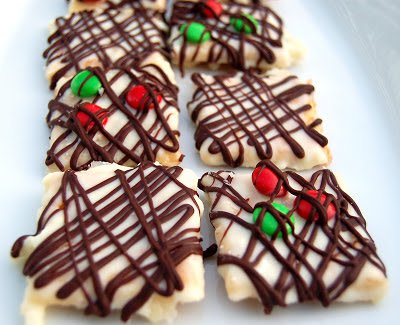 I was lucky enough to sample one of these cookies made by my friends over at Three Many Cooks earlier this month at a cookie swap.  At first glance, I was like…it's a cracker, not a cookie? Huh?
But then I took a bite and the crunchy, salty, sweetness of that bite had me hook, line and sinker!  These are SO addictive, for me its the toffee taste that I just can not get enough of!  Yum, yum, yummmmm!
If you are looking for a new addition to your cookies this holiday season, try these out!  I adapted it a bit to suit my taste since I am not crazy about a lot of chocolate.  These were a huge hit with the kiddos, they all went for the ones with the M&M's which left the plain ones allll for me…oh yeah!!  You can find the original recipe here.
One thing I love about these cookies it that you can just make a simple 2 dozen and be done with it.  Perfect to just fill up the cookie jar 🙂

White & Dark Chocolate Toffee Cookies
6 TBS butter
4 TBS sugar
1/2 tsp vanila
24 Saltine crackers
4 oz of white chocolate, chopped coarsely
3 oz bittersweet chocolate, melted
Preheat oven to 375 degrees..  Line a  baking sheet with parchment paper, and line up your Saltine crackers, close together (touching). Heat butter and sugar in a small saucepan over medium heat until mixture comes to a rolling boil. Remove from heat and add the vanilla, stir well.
Slowly, pour butter mixture over crackers, spreading it evenly with a rubber/silicone spatula. Bake until butter-sugar mixture starts to darken to a caramel color and bubble, about 8 to 10 minutes.
Scatter white chocolate over the crackers, allow it to soften from the heat of the crackers and begin to spread the white chocolate over all of surface of the crackers.. Transfer crackers to a wire rack to cool.  Place a piece of parchment paper under your cooling racks and drizzle the crackers with the melted chocolate & decorate as you wish.  I used a small pastry bag to drizzle the chocolate, you can also just snip a tiny corner off of a sandwich bag.  Whatever works 🙂 Allow these to cool completely to harden, I keep them in my cool garage.
Enjoy!!
Happy Holidays & Merry Christmas!!