If you stop by Souffle Bombay often then you know that my daughter Samantha just loves to be in the kitchen. She has since she was about 4-5 years old. Now that she recently turned 9, she is beginning to take the lead on certain dishes and desserts. This Wild Rice Fruit Salad is her latest creation.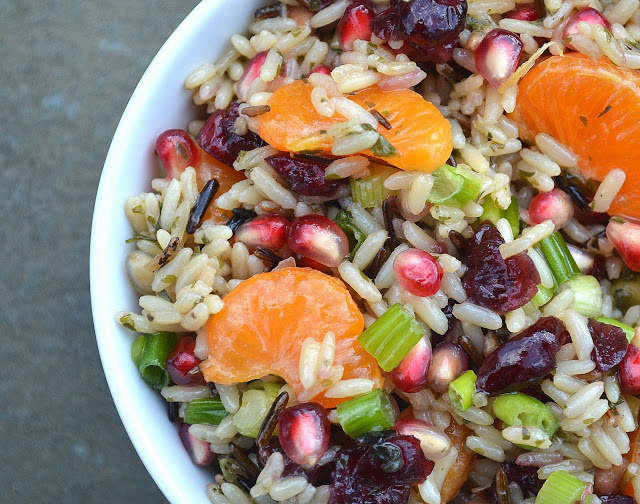 I think I speak for both of us when I say that we truly enjoy our time together in the kitchen and we enjoy the results from our collaborations. We are (and have) created some lasting memories and I just adore that!
We have been trying out different accents while we cook, depending on what culture the dish hails from - my husband and son think we are nuts!!
Samantha and I have a favor to ask of you...we both know time is valuable...but this is for a great cause!
She needs your vote.
Recently, she entered this years Uncle Ben's Rice Challenge and is attempting to win a ton of money - $30K to be exact - for her school to help in a much needed cafeteria makeover.
In her words "I want to be the hero of my school"
Take a look at the video she submitted - she did it in one take. I was very proud of her. We had no plan, we just "wung" it. Well except for what she said she wanted to do at the end...knucklehead!
Samantha looked over the suggested recipes to recreate from the Uncle Ben's site and told me she wanted to make something different. While strolling through our farmers market, she was drawn to the pomegranate seeds that the fruit & veggie vendor has already pulled out from the fruit. She grabbed them and a bag of clementines and said she was going to use them in her recipe...I helped her with the rest of the idea and do you know what...this dish was ABSOLUTELY delicious! Really!!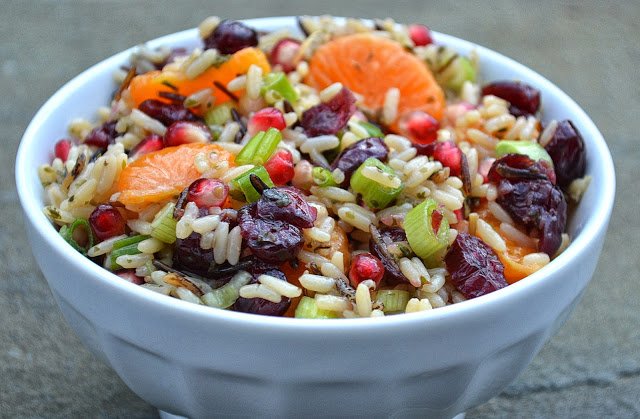 I seriously don't think I would have ever looked at it and thought, hmmm I want to eat that (my sister said the same exact thing) but MAN is it good!! Especially when eaten warm! This is a keeper and will be out at our next gathering for sure!
You can vote once every 24 hours from now through October 27th. If she is in the top 4 she gets to appear on Rachel Ray...something which is exciting her greatly. I have had my fingers and toes crossed for her for a week!
So if you have ever enjoyed a recipe from here or you just want to give a gal a chance can we please have your vote?? We BOTH love ya for it!!
Here is the link to the video and where you vote - just check the box and if you like, leave a comment.
Thanks SO much!!
If you make this, let us know what you thought, I know Samantha would be thrilled to hear 🙂
How To Make Wild Rice Fruit Salad
1-6 oz box of Uncle Ben's Wild Rice, cooked according to directions
1 cup clementine segments
½ cup dried cranberries
⅓ cup chopped scallions
½ cup pomegranate seeds
Cook the rice according to package directions, allow the rice to cool for 5 minutes. Place the rice in a bowl and add in your clementine pieces, cranberries, scallions and pomegranate seeds (or your favorite fruits) and toss to combine.
Honey-Clementine Dressing
2 TBS white or rice wine vinegar
2 TBS honey
2 TBS olive oil
2 teaspoons fresh lime juice
2 TBS fresh squeezed clementine juice
Salt & pepper to taste
Combine all ingredients in a mason jar, seal, shake vigorously and pour over your salad. Add as little or as much as you like. Toss well.
This salad can be served warm or at room temperature.
Colleen's Notes: Since my daughter was "driving" this recipe, we didn't add any garlic or shallots to the vinaigrette, If this was just for me...I might have done that - your call. You can of course customize the sweetness or lack thereof it's up to your taste preference.
Enjoy!