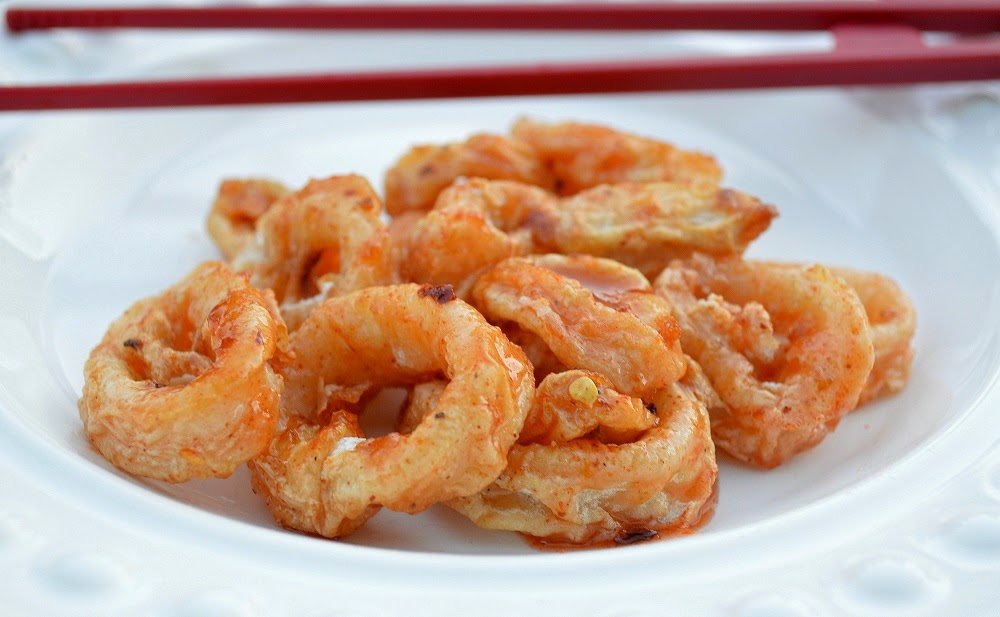 Calamari, when made well,  has got to be one of my favorite appetizers.
However please hold the tomato sauce…blech!  Don't get me wrong…I love me some tomato sauce but not with crispy calamari.  That I reserve for things like this Sicilian Calamari – that…works!
I would much rather have a spicy remoulade or a thin sweet and spicy sauce.  One thing about calamari at home is the endless small-batch baskets going into fryer, plus the oil smell.
I just finished reviewing and testing out the new Avalon Bay Air Fryer from Air & Water which is a compact "egg-shaped" small appliance that uses rapid air technology and a heating element to cook your food faster and lends food a fried taste without oil.  Its an interesting machine, especially when trying to be a bit healthier and cutting down on fats and oils…like many of us are trying to do this time of year.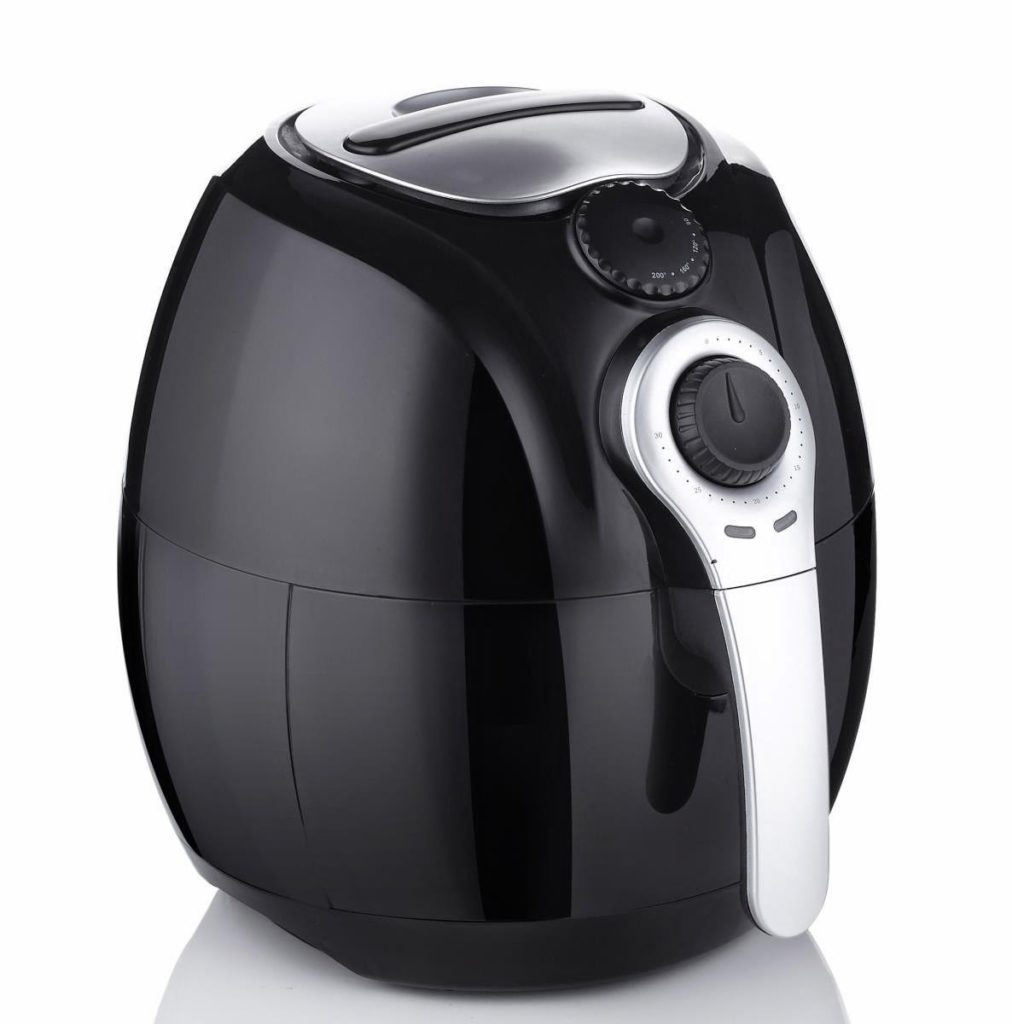 I like the sleek design as well as how compact it is.  I LOVE the fact that the Air Fryer has a handle built in right on top.  Its fantastic, making it so easy to move it around.  Even the box had a handle…very well thought out.  The second thing I adore is the timer.  Its easy to use, dings and shuts off when finished. It shuts off by itself!  Yeah for all those times I get distracted watching Downton Abbey, errr I mean doing homework with the kids.

This is especially useful, in my opinion, for those that often cook for one and it would be awesome for college dorms.  You pop in what you want into the basket, give it a shake or two in the middle of cooking…and ding…its done!  In my opinion this acts more like an oven, and bakes things father than a fryer.  However, a tiny brush of oil to the skin of chicken for example, give a more fry-like result.
I have been tinkering, and there is a bit of a learning curve with the rapid air technology air fryers use. Between my tinkering as well as the other 8 food bloggers involved, in addition to the recipes shared below successes include air fryer chicken legs, chicken wings (which my daughter deemed "the best I ever had in MY life", "baked" potatoes, including sweet potatoes, freshly made fish sticks and avocado fries.
We had some fails as well, such as fried rice (that really needs oil), chips & pita chips but now I/we seem to have found the groove.  When it comes to using a flour coating on things, they seem a bit dry, however, I fixed that by tossing the calamari in a delicious sauce them crisping them up again in the fryer.  I was determined to find a way to enjoy calamari the feeling of enjoying fried calamari without the fry and in the end it worked out.
Check out Air & Water's Facebook Page for more of their exciting products.
I received a fryer for my review to test out, all opinions about the fryer are my own.
Sriracha & Honey Tossed Calamari
1/2 lb calamari tubes (tentacles if you prefer)
1 cup of club soda
1 cup flour
A couple dashes of salt, red pepper and black pepper
1/2 cup honey 1-2 TBS Sriracha
A few shakes of red pepper flakes

Rinse your calamari clean and blot dry. Slice the calamari tubes into rings about 1/4 inch wide. Place the calamari rings into a bowl and cover them with the club soda, stir until all are submerged. Let sit for 10 minutes. Meanwhile combine the flour, salt, red & black pepper. Set aside. Drain the calamari, blot dry. Dredge the calamari, one at a time, in the flour mixture and set on a plate until ready to air fry.  Once ready to cook.  Spray the basket of the fryer with a small amount of cooking spray. Place calamari into the basket, careful not to crowd too much, set temperature for 375 degrees and set the timer for 11 minutes.  Shake the basket twice during the cooking process, loosening any rings that stick.  Remove from basket, toss with the sauce and return to the fryer for 2 minutes more.  Serve with additional sauce if you like.
Make sauce by combining honey, sriracha and red pepper flakes in a small bowl, mix until fully combined.
Enjoy!