One of the foods we all enjoy eating in our house is rice (thank goodness!!). From the earliest days of eating solid food, my kids have been into rice, big time! Whether its rice on its own or as a vehicle for other foods, we want it. This recipe for Asian Lettuce Wrap Rice Bowls is just one way we enjoy it!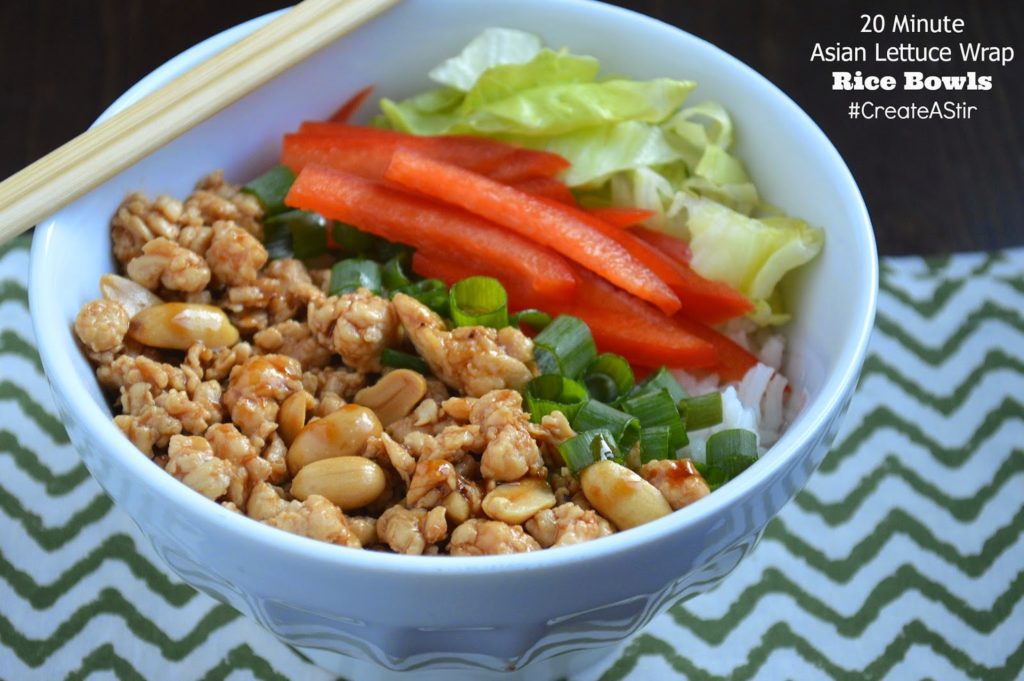 My husband has often joked that he thinks my ethnicity could be altered due to the large quantity of rice he has witnessed me eating over the years. He says "Honey, I don't think the Irish ate that much rice, are you sure your Irish??" So needless to say, I was thrilled to be asked to be a part of the Della Rice #CreateAStir Campaign and to share this recipe for Asian Lettuce Wrap Rice Bowls, to help to encourage everyone to think about creating their own "Stir" and get creative with rice.

What is a Stir?

A Stir is a dinner creation (think about your favorite rice bowl). The canvas (or bottom of the bowl) is delicious Della rice (which hails from Arkansas btw), and the toppings can include a variety of proteins, vegetables, and sauces. You pick. You decide. You create your own stir and dinner is served in 20 minutes or less!

For my first Stir, I chose to channel one of my favorite dishes Asian Lettuce Wraps. I thought about the wraps that I have been making for over 10 years (inspired by Houlihans back in the day and these days PF Chang's) and I thought about the delicious rice bowls from Chipotle and thought why have I never merges these two loves of mine…so I did! And it was deeee-licious!
Every member of my family loved the Asian Lettuce Wrap Rice Bowls I served twice over the last few days. My 13-year-old son's eyes flew open wide at first bit and asked he me a ton of questions about what made it taste so good…what's the sauce, why haven't I made this for him before and on and one…it was so cute!
Seriously…how great do you feel when one of your kids (or your spouse) look you in the eye and says they LOVED a dish or dessert you made. That right there makes my day!

Check out my Instagram for a 15-second video of my Stir. (Ummm and then my husband and I ate it all and I forgot to take a photo…that's the first time in 4 years that I've done that, lol! It was the darn smell, mmmm! It took me 20 minutes to realize I never even took a shot!
One thing about this dish…it has peanuts in it, which I seriously l-o-v-e in a dish. My husband (and my sister) cannot stand nuts in food…I just don't get it. Plus my children are severely allergic to tree nuts and peanuts SO one of the great things about creating a Stir is you can customize each person's dish! Leave out the nuts, leave out the peppers, add more sauce, less chicken…you decide. The only thing that is necessary (besides the rice) is that you need to have a few bowls of this in your life!
Della Rice (who is a part of Specialty Rice, Inc) maintains 10,000 acres of farmland in Arkansas, the country's largest rice-producing state. The East Arkansas Delta, where Della Rice is grown, is known for creating outstanding, aromatic specialty rice. Della Rice has been family owned and operated for more than 20 years. The Specialty Rice facility is 100% gluten-free, kosher, and non-GMO.
You may also enjoy my Asian Lettuce Wraps.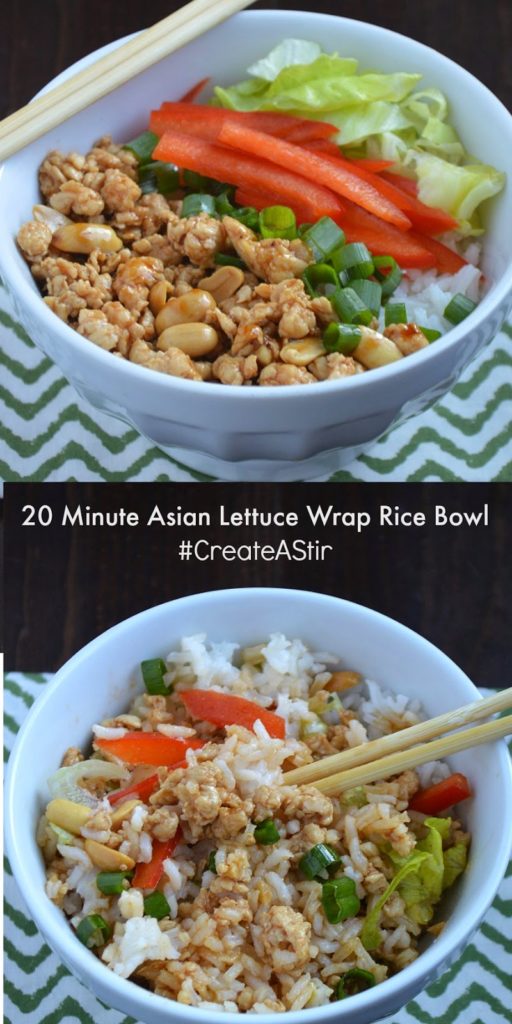 Asian Lettuce Wrap Rice Bowls Recipe
Serves 2
2 cups uncooked Della Rice ( I enjoy white Basmati for this)
2 TBS olive oil
1/2 cup chopped sweet onion
2 cloves of garlic, minced
1 pound ground chicken
Salt & pepper
Sauce
1/2 cup soy sauce
1/2 cup ketchup
2 TBS rice wine vinegar
2 1/2 TBS sesame oil
5 TBS brown sugar
Sriracha to taste (depending on your heat preference, start with 1 tsp)
Rice Bowl Toppings
1 cup shredded Lettuce
1 red pepper sliced thin
1/2 cup scallions (green onions) sliced thin
1/2 peanuts (optional but yummy!)

Cook rice via rice cooker or stove-top according to packages directions.
Meanwhile, make your sauce by combining all sauce ingredients in a mason jar or small bowl. Shake or whisk to mix well, set aside.
In a skillet over medium heat, heat your oil, add in your onions and saute for 3 minutes. Add in your garlic and saute 1 minute more. Add in your chicken and stir until combined and chicken is mostly cooked. Strain out most of the liquid, then add in 1/2 of the sauce, heat through until chicken is done.
Create your rice bowls by placing rice into your bowls then topping it with the chicken, scallions, lettuce, peanuts, peppers or however you would enjoy it. Spoon in the extra sauce if you like and enjoy!
Colleen's Notes: I have found through experience that when you cook with ground chicken its best enjoyed the same day, otherwise reheating it just dries it out. If you know everyone eating this would enjoy peanuts and scallions, you can also add them in directly to the chicken mixture when you add the sauce in. It will then each additional flavors.
Enjoy!!