Take a look at this scrumptious Avocado Breakfast Pizza! We all know enjoying avocados is a good thing, however starting the day off with one or two...well that right there is a great thing!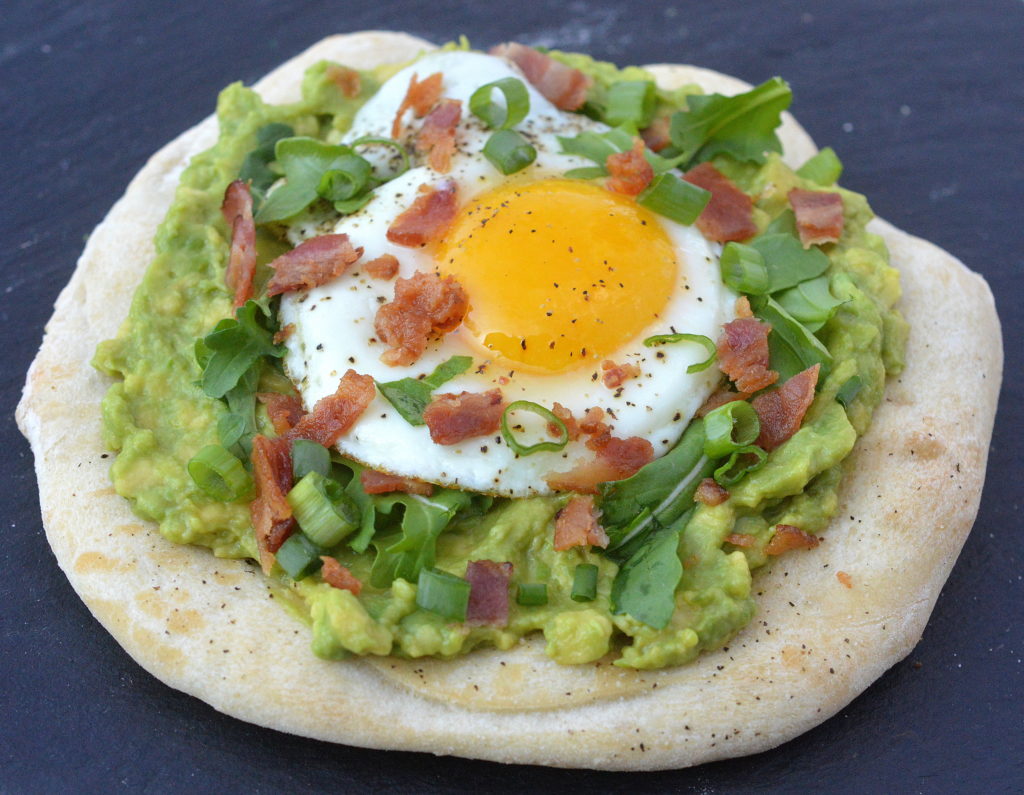 In my house, we are suckers for any kind of a breakfast pizza, actually we are into pizza...and dough. It's the dough for sure! When you can use perfectly baked and lightly crusty pizza dough as the vehicle for favorite foods like eggs (the yolk...its all about the yolk), delicious meats, avocados and vegetables.  Go for it as often as you can!
My son Connor is obsessed with non-traditional homemade Pizza's. He ran off with 2 big slices of this Avocado Breakfast Pizza then came back an hour later looking for more!  And that right there is what a 14 year old growing boy should be doing...that and kissing the cook...always kiss the cook, especially when she's your momma.
Making him, and the rest of my family, excited through the food makes me very happy!
This is my second year as one of the food bloggers working with California Avocados during their harvest season and because of that, my whole family has a deeper appreciation and love for avocados...myself included. Avocados are just so good and so good for you! One taste of a California Avocado and you will know special! Get them while you can! To learn more about why they are so delicious, read more about them here.
This month we were asked to whip up something using avocados for breakfast so my mind went to this Avocado Breakfast Pizza which quite honestly could be enjoyed round the clock.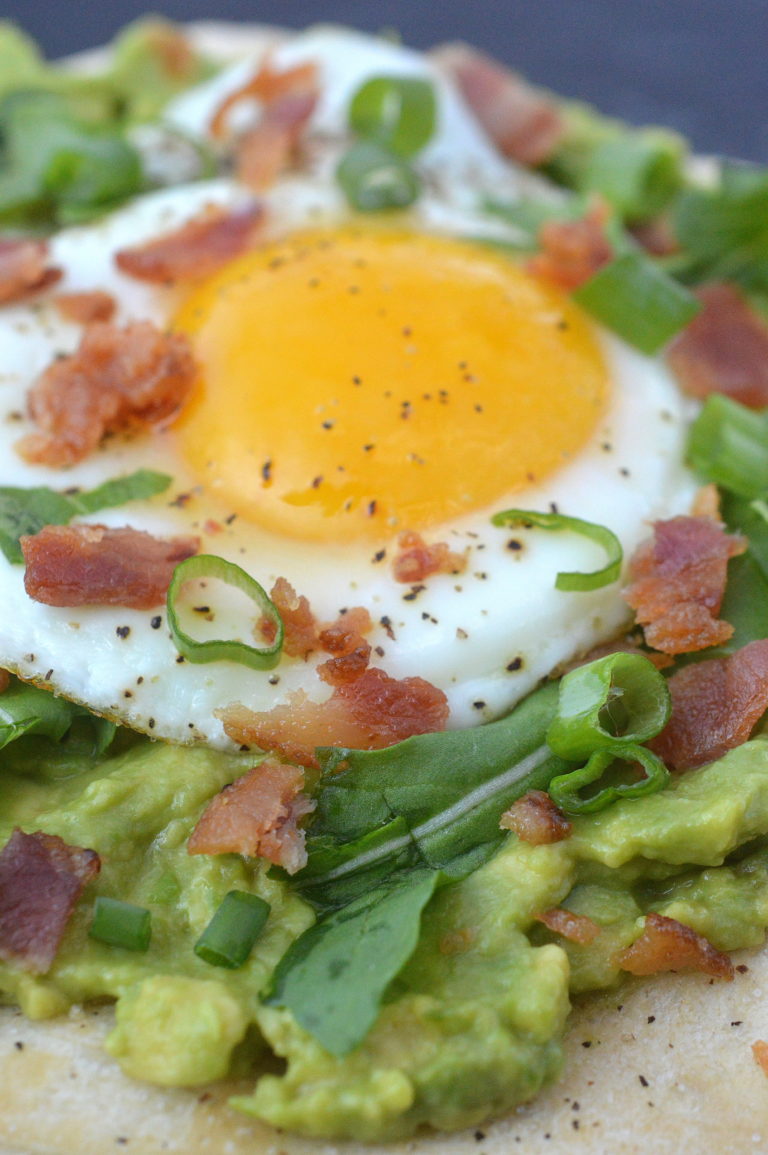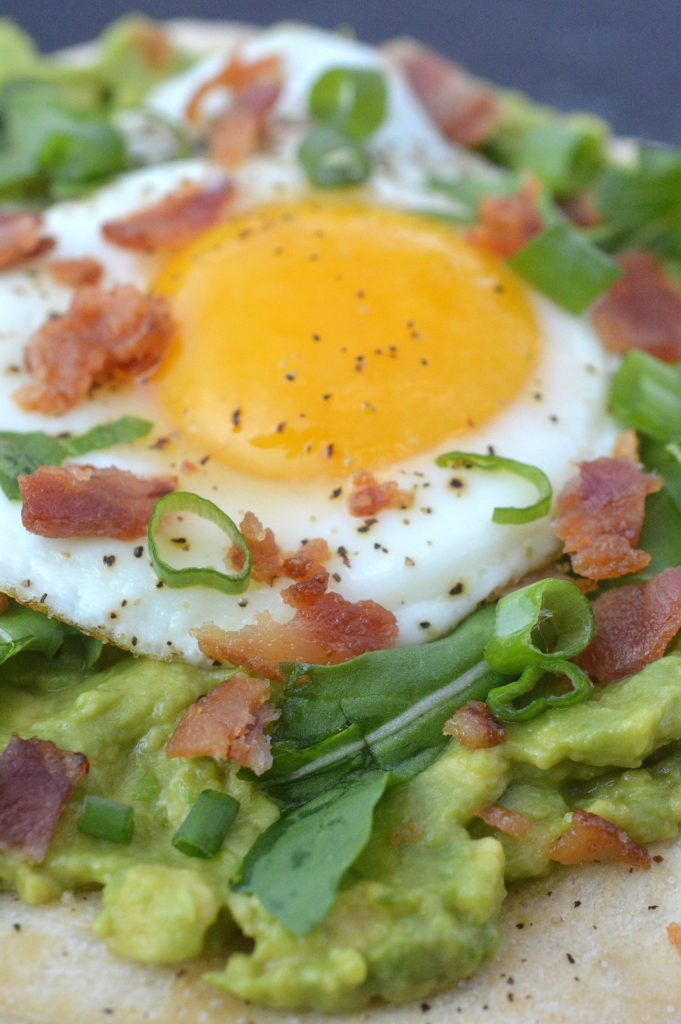 Pizza dough, avocados, spices, eggs, bacon (BACON!!) and some greens make for a delicious combination. Geez when the yolk starts running around its a full on party! If you want to spice things up, add dollops or a drizzle of Sriracha which then kicks it up to a full on P-Diddy level party in your mouth!
Oh...seriously! I need food right now. Just thinking about how good this was today at 2:19 in the afternoon is making me crazy! When all I had so far today was one lonely dark chocolate caramel with sea salt (my favorite treat). I'm getting ready to head over to my local Farmers Market.  They better watch out because Col is coming in huuungry!
Make this! When that yolk runs into the avocado and mingles with the crust and bacon...It's a food moment! If you like heat...add some Sriracha drops or a drizzle and booo-yah!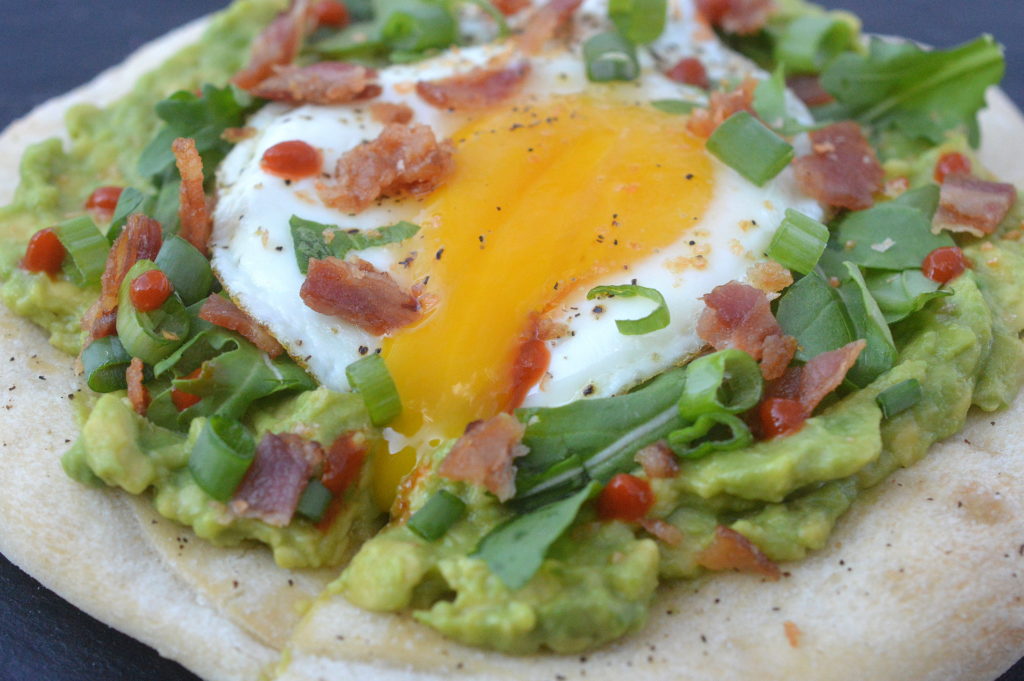 And make lots of eats over the next few months using California Avocados. You know how good they are! I have a ton of avocado recipes for you to check out...Just click over to this post (for 11 of them anyway) or search "avocados" over on the right-hand-side of my website just under the "Popular Post" images and you will soon be on your way to doing the happy food dance...Avocado-style!
For every avocado recipe imaginable, including my Loaded Pulled Pork Avocados (pictured below)   which I did for the California Avocado Blog, visit California Avocados Website and prepare to drool!!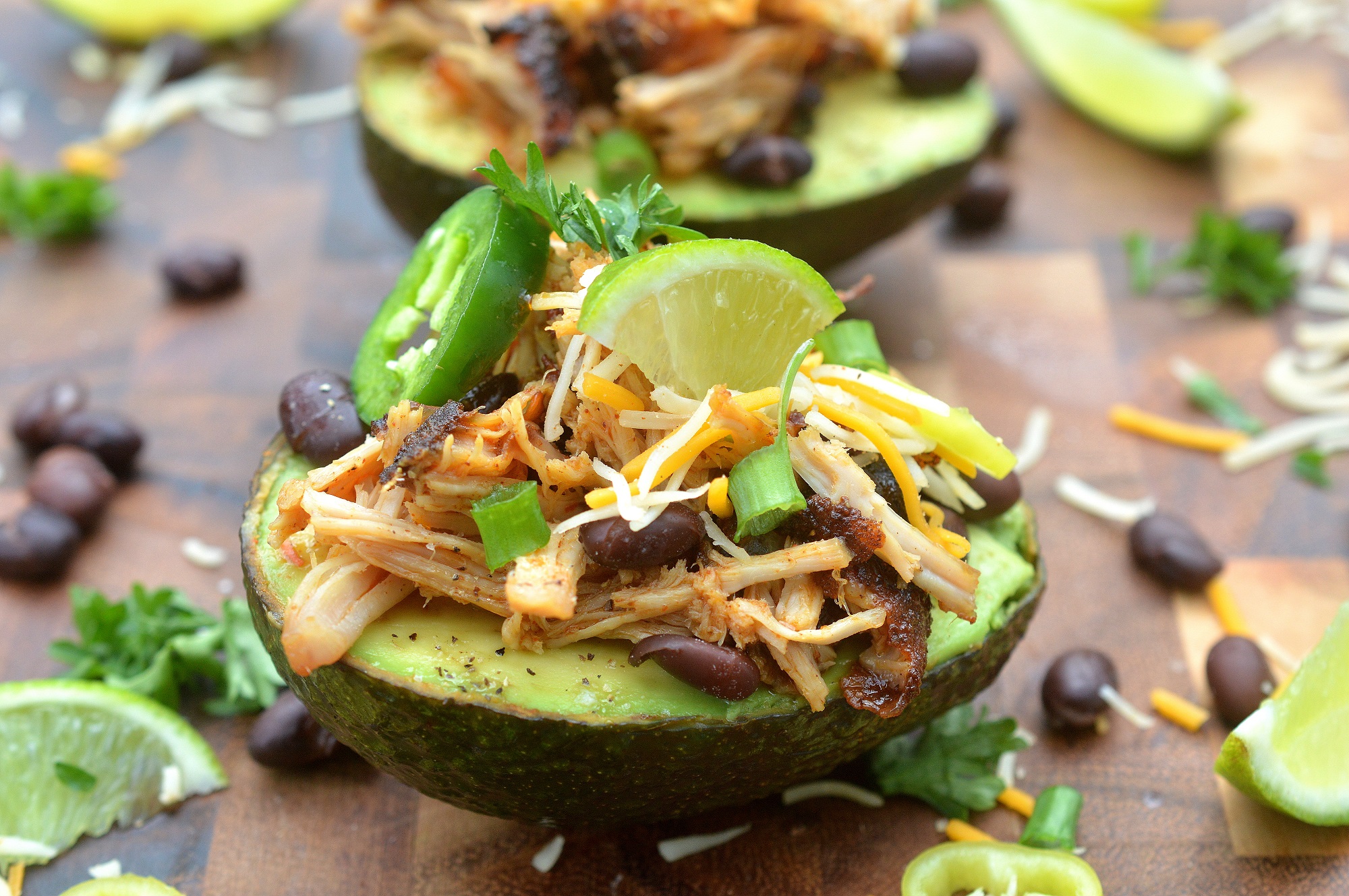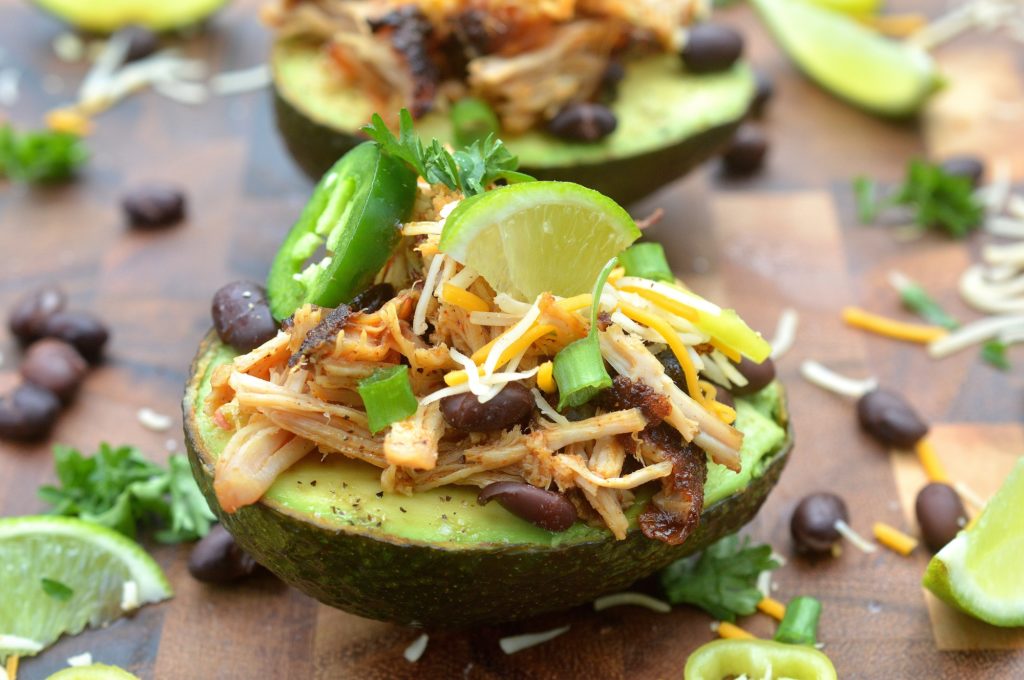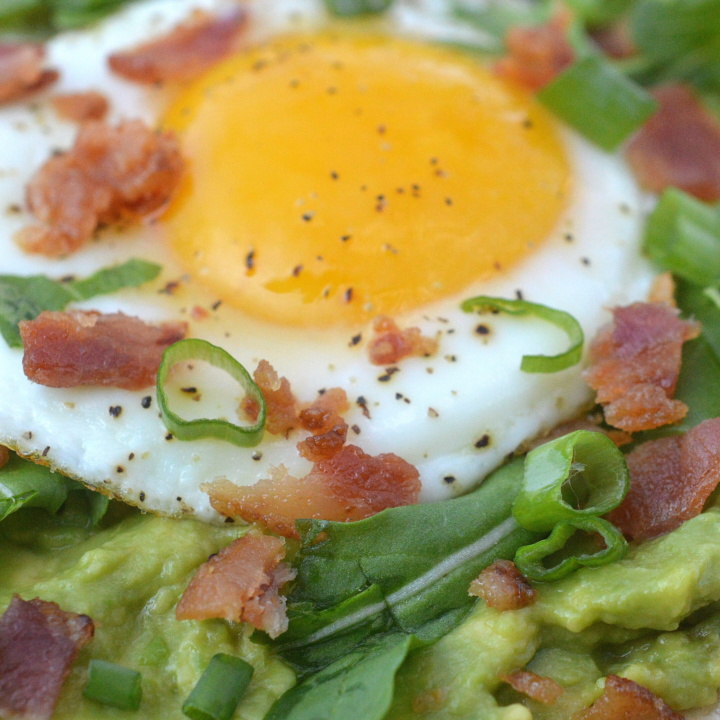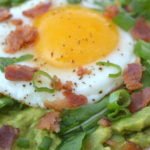 Print Recipe
Avocado Breakfast Pizza
Ingredients
Pizza Dough

6

slices

crispy bacon

2

avocados

Fresh lime juice

Kosher salt & pepper

Cayenne

red pepper (optional)

Arugula

2

scallions

sliced thin
Instructions
Make your pizza dough or pick up a disc at your local pizza place or market.

Preheat oven to 400 degrees.

Shape into 1 large pizza or 3 small ones.

Lightly flour your baking or pizza pan, place the shaped dough onto it. With your fingertips, lightly oil the top of the dough with grapeseed or olive oil. Season with salt & pepper.

Bake for 15-18 minutes or until dough is golden (8-10 minutes for smaller pies).

While the dough bakes, mash your avocados with the back of a fork, add in about a tablespoon of lime juice as well as a good amount of salt & pepper. Taste and adjust. If you like a little heat, add in some Cayenne pepper or minced jalapeno.

Once the dough is finished baking, spread the mashed avocado on top, sprinkle with arugula, bacon and scallions.

Cook 3 eggs on your stove top and place them on-top of the pie(s).

Dig in!
Notes
To spice things up, add dollops or a drizzle of Sriracha to your pie(s).
Since we are using fresh avocados, the pizza is assembled after the dough cooks.
You can also choose to use flatbread for the pizza if you choose.