Grilled Avocado Caprese Salad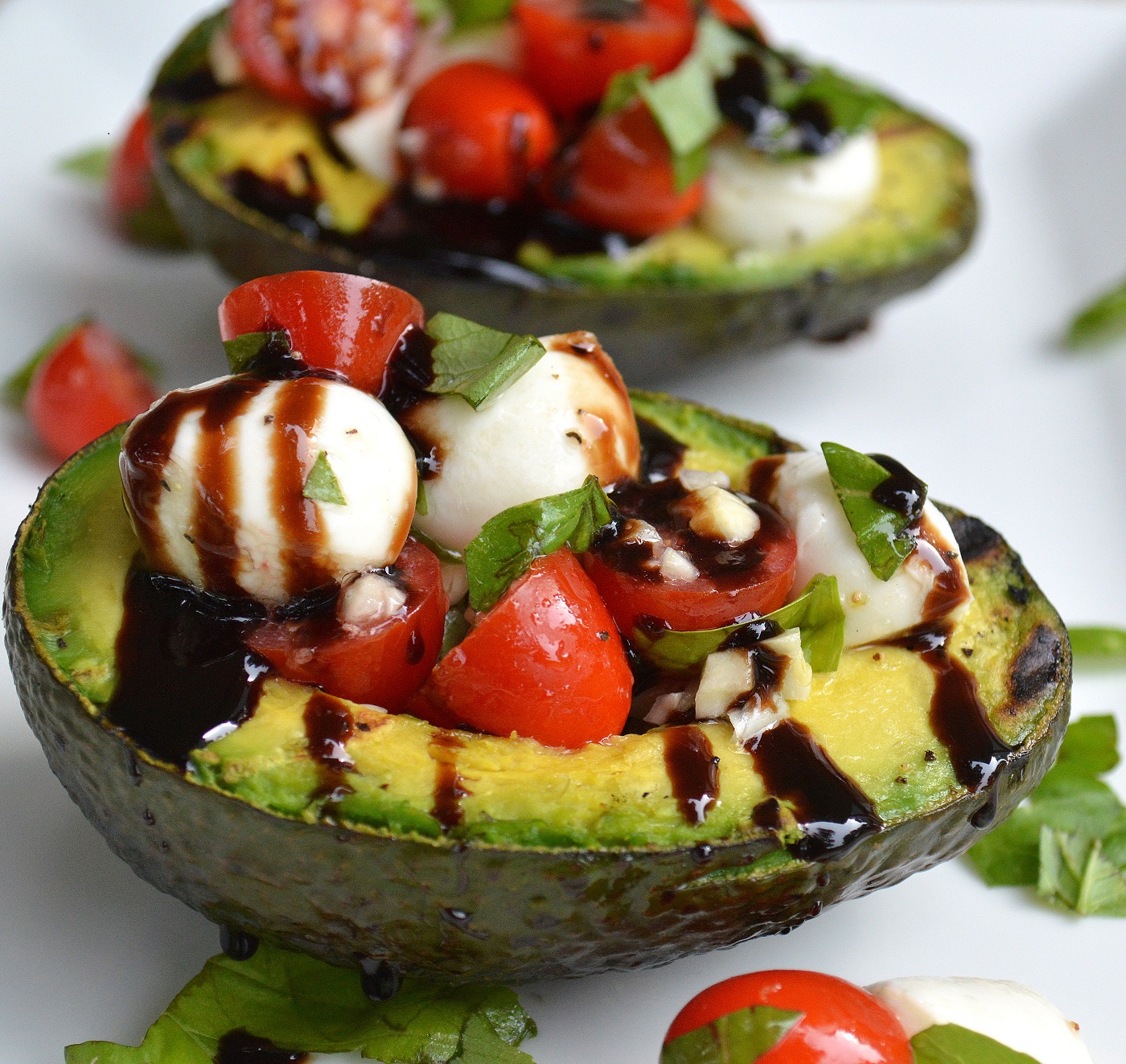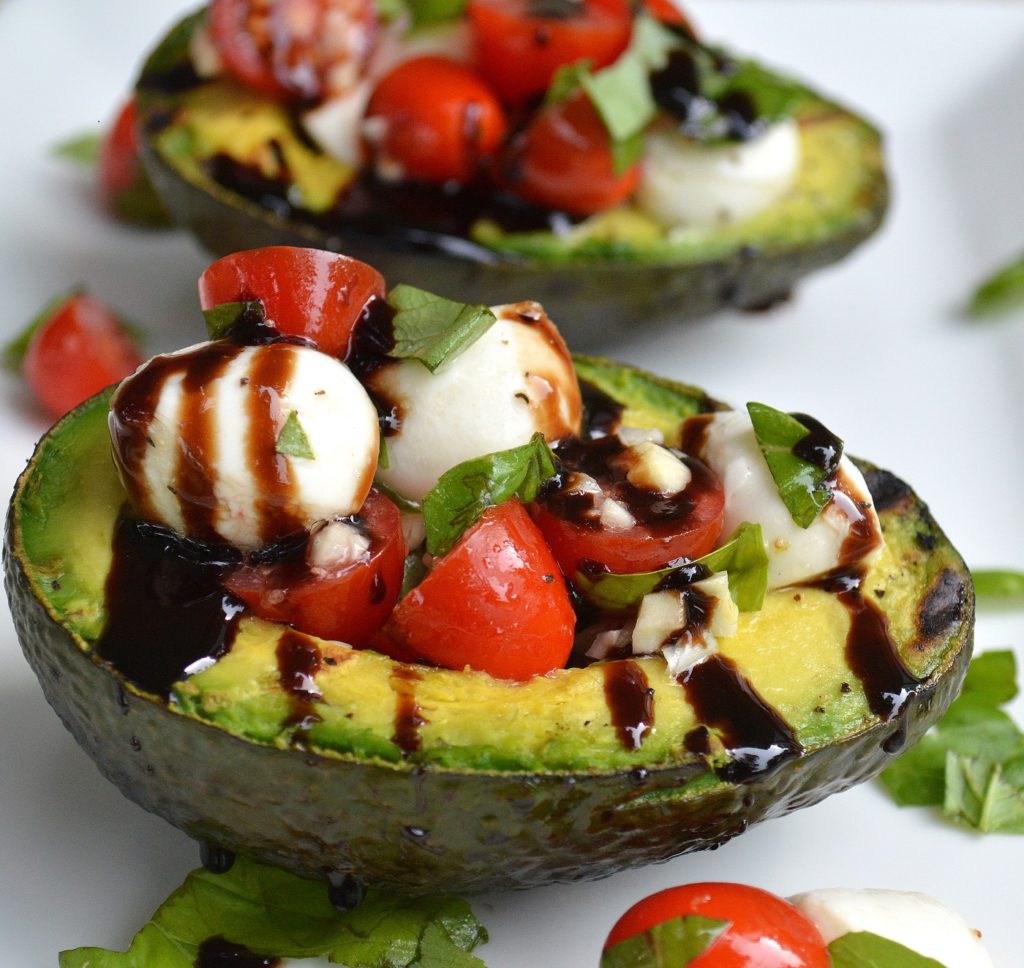 I am excited to share with you the newest recipe in my continuing partnership with California Avocados. This month we fired up our grills and came up with a number of delicious recipes I think anyone would enjoy. I came up with a Grilled Avocado Caprese Salad and...Oh...my...yum!
California Avocados are in season, and to me part of the appeal of avocados is their versatility...from soups to spreads to salads to hot dishes to even the avocado itself as the vehicle for a dish.  I just love them...when it comes to avocados, the culinary options are endless! And you know what?? Every time I dig into a fresh & creamy California Avocado...just for a minute I am transported there...go ahead and taste the difference!  
I decided to make a Grilled Avocado Caprese Salad - I am somewhat obsessed with tomatoes...especially in the summer so paring avocado & tomatoes seemed the thing to do!
The secret to this delicious dish is the garlic infused oil.  Mmmmm!   It ties the whole dish together beautifully!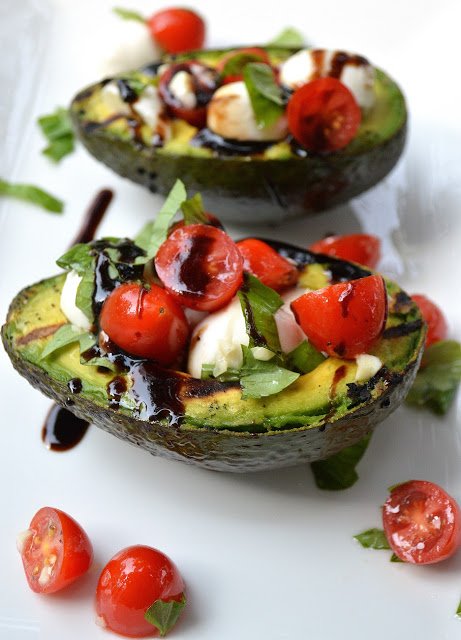 This is another one of those dishes that may get you an oooh-aaaah....and the bonus...people will never know just how simple it was to prepare!  Just a  few minutes on the grill to allow your avocados to get a beautiful char and BBQ flavor...toss your tomatoes & mozzarella with the garlic infused oil...add in some basil and my favorite part...balsamic glaze.  Oh man....now I'm hungry!
The warm avocado mingling with the fresh taste of tomatoes, the rich mozzarella, the garlic & the acid of the balsamic glaze is truly fantastic....make this!  It is a perfect bite!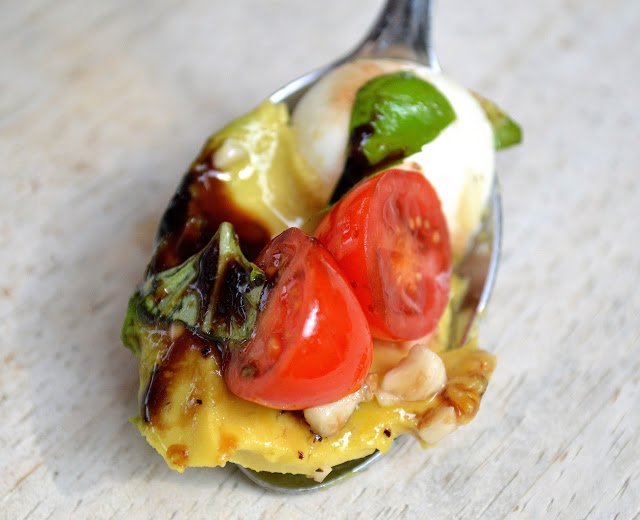 I hope you are as excited to make these Grilled Caprese Stuffed Avocado  as I am to share them with you!  If you do make this....snap a photo and tag me on Instagram or Facebook @SouffleBombay - I'd love to see your dish!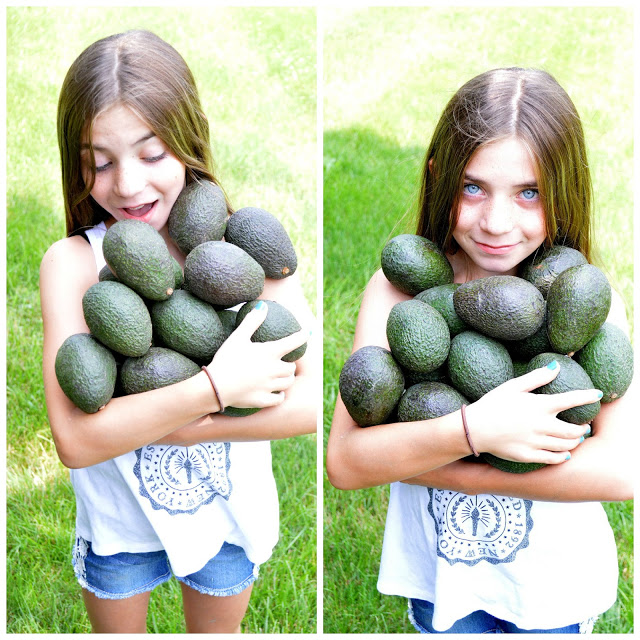 Someone...wanted to run off with my avocados! 

Looking for more delicious avocado recipes?? Check out my some of my favorites: 

Avocado Crab Cake Sandwiches With Bacon & Avocado Aioli, Watermelon & Avocado Pizza, California Garlic Bread With Sauteed Spinach & Avocados, Eggs Benedict with Avocados Sriracha Hollandaise & Avocado Cream,
Tequila Avocado Salsa


Loaded Pulled Pork Stuffed Avocados, Spicy Chicken Cakes with Avocado Cream, Spicy Chicken & Bacon Flatbread with Avocado Cream, Crispy Avocado Bacon & Tomato Salad (OMG!!), Chili Stuffed Avocados.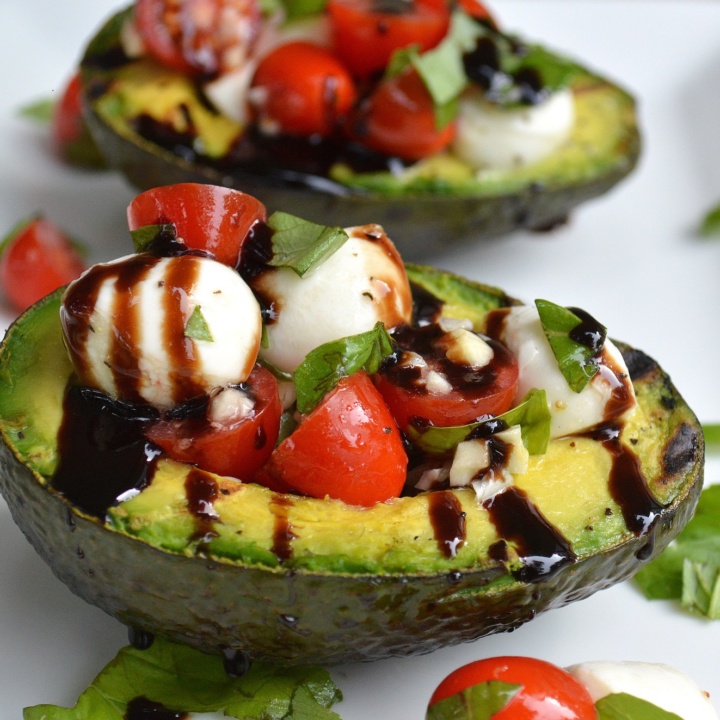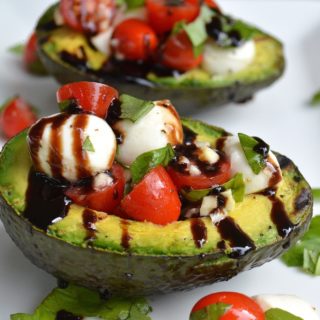 Grilled Avocado Caprese Salad
Ingredients
½

cup

grapeseed or olive oil

4

cloves

garlic

minced

Kosher salt & pepper

2

California avocados

1

pint

grape tomatoes

halved

16

Bocconcini

small mozzarella balls, halved

Basil

Chiffonade

Balsamic Glaze
Instructions
In a small bowl or mason jar, combine the oil, garlic, Kosher salt & pepper...be liberal with the salt & pepper. Stir it up and allow it to mingle for at least 1 hour.

Prep your tomatoes and mozzarella, season with salt & pepper. 30 minutes before serving, toss them with some of the garlic oil.

Oil & heat your grill. Halve your avocados (and remove the pit). Season and brush liberally with the garlic oil. Place each avocado half face down on your hot grill and grill for 4-5 minutes (leave the lid open). You are just looking for some nice char marks and for the avocado to be heated through.

Remove avocados and plate them. Toss in the basil with the tomato & mozzarella mixture, mix it up. and spoon it into and over-top the avocados, drizzle with balsamic glaze & dig in!

Tip: To easily Chiffonade your basil...use a sharp knife (basil bruises easily) and pinch off the stems of lay 10 leaves, place them atop one another, roll it up tightly yet gently (like a cigar) and make thin slices with the tip of your knife...ta-dah!
Follow me on Tik Tok for 1 minute videos
Enjoy!!