Crab Cakes studded with perfectly ripe California Avocados, nestled atop crispy bacon in sandwich form?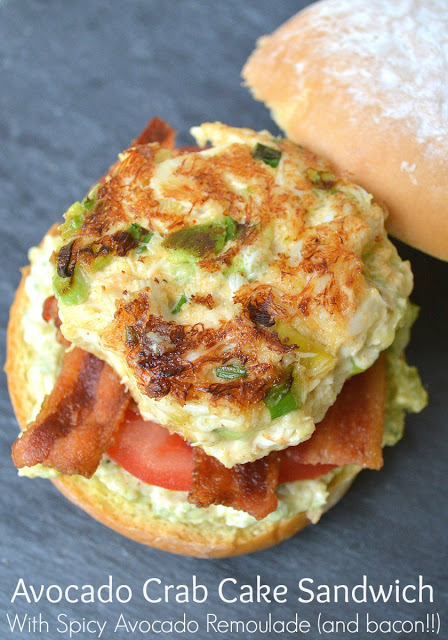 Avocado Crab Cake Sandwiches With Bacon & Spicy Avocado Remoulade?? Oh yeah...I've got you! Read on! 
One of the foods my husband & I enjoy the most are crab cakes.  I have been making them as long as I can remember. Growing up, I am almost positive that the only crab cake I ever had was either from a box of  Mrs Paul's (you know the green box from the freezer section of the supermarket) or from our local Seafood Store that we would grab take out from every Friday in Lent.
My mom is a huge fan of all things seafood, however being a stay at home mom with 5 kids, she didn't get it a lot.  She was completely satisfied with that green box.
Needless to say I never went out of my way to eat crab cakes once I was on my own.  They only version I knew came from the box or the fish market and both were deep fried.
I was in my 20's when my mom called and said she was headed to the Outer Banks, NC with a group of friends, She said she was responsible to cook dinner one night and asked what she should make.
My mind went to crab cakes.  I tinkered, gave her a recipe and a new food love was born.  Not just for me...within a year my brothers, sister, friends and family were all making those crab cakes.  To this day everyone is still kind of obsessed!
I am "known" in a few circles of family, friends, friends of friends and food bloggers for those crab cakes, these sesame noodles, and these Frozen Chamboard Margaritas.  As far as the kids go...my children, their friends & cousins can never get enough of these.  They stalk me for them, lol! 
I decided to combine 3 of my food-loves into one delicious sandwich!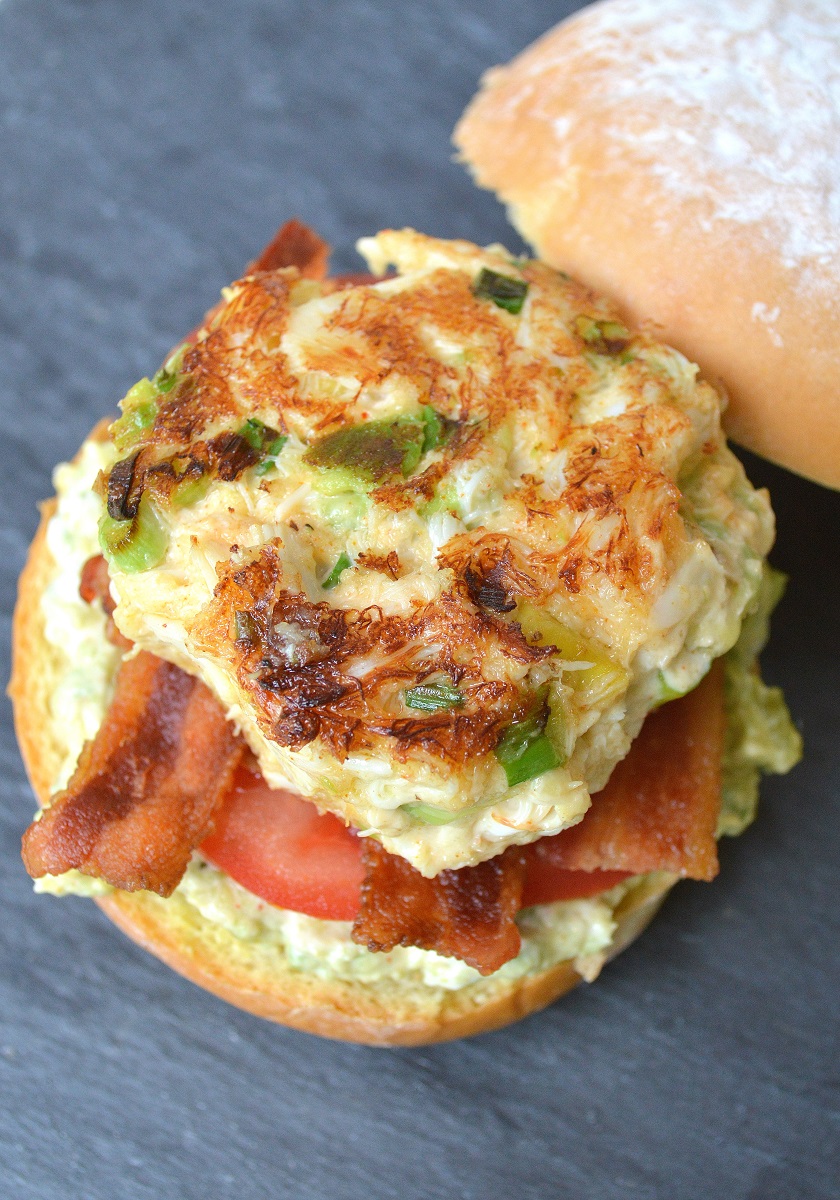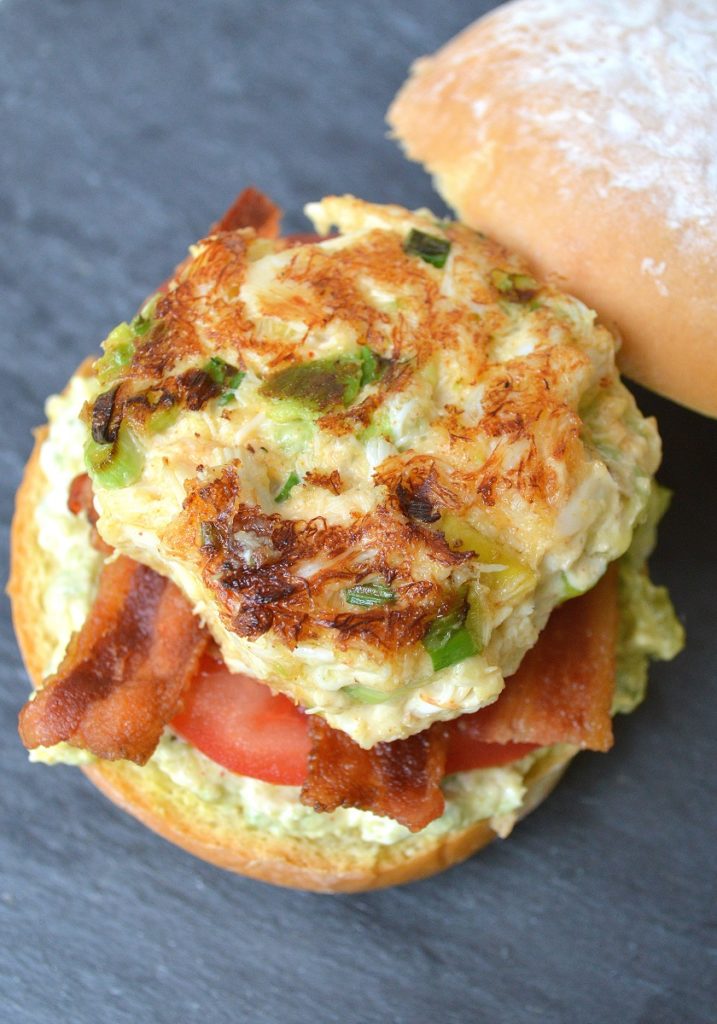 Crab...Avocado...and Bacon! BAM!! 


You want this sandwich in your life this summer! Especially while California Avocados are in season.  Every trip to the market has me laying my eyes upon bins of gorgeous California Avocados. I can't help myself and buy a handful every time! And every time, I tinker with another idea...or let's face it, make some guac.  Lord, I could probably eat a bathtub full of guacamole! Is it just me?


Thank you to California Avocados for inspiring me to become creative in the kitchen with their incredible avocados and sponsoring this post xoxo! I am having the best time being one of their ambassadors! For more incredible avocado recipes and everything you need to know about California Avocados, visit their website, Facebook Page or check them out on Pinterest...those recipes will have you running to your market!
True story! With all of the avocado eating and recipe tinkering I have been up to...my 10 year old daughter has been furiously trying to grow an avocado  tree.  She's actually been trying for 2 years, lol!  She's given up trying to get something to happen from the seed itself in the house...now she's digging holes everywhere and just plopping them in...she runs out and inspects her spots every day...and nothing! SO funny! I am seriously tempted to find a tree or two somewhere and have them "magically appear" overnight!
The avocado in the crab cakes is a nice addition.  The avocado chunks give the crab cakes extra flavor & texture. Whipping up a chunky Spicy Avocado Remoulade is a perfect compliment to the crab cakes, the bacon & the tomato.  Nom!!
If you want to chuck the bun...go right ahead and do it this way.  SO good!  You could even sprinkle some chopped tomatoes over top as well. You need these Avocado Crab Cake Sandwich With Bacon & Spicy Avocado Remoulade in your life and in your belly!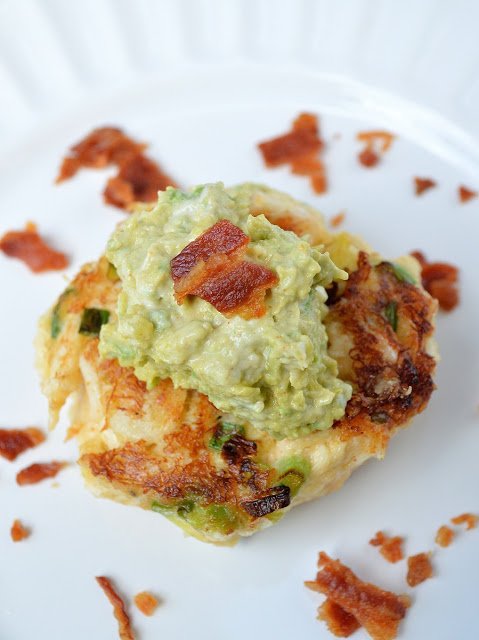 Now, I know everybody makes their crab cakes differently.  I totally get & respect that. But trust me when you make these...They will feel wet...but its all good!  Just be oh-so-gentle and you just may have yourself your new favorite crab cake!  I've been making a similar version of these (minus the avocado) for 20 years and I (and everyone I know) still can't get enough!
Spicy is key too...you want some heat from those cakes!
I seriously need to know if you make these...Please tag me on Facebook or Instagram if you do...It would make my day!
Avocado Crab Cake Sandwiches With Bacon & Avocado Aioli
½ pound jumbo lump crab meat (I am a Phillip's fan)
¾ cup of fresh French bread crumbs (see below)
2 scallions sliced thin (both green and white parts)
½ TBS fresh lemon juice
Zest of ½ a lemon
Couple dashes of black pepper
Red pepper (Cayenne) don't be stingy, you want to feel heat
½ cup mayonnaise
½ avocado, diced
2 TBS grapeseed or olive oil
Drain your crab and place it in a mixing bowl.
Hollow out ½ of a loaf of  French bread (or so), crumble it up as you go. If you want to measure it, it will be about almost a cup of fluffy bread crumbs (not packed down).
Add in the scallions, lemon juice, zest, black and red pepper. With your fingers, gently toss it around. Add in the mayo and gently combine.
Add in the avocado pieces and toss gently to coat.  If it is not all holding together, add a little more mayo.
Cover and refrigerate for 30 minutes.
Form into patties.  It should sound wet as you form them, some mayo will stick to your hands...that's perfect.
Place the patties on a parchment or way paper lined plate or baking sheet and allow them to set up in the refrigerator (covered) 30 minutes to overnight.
When ready to cook, heat oil in your nonstick frying pan until hot but not smoking.  Over medium-high heat, cook crab cakes for 3-4 minutes per side or until crisped to your liking and heated through.
Spicy Avocado Remoulade
1 avocado
½ cup mayonnaise
1 TBS grapeseed or olive oil
1 TBS pickle relish
A couple dashes Worcestershire sauce
A squeeze of lemon juice
Salt & pepper
Red (Cayenne) pepper
You can simply mash this all together in a bowl or toss it in your food processor.  Thicker or creamier...it works wither way.


To Make The Sandwiches
4 rolls
Avocado Remoulade
Tomato slices
8 slices crispy bacon
Spread remoulade on your bun, top with a tomato slice or two (season tomatoes), add 2 slices of bacon, top with a crab cake and the top of the bun & enjoy!!
Hope you love this as much as my husband & I do!!