Who else is excited that Thanksgiving will be here soon?? I've got my stretchy-pants at the ready and I'm happy to be working with BJ's Wholesale Club to bring you a recipe and tips to make your Thanksgiving meal a hit! I started testing out stuffing recipes like this Bacon Sage Cornbread Stuffing. Every year I like to have 2 stuffings (one of which is new).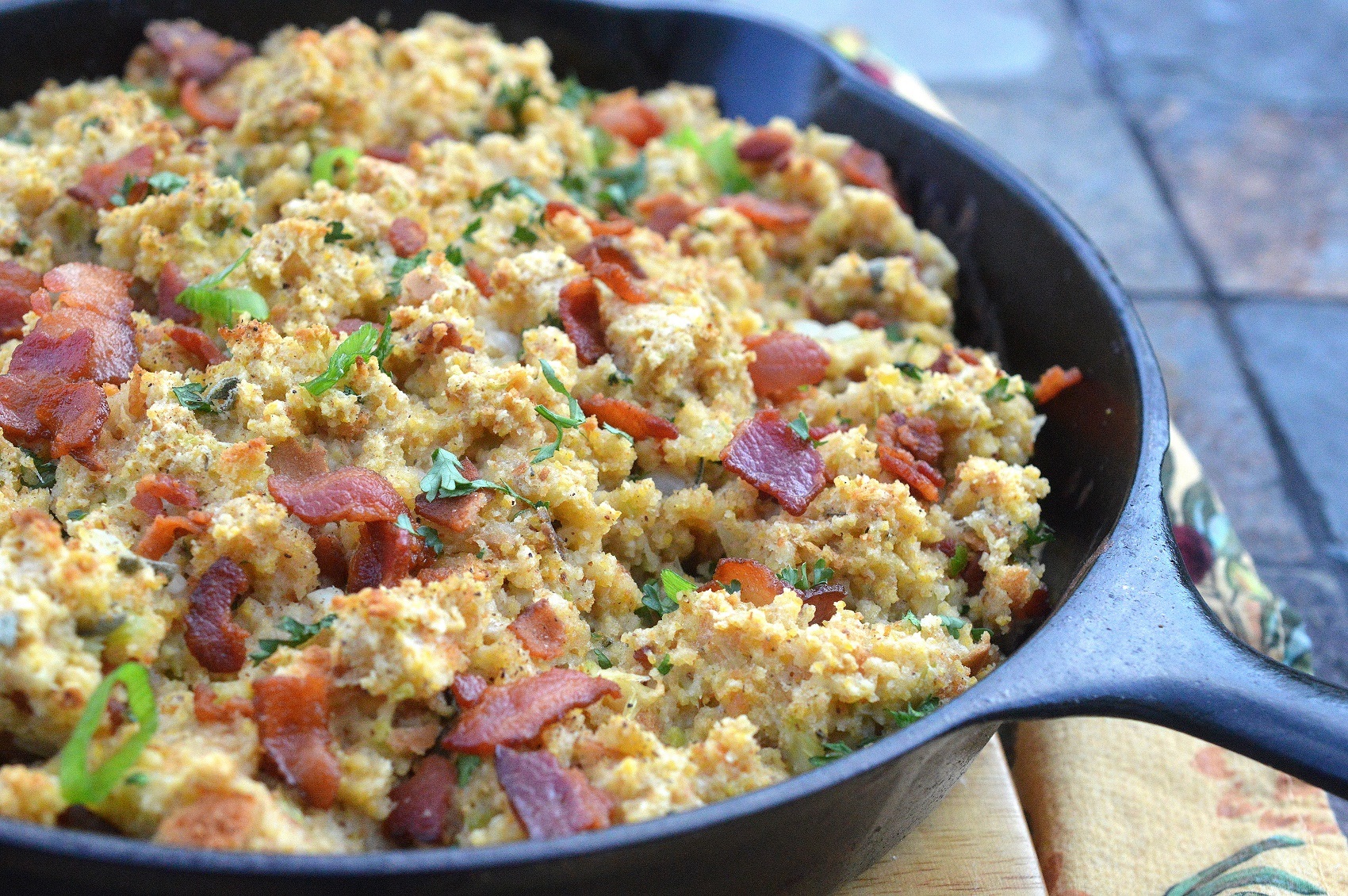 Years ago, I asked my siblings to each bring a stuffing to Thanksgiving…an event which one brother names Stuffingfest will forever go down in my family's history, lol! I mean what's wrong with wanting to try different stuffings? For many, Thanksgiving is all about ritual…They want the same foods on their table as they had when they were five. For others, it's almost sport-like in their adventures in food. I fall somewhere in the middle. How about you?
This Bacon Sage Cornbread Stuffing was tasty! You can choose to make it with fresh cornbread or you can opt for a store-bought mix. I would go with the former after trying it both ways. It had more flavor and texture.
If you are busy, like me, you have to love places that you can do some serious one-stop-shopping. Lucky for me I have a BJ's Wholesale Club nearby, which is always a great place to go when I know I am hosting a gathering. I can shop easily and in bulk for the things I need. I can even pick up decor and houseware items that catch my eye. Plus as a BJ's Member I save up to 25% off grocery store prices every day I shop!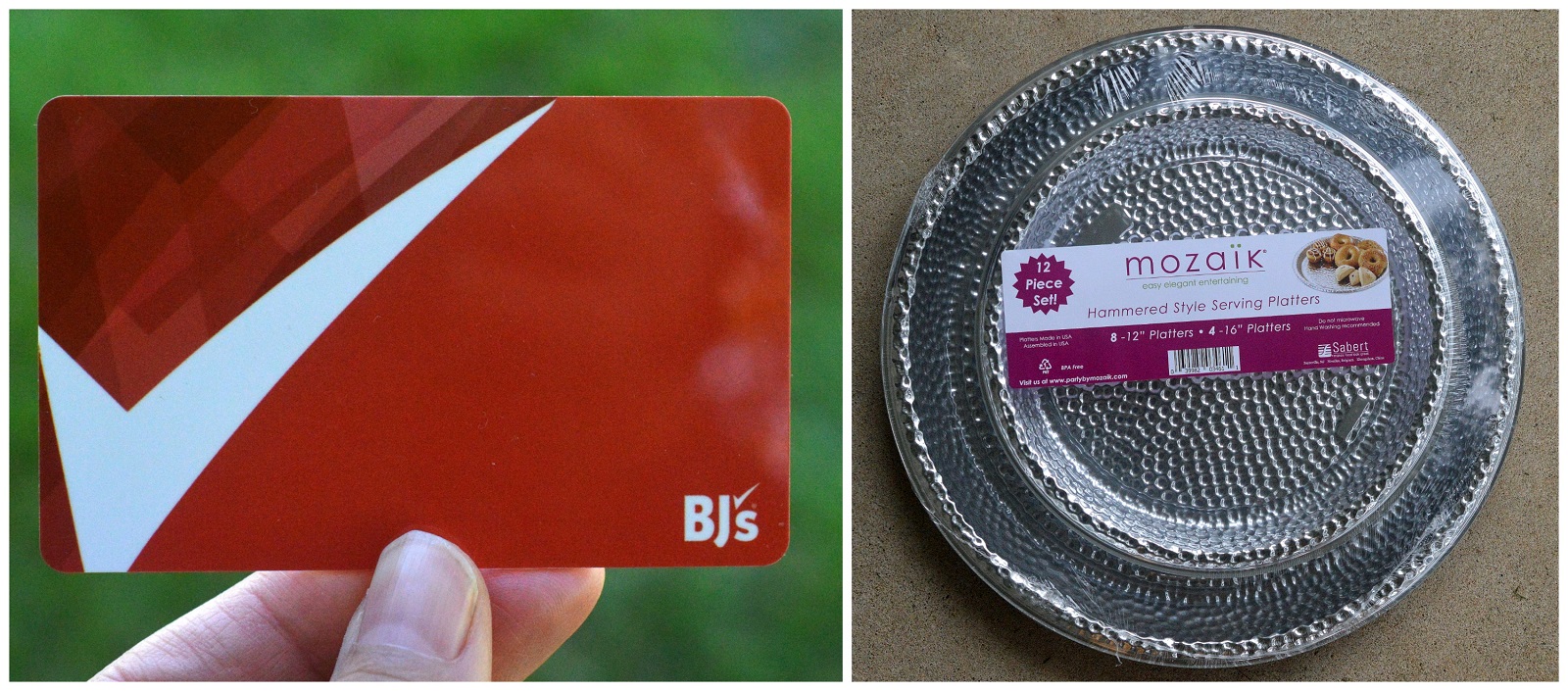 Did you know that almost half of Americans (41%) find hosting Thanksgiving dinner more stressful than asking their boss for a raise??! Really? Well, BJ's Wholesale Club offers an exciting assortment of décor and entertaining options to save Members money and time this Thanksgiving (and every holiday). BJ's also saves time and stress in the kitchen with their easy party planning platters, so that they can enjoy Thanksgiving with friends and family. I picked up a box of their Wellsley Farms Artisan Appetizers so I can focus on the meal and the desserts. This way with no effort from me, I can put a little something out with the cocktails and wine to nosh on.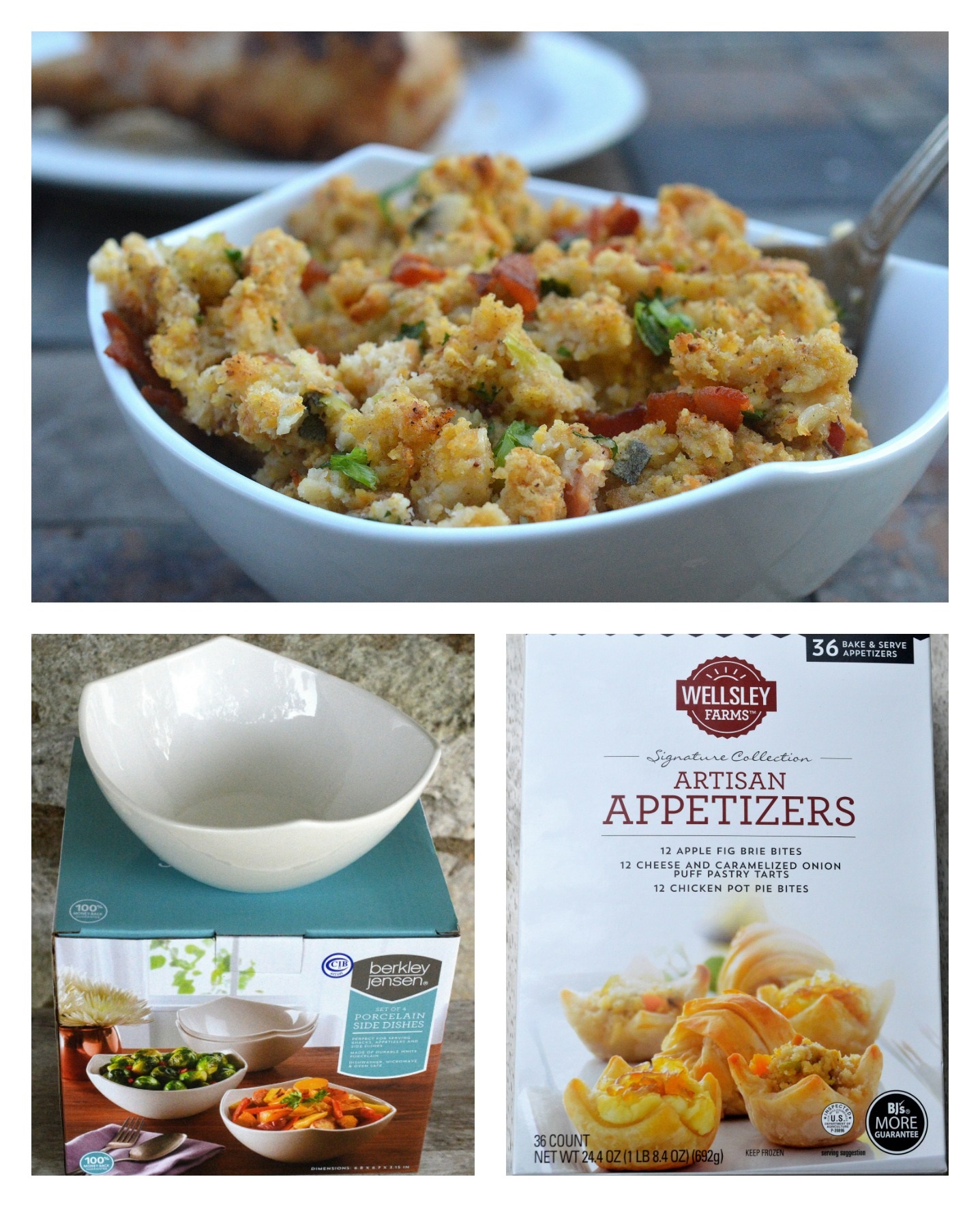 I love that BJ's Wholesale Club helps Members light up the holidays with affordable and festive holiday décor!
BJ's has so many affordable staples for my home and pantry and their seasonal items are always interesting. I grabbed this great 12-pack of Mozaik Hammered-Style Serving Platters for only $11.99. Just imagine the pretty cookie/candy trays I will be making on these, plus they are much better quality vs a dollar store find! I also picked up the cutest set of Berkley Jensen Serving Bowls for just $14.99. BJ's currently has an aisle of great Thanksgiving decor, entertaining pieces and more!
My kids have been talking and talking about turkey, so I grabbed a Butterball Fresh Turkey for only $0.99/lb while there and grilled up just the legs for them. The rest I used for sandwiches and my favorite turkey salad. Then, I made stock with the carcass. 4 + meals from one bird, you've got to love that!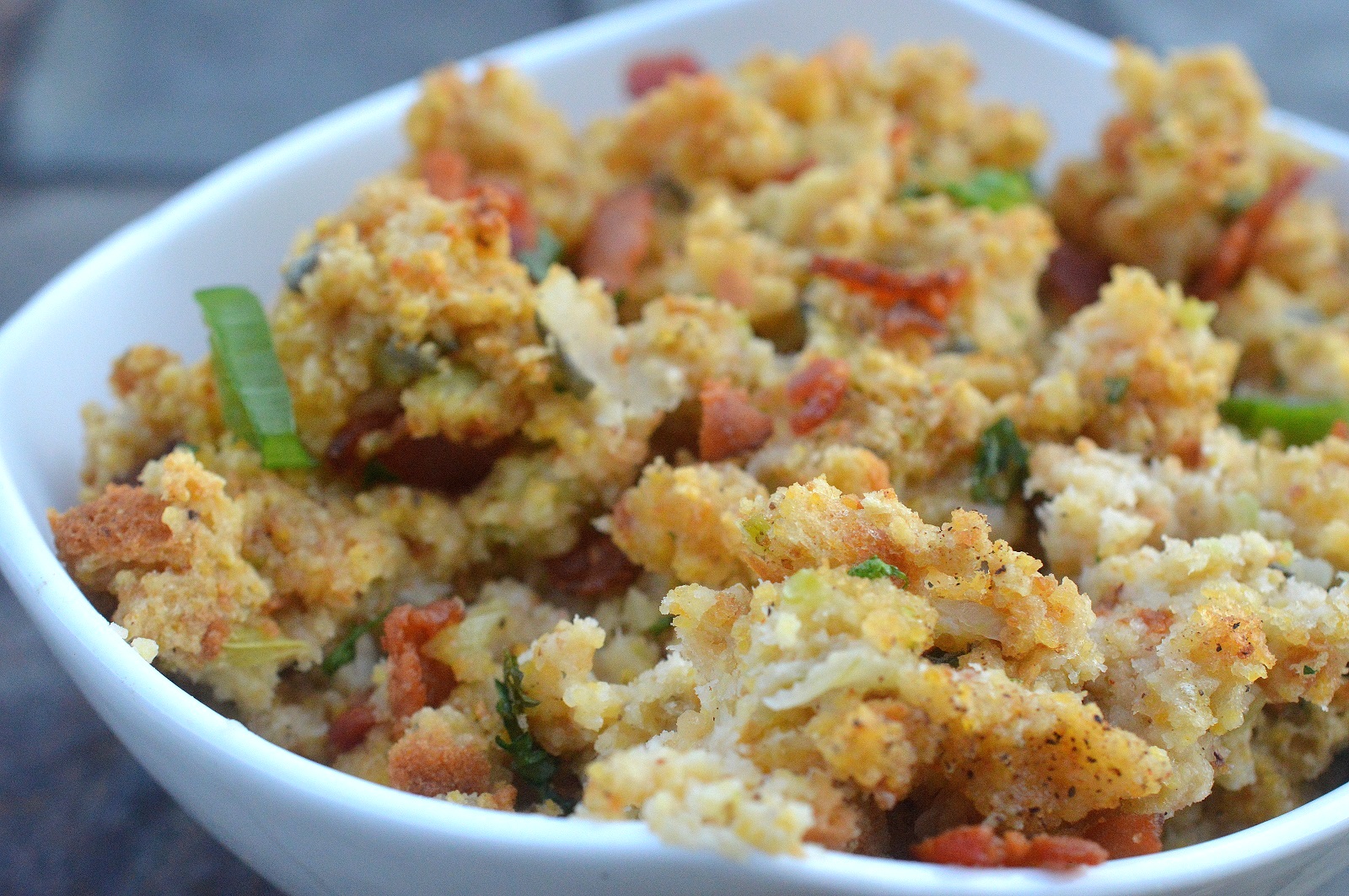 I picked up a 3 pack of Wellsley Farms Bacon for my Bacon Sage Cornbread Stuffing, I only used just over half of one pack for that. My son devoured the rest of that package…Teenagers!
What are your favorite foods for Thanksgiving? Are you nostalgic and want the foods of your childhood, or are you one who picks up a magazine and says…THIS! I swear by Tom
Colicchio's recipe for "The Ultimate Turkey" AKA "Herb Butter Turkey." I have been making that for 10 years. The gravy is the best gravy I have ever tasted. Everyone asks to bring some home each year, so I make as much as I can.
Enjoy!!

Thanks again to BJ's Wholesale for sponsoring this post which allows me to keep doing what I am passionate about…Creating & sharing recipes, tips and more!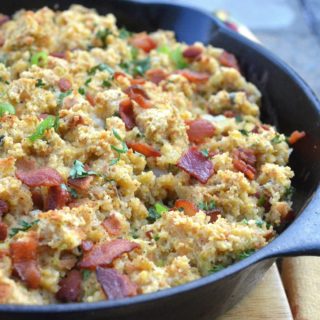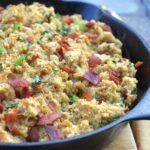 Print Recipe
Bacon Sage Cornbread Stuffing
Ingredients
1

pan of day-old cornbread

8x8

10

slices

thick white bread

3

stalks of celery

cut into 2-inch pieces

1

medium Vidalia onion cut into 3 chunks

3

cloves

garlic

halved

9

slices

bacon

cut into pieces

2

TBS

fresh sage snipped into small pieces

3/4

cup

fresh parsley

Kosher salt & black pepper

2

eggs

beaten

1

TBS

melted butter
Instructions
Tear your bread into pieces and throw it into your food processor, pulse a few times until ragged crumbs are formed.

Dump the bread into a big bowl.

In the same food processor bowl (no don't clean it), add your celery, onion, and garlic and pulse a few times until they are finely diced.

In a saute pan, fry up your bacon pieces until crisp. Remove them with a slotted spoon or spatula and save for later.

Scrape your celery/onion/garlic mixture into the pan with bacon grease (carefully) and saute until translucent (3-5 minutes).

Remove from heat and stir in sage, season with salt and pepper.

Scrape mixture into the bowl with the bread.

Add the parsley.

Add the whisked eggs and t1/2 the chicken broth and mix

Chop your day-old cornbread up into small cubes and fold that in.

Add the rest of the chicken broth and gently toss.

Scrape into your casserole dish and bake at 350 degrees for 20-30 minutes.

Decide if you like it wet or crispy. If wetter stuffing is desired, cover lightly with foil (you may need to cook it another 10 minutes.