Blueberry Lemon Shortbread Tart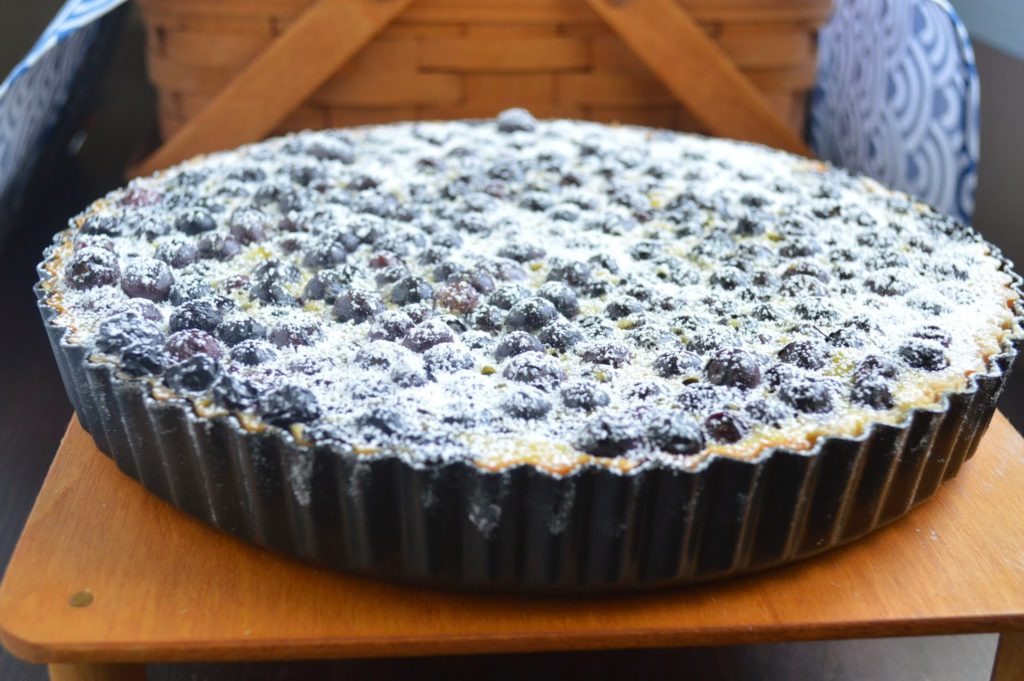 Recipe #3 in my 30 New Recipes in 40 Days Challenge
Late 2009 when I knew I wanted to start a food blog I reached out to Monica
at Lick the Bowl Good.
Previous to that, I really just cooked "off the cuff", or read various cookbooks or magazines for inspiration and recipes. I was busy raising little ones (still am lol) and really didn't have much time for surfing the net for recipes or anything else for that matter.
I knew nothing of the food blogging community, I just quickly looked around and came across Monica's beautiful site and emailed her a few questions, questions which she immediately answered. That was my introduction to blogging and the rest I just figured out along the way (and am still figuring out).
Since then I have had the pleasure to meet some fellow food bloggers, forged a few friendships and quite frankly have had a blast! One thing is for sure (and man, I had nooooo idea) there are an awful lot of talented food bloggers out there and just a ton of amazing sites!
I am so very glad that Monica was so gracious, and my first contact was a warm embrace filled with support! Which I have to say seems to be what I am finding in the food blogging community at large!
Alice at Savory Sweet Life says it best
- we are all here to support one another and help each other along!
Right on Alice!
Monica makes the most delicious looking treats - she kills me! Thank goodness we are not neighbors or I would be in some serious trouble OR I would force her to open a little shop with me!
This wonderful tart immediately caught my eye when she posted it and I knew I had to make it. I-LOVED-IT. I actually made it 3 times in a very short period of time and it was a huge hit...every time! I chose to increase the custard bu 50% and I think its even better this way. However for the life of me I can't get a good picture of it (and I admit I really struggle with the picture part of this whole process) BUT take my word for it. Make this tart!!! You will be happy you did!
I love the cookie crust, the custard filling and the burst of blueberry goodness that just dances across my tongue!
Blueberry Lemon Shortbread Tart
-Lick the Bowl Good 
3 cups fresh or frozen blueberries (1 pound)
1 stick plus 6 tablespoons cold unsalted butter, cut into pieces
½ cup granulated sugar
1 ½ cups all-purpose flour
Lemon Custard
5 large eggs
1 cup plus 2 TBS sugar
6 TBS flour
Zest of 2 lemons
6 TBS of fresh lemon juice
Powdered sugar, for dusting
Preheat the oven to 400 degrees.
For the shortbread crust: Using your fingers, combine the butter, sugar and the flour and blend together until coarse crumbs form (I used a pastry blender to incorporate the ingredients, but a food processor works well too). Pour the mixture into an ungreased nonstick 9-inch springform pan or tart pan (grease the sides of the tart pan) and press down evenly to form a crust. Bake the shortbread crust until lightly golden, about 15-16 minutes.
Remove the shortbread from the oven and reduce the temperature to 325°. Scatter the drained blueberries evenly over the baked shortbread.
For the lemon custard: Beat the eggs and sugar until thick and pale yellow. Whisk in the lemon zest, the lemon juice and the flour and whisk until combined. Pour the lemon cream over the raspberries.
Bake the tart until the custard is set, about 30-35 minutes. Let cool completely, then dust with powdered sugar.
NOTE: The top of the custard doesn't brown much so it's hard to tell if it's done, but it shouldn't be wet and liquid-y. The custard is done when it firms up around the perimeter yet is still a bit jiggly in the center. This may take longer than 30 minutes depending on the size pan used.
When cutting that first piece of your tart, use a sharp knife and press down firmly, as you are cutting through a shortbread crust...it will just "snap" and you are good!
Enjoy!!