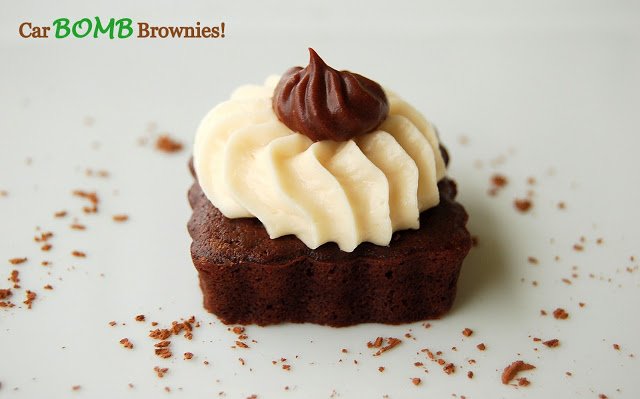 One of the things I made for a Saint Patrick's Day party we went to this year were these bite-sized brownies.
My husband and most of the guys he knows love a few Car Bombs when they go out to watch a game or we gather at someones house. They don't just save them for St Patty's Day! I always wondered if the allure was the camaraderie of drinking them together or the race to see who finishes first. Turns out they like the flavors (or at least that's what they tell me!). So I thought it fitting to bring a dessert with those flavor profiles.
A Car Bomb is a glass of Guinness and a shot glass full of Bailey's Irish Cream topped off with Jameson Irish Whiskey. You drop the shot glass into your glass of Guinness and immediately drink it down…fast (or it will curdle).
I have seen Guinness Cupcakes & Car Bomb Cupcakes all over the web the past few years so I thought I would try my hand at a brownie…and just a bite at that! They were a hit and all vanished. I did make "kid" brownies as well but I heard a 2nd grader made off with 3 of these at the party…and she was just fine.
The guys all told me that these are perfect for any get-together (not just St. Patty's) and a couple of them requested these babies for their next fantasy football/hockey drafts…lol!! If you are not a fan of alcohol in your desserts, try these Caramel Brownie Bites instead…salted or not 🙂
Do you have a favorite brownie? If so, I would love to know what it is!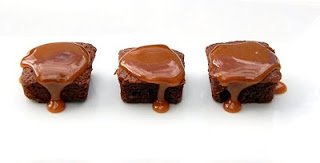 Car Bomb Brownies


Guinness Brownies


1 cup flour
3/4 cup unsweetened cocoa
Dash of salt
6 TBS butter, room temperature
1 cup sugar
8 oz bittersweet dark chocolate, melted
6 oz cup white chocolate, melted
3 eggs
2 cups of Guinness Beer
1 tsp vanilla
Combine flour, cocoa and salt in a small bowl, whisk to blend, set aside. In your mixing bowl. cream butter and sugar. Add in melted chocolates, mix until combined. Add in eggs, Guinness and vanilla and mix until combined then add in your flour mixture and mix until smooth. If you are making these as I did as mini's in a brownie pan or similar, Bake at 375 in a well greased pan for 8-10 minutes or until toothpick inserted in the middle comes out clean. If you are baking these in a 9 x13 pan, bake for 23-30 minutes or until toothpick inserted in the middle comes out clean.
Bailey's Buttercream


2 cups powdered sugar
4 TBS butter, room temperature
3-4 TBS Baily's Irish Cream (or try my 6 ingredient Homemade Irish Cream…so good!)
Water if needed
Combine Sugar, butter and Bailey's and mix well on med-high speed until smooth. Add in small bits of water until you get the consistency you like.
* I use the small "airplane" bottles from the liquor store. Each yields 1/4 cup (I used 1/4 cup in my buttercream) I keep a few of them on hand in different varieties for whenever the mood strikes to bake or cook with alcohol.
Chocolate-Whiskey Frosting


4 oz bittersweet chocolate
2 TBS heavy cream
1 TB butter
1 1/2 TBS whiskey
1/4 cup powdered sugar
Combine all ingredients and mix well until combined. Add more whiskey or powdered sugar until you get the consistency you like. You might need to refrigerate it for 20 minutes or so to allow it to firm up.
The brownie portion of this dessert was adapted from About.com
Assemble the brownies and enjoy!!