Cereal Pops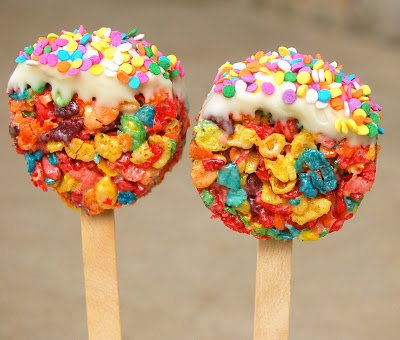 One of life's best simple pleasures for me, is putting a super big smile on my kids (and other kids) faces through fun food.

I get such a kick out of it. My kids are still young, so anything I can do to get them super excited…believe me I do!
Tiny footprints on mushrooms = "oooh, kids the fairy's must have been out last night!"

Let me tell you…watching a grown woman scrunched down on the ground, imprinting mushrooms is rather curious. BUT even some teenager's have believed what they saw lol!
You don't even want to know the things I have done with my son's two bears – Blue Bear and Bailey – since he was born. Let's just say Blue Bear and Bailey come to life often…you never know what they have been up to, including getting lost for a week in our duct work and coming back dirty, taking tons of photos of them selves when we are on vacation doing everything from sneaking Oreo's to riding in go carts, to miniature golfing. Those crazy bears have even videotaped themselves moving once or twice mush to our astonishment. And that my friends is just the tip of the iceberg.
My mom thinks my kids will need therapy one day. For now though…it's game on!
Oh and BTW…this is a family secret…so shhhhh!
Anyone have any fun things like I just shared that they do for their kids or grand kids? I would love to hear them!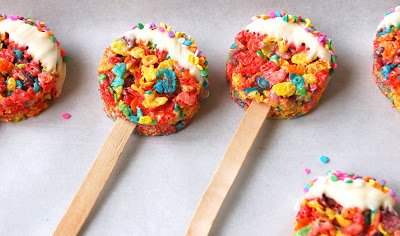 When we have parties or go to them, I try to make the kids treats in small bites whenever I can. That way they can sample multiple treats.
To celebrate the end of school, I whipped these up. I saw them on Pinterest as bar's from The Novice Chef, but I decided to go with lollipop circles. You could use a variety of cereals for this. I have to say this really was a treat, I don't buy Fruity Pebbles due to the hydrogenated oil in the ingredients…but the day school gets out, I guess all rules are out too lol! You could easily substitute a number of cereals for this.
Cereal Pops
-The Novice Chef
4 tablespoons butter
10 oz marshmallows
6 cups Fruity Pebbles
Popsicle sticks
White chocolate disks (I use Wilton found in craft stores)
Additional sprinkles for topping
Grease/spray a 9×13 inch backing dish. Melt butter in a pan over medium heat. When melted, add marshmallows and stir until melted. Remove from heat.
Add in the cereal and mix well. Pour into your baking dish and spread evenly. When cooled, cut into circles with a biscuit cutter and gently insert popsicle stick. You may need to mold the pop a but around the stick to make it secure.
Melt your chocolate microwave in short bursts, stirring until fully melted. Dip the tips of your pops into the white chocolate, then sprinkle with some pretty sprinkles if you like and lay them down on a parchment or wax paper lined baking sheet. Pop them into the fridge for 15-30 minutes to harden up.
** I made a double batch of these and pressed them into a large baking sheet. I felt using the baking sheet gave me more flexibility and less waste then a baking dish would have.
This will keep for 3 days in an air tight container. Keep these treats inside until it's time for the kids to enjoy them. They do not stand up well to heat.
Enjoy!!