I was hesitant to give Peppermint Hot Chocolate a try a few years ago, however once I did...I was smitten!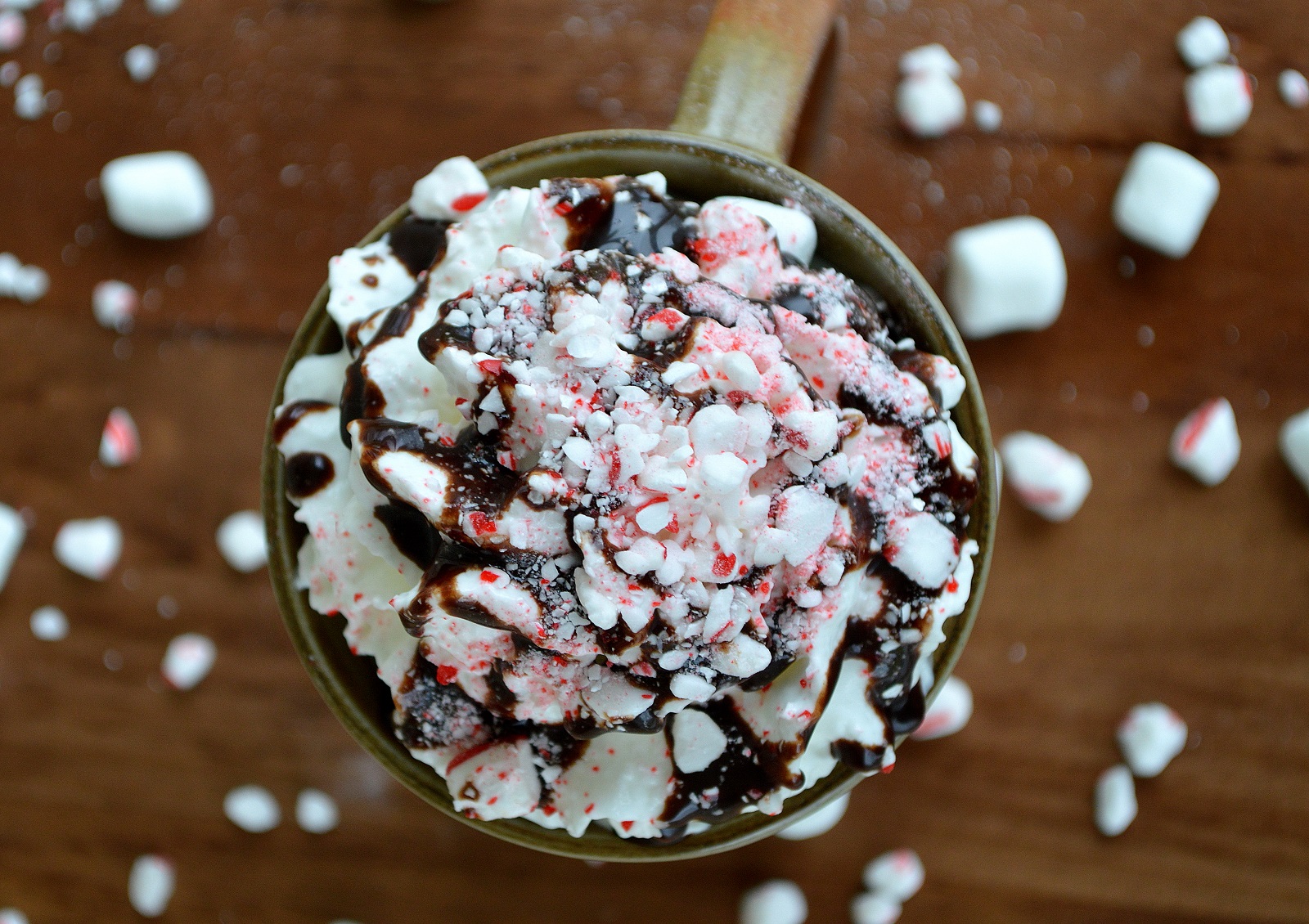 My daughter is currently obsessed with Starbucks's Peppermint Hot Chocolate. I am not fully sure which she is into the most, the actual; drink OR collecting as may of Starbucks's holiday cups as she can. THIS is what makes my 12 year old happy, lol!
I make her my version of Peppermint Hot Chocolate a couple of times every year.
My hot chocolate is rich and delicious, it's truly decadent.
It has a great peppermint flavor.
It is not just topped with freshly made homemade whipped cream...It is smothered with it!
My hot chocolate is loaded...besides all that delicious whipped cream, it's got candy cane bits, a chocolate drizzle and even mini marshmallows.
BUT my homemade Peppermint Hot Chocolate does not have a special seasonal cup that one wants to drink from, lovingly wash out and display in ones room. (That is until one's mom decides she can't take the clutter and chucks them all...then maybe the 12 year old owner of said cups uses her bizarre spidey-sense...which always sparks to life when something of hers is thrown away...and grabs them back out of the trash. Next time I toss them in the fire...I think.)
I my mind, if Starbucks and I had a Peppermint Hot Chocolate Throwdown...I would be the clear winner.  Seriously, if you lift their lid, maybe you have a lil bit of whipped cream foam left after the heat did its thing...maybe!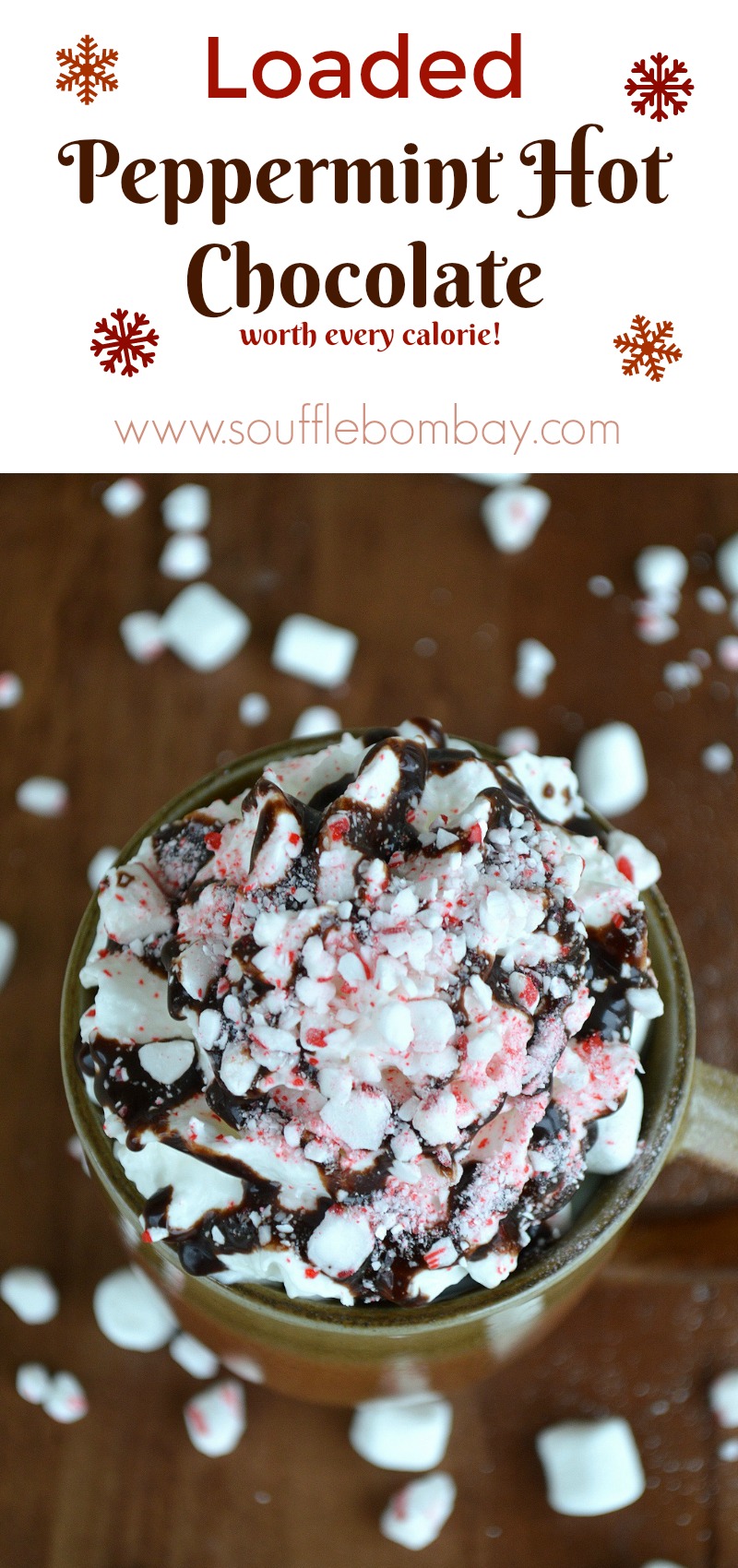 Those darned cute-trendy holiday cups of their would most likley kick my butt! The things that get people excited!I have nothing but love for Starbucks...But I do think my version would...should...could win! Are you listening Samantha???
Make this rich, delicious &  satisfying Peppermint Hot Chocolate.  You know you want to...Do it, its worth every single calorie 🙂 Be heavy handed with everything. Load. It. Up! Then sit back, maybe by a fire, with your favorite holiday tunes playing and be happy that you didn't have to drive anywhere or stand in line. And...if you want to write your name on the cup...Knock yourself out!
I make my "Crazy Good Hot Chocolate" by the gallon, then pour it out and heat it through when the mood strikes, here is the recipe for that.  If you have never made fresh whipped cream, here is the recipe for that...You will never go back to the other stuff. Try to not eat it all directly from the bowl!
Enjoy!!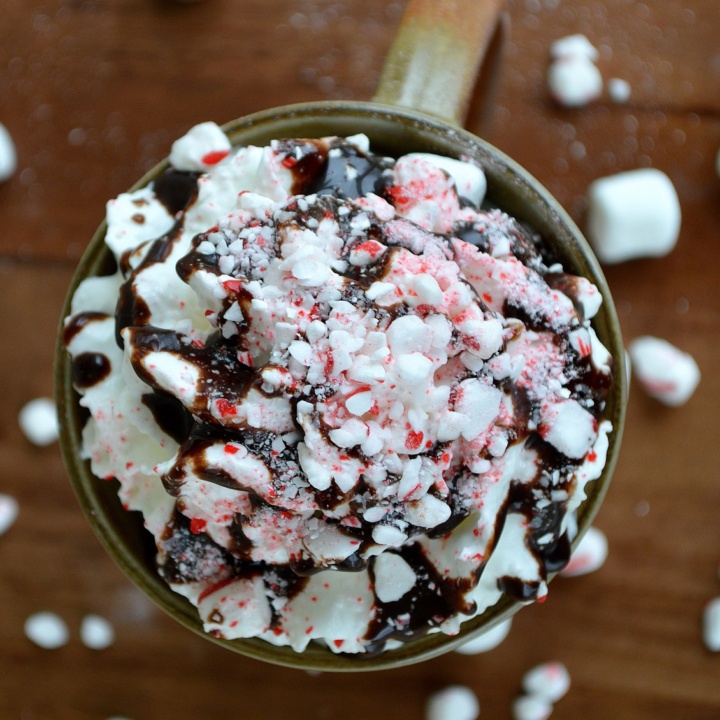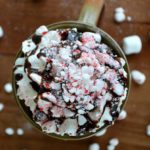 Print Recipe
Peppermint Hot Chocolate
Ingredients
Hot Chocolate

see below

Crushed candy canes

Whipped Cream

Chocolate syrup

Mini marshmallows
Instructions
Make your favorite hot chocolate or cocoa and add 1 TBS crushed candy cane to each 8 oz mug or simply use Hershey's syrup and milk, adding in the crushed candy canes. If however you are looking for a killer hot chocolate recipe, try my

Crazy Good Hot Chocolate Recipe

found here. I make it by the gallon! Then just portion some out and add crushed candy canes into it. Heat until they melt.

Top each mug of hot chocolate with a handful of mini marshmallows (make sure you have a big enough mug) then a crazy amount of whipped cream followed by a drizzle of chocolate syrup, more crushed candy canes and a spritz of red sprinkles. Face plant!

If you have never made homemade whipped cream before,

here is my recipe

...You will never go back to store-bought!