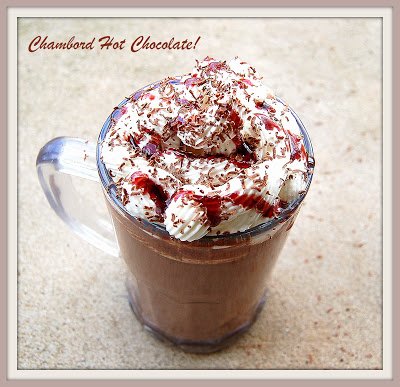 First things first...What do you enjoy more? Hot cocoa or hot chocolate?
There is a flavor difference in my opinion. Me, I opt for hot chocolate. One of my girlfriends who is the most crazy chocoholic I have ever met...opts for hot cocoa.
Yummmmmmm!
Nothing better than skiing or playing in the snow and then coming inside for a steaming cup of hot chocolate.
Now, if you want to kick it up a notch, I find adding some Chambord to it is aaaa-mazing!
For years I have added Chambord to my "signature" chocolate mousse that I make for Christmas. So one day I figured why not add it to hot chocolate. The decadence is out of this world, especially if you also make some Chambord syrup for over top the whipped cream.
PS: Don't just wait for outdoor activities to enjoy this delicious treat...pamper yourself anytime!
Chambord Hot Chocolate


3 cups of milk
5-6 ounces of good chocolate- depends on your chocolate preferences (I use 3.5 oz of Dark chocolate 72% cacao and 2 oz of bittersweet 60% caco...like a Godiva or Ghirardelli)
3-4 TBS Chambord, depending on your taste
Bring 3 cups of milk to a boil in a saucepan. Break your chocolate apart into chunks and add to the milk, stirring over medium heat until fully melted and incorporates. Bring once again to a boil. Remove from heat. Add in Chambord and stir well. Serve.
**For an over the top experience, make your own whipped cream (click here for recipe), top with chocolate shavings or syrup as well as some Chambord syrup which your can make by placing ½ cup Chambord in your microwave and cooking for 2 minutes (in 1 minute intervals) or until it thickens up a bit. Soooo good!
Tip: For a shortcut, you can make the hot chocolate a day in advance (minus the Chambord). Just reheat when ready to use, add in the Chambord and enjoy!
Enjoy!!