Cheesy Chicken Lasagna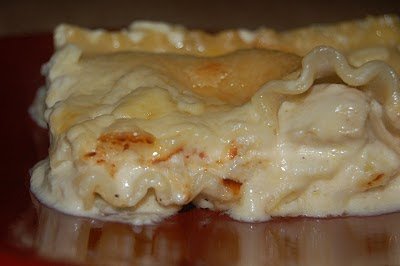 I have no idea what to call this…it's not really lasagna, it's just so good!
I have fooled around with this sauce for well over a decade.
I have poured it over chicken breasts and artichokes, wrapped lasagna noodles around chicken to make sauce covered bundles, poured it over rigatoni or other tubular shaped pasta's or what ever struck my fancy at the time.
You must,must,must have a hunk of fresh French bread or the like on hand to dunk in the sauce and then hit the treadmill!!
Cheesy Chicken Lasagna
1 box lasagna noodles, cooked al dente according to package directions
1 cup sweet onion, diced
2 TBS butter
4 boneless chicken breasts, cut into bite sized chunks
3/4 cup white wine
8 ounces cream cheese, cut into chunks
1/2 cup sour cream
3/4 cup heavy cream
1/2 pound Swiss cheese, either shredded or sliced
1/4 pound Muenster cheese, either shredded or sliced
S&P
Use a large pot (you need a pot for how this will grow)and saute the onions in butter over medium heat until tender about 5 minutes.
Add in the wine, and chicken chunks. Add in the cream cheese, sour cream, heavy cream, Swiss and Muenster cheese. Stir until all cheese is melted and incorporated. Make quick work of this because you don't want your chicken fully cooked. It will finish off in the oven. Season with S&P.
If assembling as pictured aka the lasagna method, line a baking dish with a row of lasagna noodles, spoon sauce and chicken chunks over top, cover with additional noodles and repeat once or twice more. Spoon sauce over the top layer and bake at 350degrees for 20-25 minutes. Sauce will thicken up a bit and absorb some into the noodles. (If you are making this in a huge lasagna pan you may want to increase recipe by half).
Remove from oven, cover with foil and let stand for 5-10 minutes before serving.
You could add mushrooms or herbs, serve it in one of the additional ways I mentioned or come up with your own twist. All you will need is some good bread for dipping and a nice chopped salad alongside and you have yourself a meal!
Enjoy!!