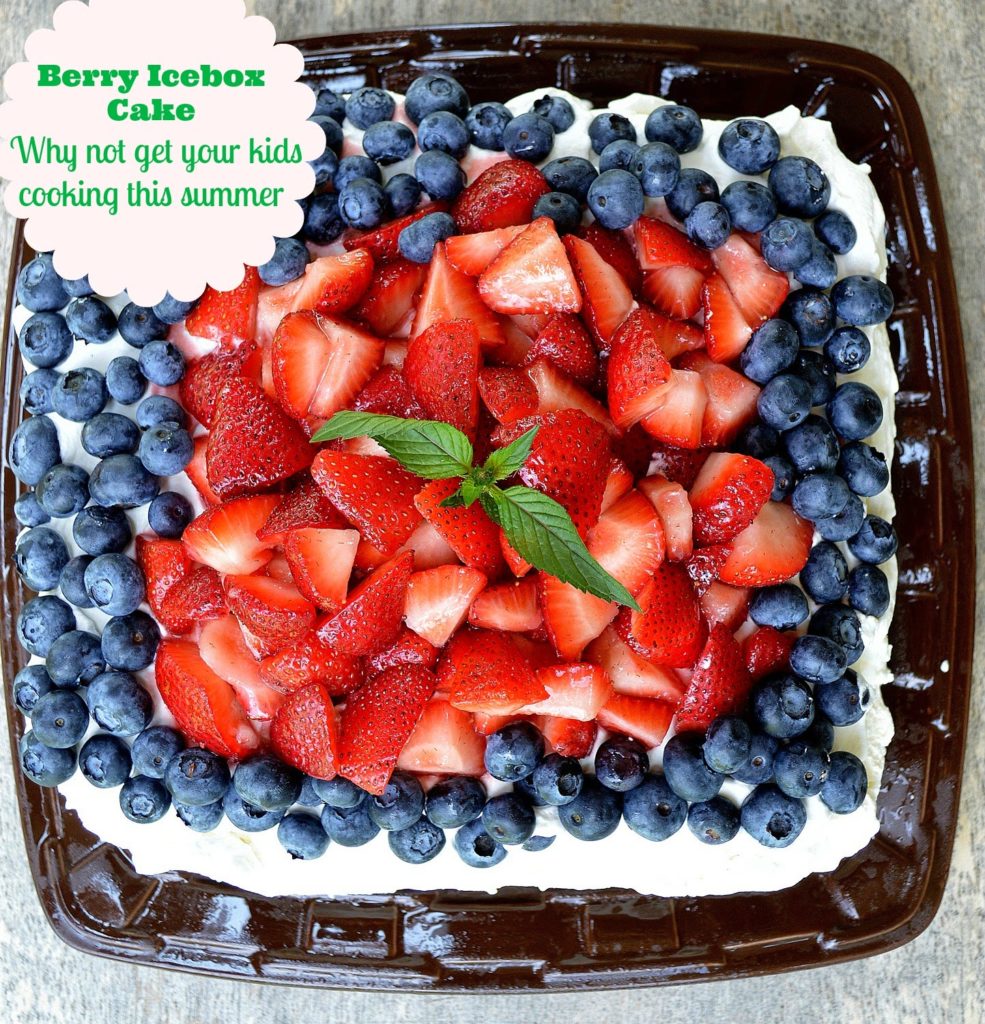 It's summer and the one thing that parents of elementary-aged school kids all seem to have in common is what to do each day with their kids to keep them occupied. How about giving your kids the opportunity to be in the kitchen more? Planning time in the kitchen with your kids yields wonderful memories, it gets their creative juices flowing and without them even knowing it they learn about math, reading & science! They become mini-project managers, they plan, follow-through and at the end, they have a result that they can enjoy with the ones they love!
Cooking with your kids teaches them a life-skill and guess what else…they seem to chat and chat while they are doing it…its a win-win!
It doesn't have to be difficult or elaborate, and it doesn't have to be perfect. Once you get them going, their ideas, excitement and creativity may surprise you!
My 9 year old daughter Samantha and I were talking about old-fashioned Ice Box Cakes last week after, I saw one made by a friend of mine, and I was telling her that icebox cakes came from the old fashioned desserts; the Charlotte and the the Trifle. Icebox Cakes were first introduced to the US during World War 1, then took off in popularity the 1920s and 30s. Samantha liked what she heard and decided she wanted to make her own.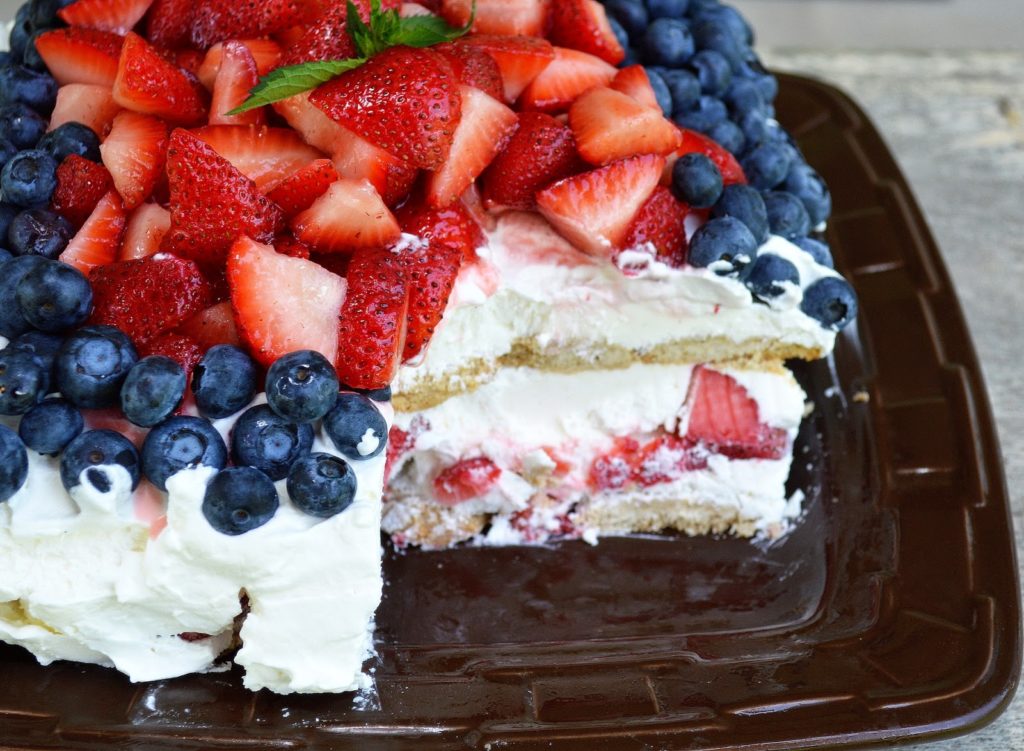 Here is what Samantha had to say:
Hi everyone, I love to make my own whipped cream so when my mom was telling me about Icebox Cakes, I knew I wanted to make one! Homemade whipped cream is one of my favorite things in the whole world and I have been making it since I was 4, I like to add vanilla to it with the sugar to give it the best flavor. Its so good! I always lick the whisk off!


We went shopping at Whole Foods and I had fun picking out the berries and cookies for this cake. I made the whipped cream with organic heavy cream. Then I built a wall of blueberries to hold the strawberries and it was fun! After I made it and it was ready, I shared it with some my brother and my friends and everyone liked it.


Samantha prepping the berries – notice how she "claws" her fingers so they are not an easy target for her knife.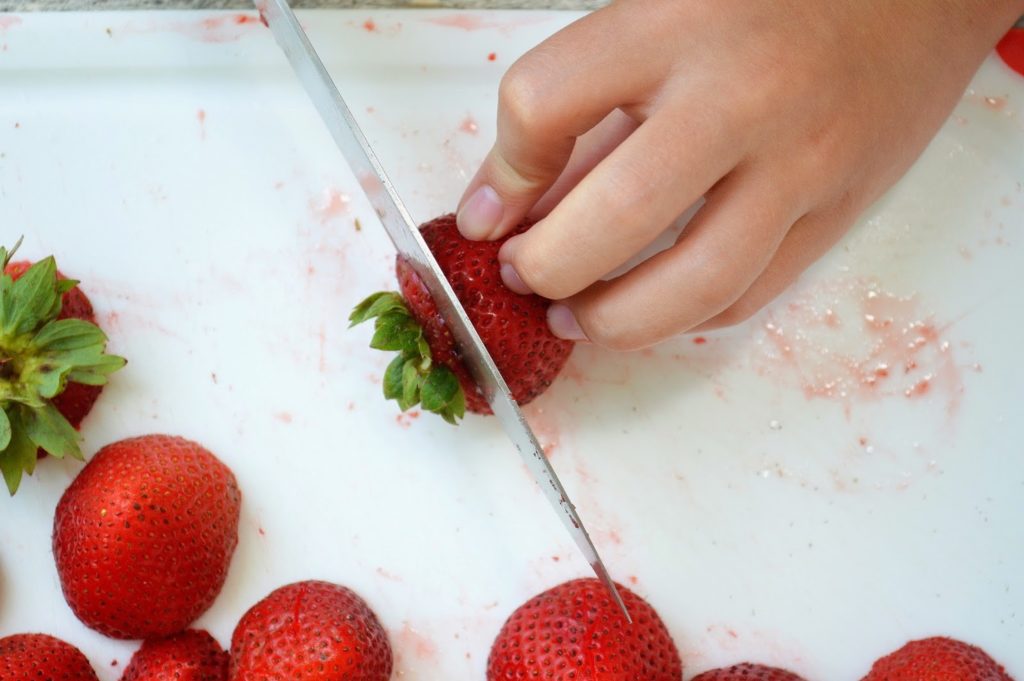 Here are a few of my tips when cooking with your kids:



Set the stage in the kitchen, have your kid(s) grab the ingredients you need to make the dish. As they finish with an ingredient, have them put it away. You will be teaching them to be organized while they cook.
Before you ask them to do anything SHOW them how to do it (safely if applicable)…then let go…they will surprise you with what it is they can accomplish.
Always remind them to focus and stay on task. For example when using a knife, they shouldn't be talking and swinging it around or looking away from what it is they are cutting. – Focus.
Encourage them and give accolades for the things they are doing well.
Have them taste as they go – adjust where necessary. Let them decide how to proceed – what's their opinion about how it tastes what would they do differently to get the taste they think it should be? Guide where necessary.
In no time they will become true masters of various appliances, techniques and dishes in your home and you will soon realize wow…they can really contribute to the needs of your family and sometimes save you when prepping for a big party or holiday – trust me!
Disclosure: This is the first in a summer series for Whole Foods Market about cooking with your kids. I was compensated by Whole Foods to create this post, however all thoughts and opinions are my own.


Berry Icebox Cake


32 ounces heavy cream
1/2 cup – 3/4 cup powdered sugar (taste and adjust to your preference for sweetness)
1 TBS vanilla bean paste or 1 tsp vanilla extract
1 1/2 boxes of Back to Nature Madagascar Vanilla Wafers from Whole Foods Market (graham crackers or your favorite thin cookie will work too)
2 pounds of strawberries, hulled and sliced into chunks.
1 cup blueberries
Line a square 9 x 9 baking pan with parchment paper, tape it to the bottom of the pan (like you are wrapping a present).
For the whipped cream: In a chilled mixing bowl, whip your cream until it begins to thicken, add in your sugar and vanilla, continue to beat until stiff peaks form, set aside.
Cake Assembly:
Smear a thin layer of the whipped cream along the bottom of the pan, then line your pan with the cookies, if you need to break a few cookies up to make them fit go right ahead.
Cover those cookies with another layer of whipped cream, then place another layer of cookies.
Cover those cookies with another layer of whipped cream and if you want to you can add a thin layer of berries here, cover with a bit of cream, more cookies then a final layer of whipped cream.
Cover cake tightly with plastic wrap and allow it to sit in the fridge for 2 hours (no longer). Remove from fridge, and cover the top of the cake with your berries. Serve and enjoy!
Colleen's Notes: If you want macerated berries over-top (berries made a bit juicer by the addition of a small amount of sugar) – Prepare your berries by slicing the stems off as well as slicing them into bite sized chunks. Place them in a bowl and sprinkle a teaspoon of sugar over-top, toss well and allow them to sit for 15 or so minutes or until they get nice and juicy.
You can freeze this as well. Just cover the cake with parchment paper, then wrap it tightly with plastic wrap and freeze until ready to use. Thaw like you would an ice cream cake by letting it sit in the fridge for an hour or two, top with a bit more of freshly whipped cream and then the berries.
Berries are on the top 10 "dirty" foods list for pesticides, So I always look for organic ones which Whole Foods always has. Choose organic berries if you can.
Enjoy!