This post is sponsored by Swanson®. All thoughts and opinions are my own.
We all have to eat, right? Lucky for me, I have always been one of those people who is almost always excited to whip up dinner, lunch, and yes, even breakfast for my family. I don't stress about it. I enjoy coming up with meals that don't take too much effort, that my family will enjoy and hopefully ask for again and again. Like this Creamy Lemon Chicken over Couscous.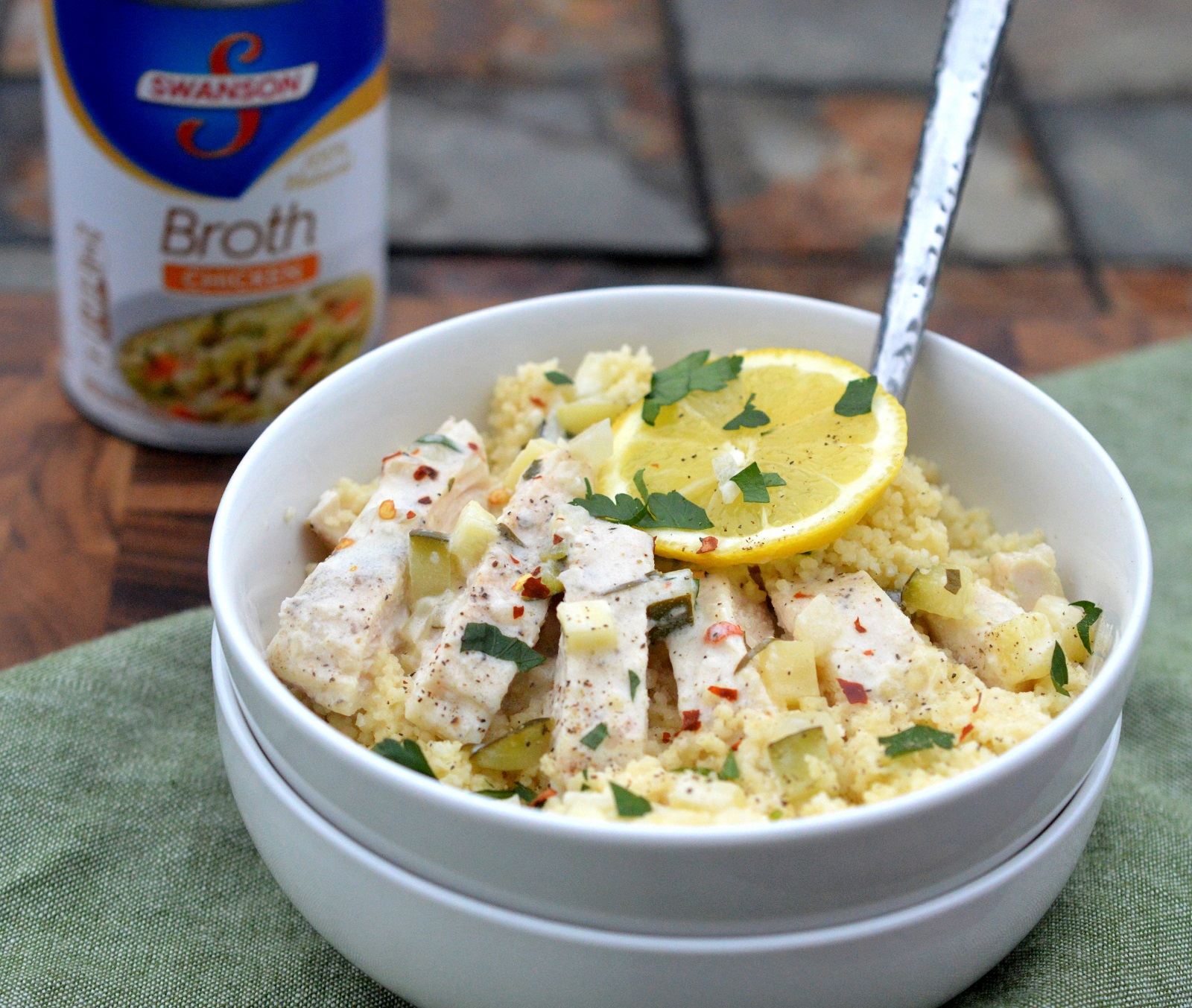 There is almost nothing more satisfying to me than when we come together as a family to enjoy dinner and everyone likes it and goes in for more. Or better yet...asks when we'll be having it again.
I cannot tell you how often I reach for Swanson® Chicken Broth when cooking. Swanson®  Chicken, Beef, and Vegetable broths are often the backbone of so many dishes—from simple soups, I make for one of my kids to help them feel better to some of my signature dishes, like my White Chicken Enchiladas and our family-favorite Spinach & Tortellini Soup. Swanson®  Broths are always there enforce in my pantry, just waiting for their next use. They are one of those staples like eggs and butter that I just cannot be without or I get the jitters, lol!
One flavor profile we can all agree on in my house is a savory lemon dish, whether it's in pasta form, chicken, salads, etc. A warm, comforting dish with lemon and herb flavors mingling with chicken, pasta, or other grains is almost always a home run in this house.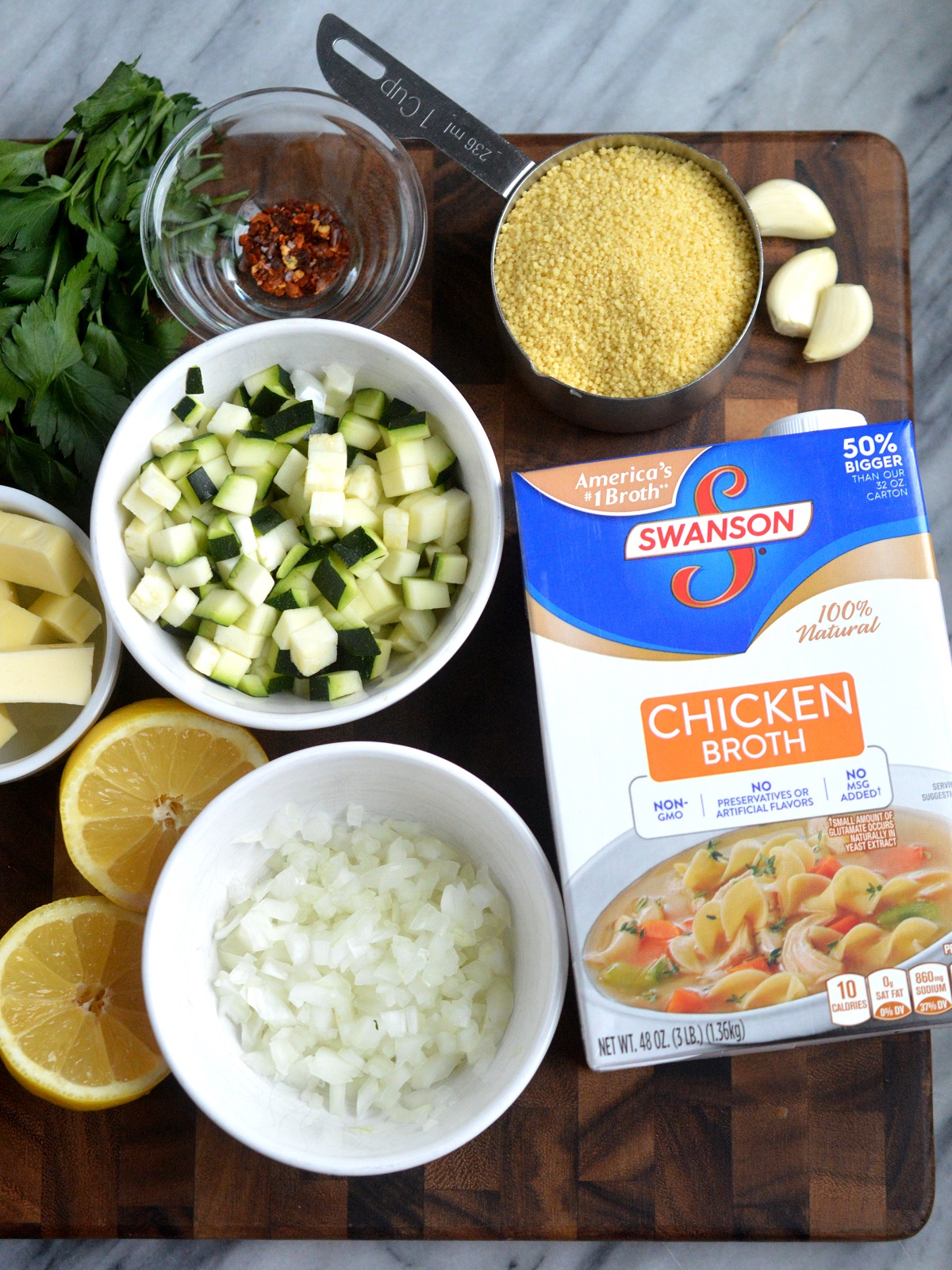 Swanson®  is my parent's go-to broth, it's my go-to broth, and I already know the kids will be doing the same since they are often by my side when cooking. There is something to be said for the iconic brands we trust and those like Swanson®, for example, who are savvy enough to adapt to the changing times and give us as moms/consumers what we want. They make my life easier, and I am grateful! They have been a trusted ingredient for 70 years for a reason.
Swanson®  Broths are 100% natural, NON-GMO, contain no artificial flavors or preservatives, and contain no MSG. I couldn't make it better myself! And bonus, no dishes to clean! Even when my daughter does make chicken stock from a chicken carcass we happen to have (something she loves to do...we never let one go to waste), typically she'll supplement that with additional Swanson®  broth so we have enough for what we are going to make with it. 
In addition to the flavor and ease of use, of Swanson®  Broths and Stocks come in a bunch of varieties. I truly appreciate the full range of products they offer. After all, sometimes I need beef or vegetable and sometimes chicken. Swanson always delivers the flavor profile I need when I need it! There is a variety or two for every pantry! Check out the many recipe ideas on the Swanson website, I especially enjoy the top-rated recipe section. You can always trust the input and experiences of other home cooks!
If you are looking for a simple weeknight dinner to try out on your family, give this Creamy Lemon Chicken over Couscous a try. You can customize it however you wish by swapping out the couscous for orzo, adding in some mushrooms and chopped carrots, or whatever else you think your family will enjoy.
This recipe holds up well, too. If sports, after-school activities, or work holds up a member of the family, simply scoop out a portion on a plate for a quick reheat when they are ready for dinner and they'll be good to go!
I decided to add chopped zucchini for additional texture and nutrients. You can easily make this dish your own. It's the perfect comfort food for these chilly nights.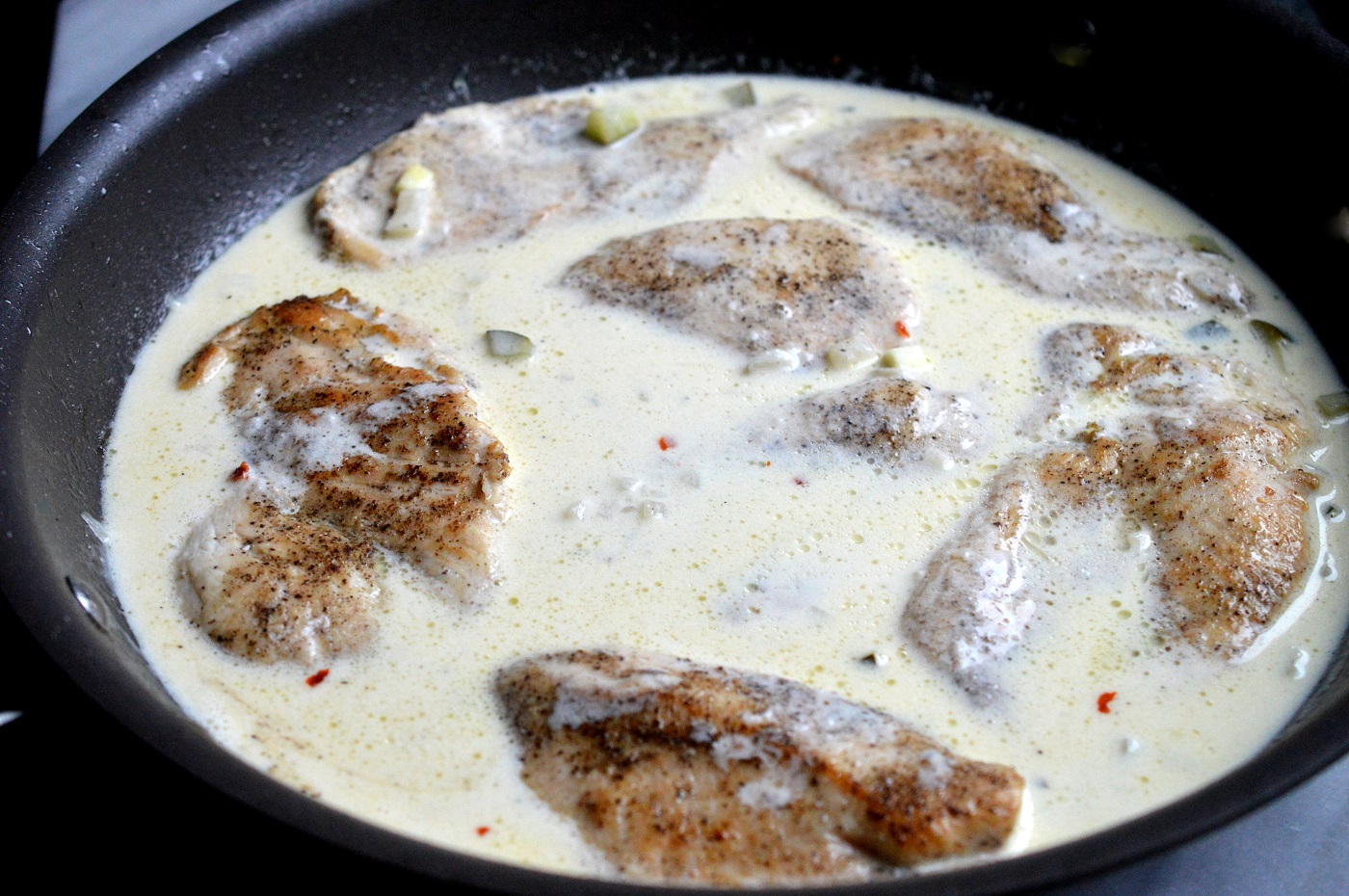 How Do I Make Creamy Lemon Chicken Over Couscous?
Making Creamy Lemon Chicken Over Couscous is easy. From start to finish, it should take you no longer than 30 minutes. First, you prep your "mise en place," which simply means to set everything in its place to make the dish which, trust me, makes creating your meal quick and efficient. This is one of the very first things I taught my kids to do at a young age and where I love having my them assist me.
Dinnertime is a family affair, right? So get the whole family pitching in. 
Chop the onions and zucchini, and portion out the butter, chicken broth, cream, and couscous. Set aside. Set out the seasonings and herbs you will be using as well as any other components, utensils, and pans.
Squeeze out your lemon juice and slice some lemon rounds for garnish.
Start by cleaning up your chicken breasts and quickly pounding them for evenness. Or purchase the smaller chicken tender pieces, which typically are already even in size and thickness.
Once you are ready to begin, this recipe for Creamy Lemon Chicken over Couscous comes together quickly. Follow along in the step-by-step instructions below.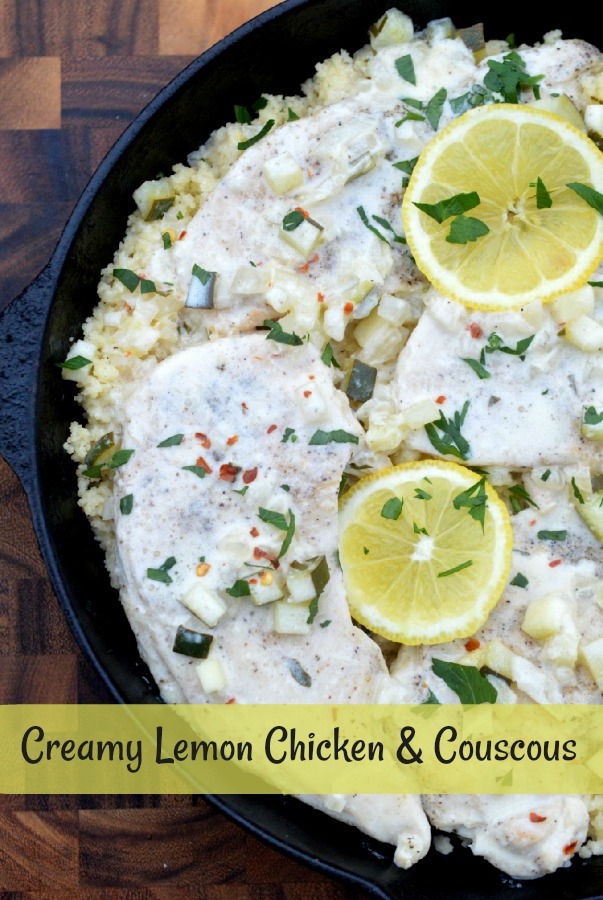 How Can I Customize This Chicken Recipe?
I chose to add in some diced zucchini for a veg to keep this a simple one-pan meal. You can choose to add in asparagus tops or frozen carrots and peas if you like. You can leave out vegetables altogether; your call. I would, however, leave in the onions as they give it a delicious depth of flavor.
You can add in scallions for additional color and flavor right at the end or add pine nuts, capers, or whatever you feel your family will enjoy. I often add capers when making chicken with lemon flavors.
You can leave the chicken breasts whole or slice them up for cooking. Typically, I cook them whole and slice them for presentation after they have been cooked. Up to you. If you enjoy dark meat, swap out the breasts for boneless chicken thighs.
If you enjoy sauce, make extra. Especially if you want to dip some crusty bread in it, mmmm! A pinch of red pepper flakes helps make this sauce sing. If you enjoy a little heat in your food, double that—like I do!
Another choice is swapping out the couscous for orzo or even angel hair pasta. I opt for couscous since it's just so easy and quick for a weeknight.
Feel free to double the amount of chicken in this recipe. The only addition you would really need to make if you choose to do so is adding a little extra oil for sautéing the chicken.
How Do I Cook The Couscous?
Cooking the couscous for this dish couldn't be easier. All you need is plain couscous, olive oil or grapeseed oil (or, if you choose, butter), and chicken broth. Often, packages of couscous will call for adding water as the liquid to make it. I highly suggest using chicken broth instead. It's just so much more flavorful.
You can also choose to use a box of couscous that is already flavored with garlic and herbs or something similar. Again, I would use chicken broth as the liquid. Couscous takes just minutes to cook to perfection, which is why it's such a great weeknight dinner ingredient!
The couscous takes all of 3-4 minutes to be made and, if left covered after you fluff it, holds up perfectly until you are ready to assemble the dish.
Enjoy!!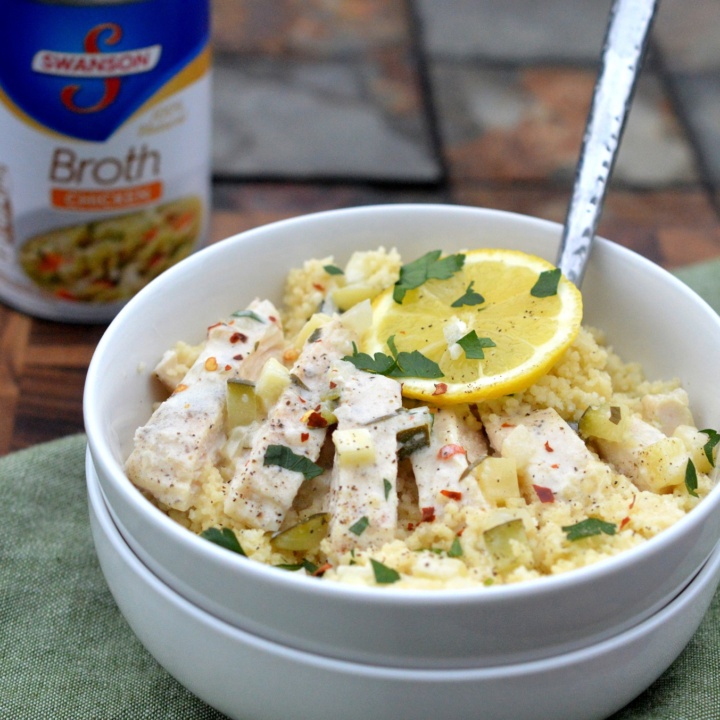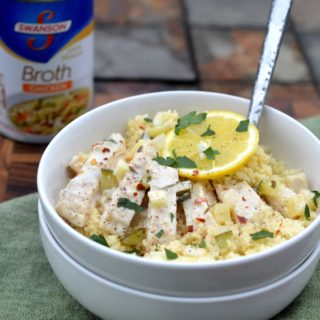 Creamy Lemon Chicken over Couscous.
Creamy Lemon Chicken Over Couscous makes for a perfect weeknight meal, even the kids will enjoy it!
Ingredients
For the Chicken

1

pound

of boneless chicken

Salt & pepper

2

TBS

olive or grapeseed oil

2

cups

of Swanson® Chicken Broth

¼

cup

fresh squeezed lemon juice

2

TBS

garlic paste or 2 garlic cloves minced

⅛

teaspoon

red pepper flakes

½

cup

minced sweet onion

1

cup

chopped zucchini

optional

¼

cup

butter

cut into chunks

½

cup

heavy cream

¼

cup

fresh parsley

Optional: 4 slices lemon for garnish

For The Couscous

10

oz

of plain couscous

1

cup

Swanson® chicken broth

1

TBS

olive or grapeseed oil or butter

Dash salt & pepper

OR cook according to the box or bags directions you purchase
Instructions
In a plastic baggie, lightly pound your chicken breasts one by one a few times until they are an even thickness (or purchase the smaller chicken tender pieces, which are already uniform). Season both sides with salt and pepper and set aside.

Combine 2 cups chicken broth, ¼ cup lemon juice, garlic and red pepper flakes in a liquid measuring cup and set aside.

Chop & measure out your onions and zucchini (if using), butter, parsley <g class="gr_ gr_168 gr-alert gr_gramm gr_inline_cards gr_disable_anim_appear Punctuation only-ins replaceWithoutSep" id="168" data-gr-id="168">and</g> lemon slices so they are ready to go.

Place a medium pot on the stove filled with chicken broth and oil/butter for your couscous.

In a large sauté pan, heat your oil over medium-high heat. Once you see the oil begin to shimmer slightly, add in your chicken and brown on each side for approximately 3-4 minutes (depending on thickness). Flip once. Remove chicken to a plate and cover with foil.

Add in your chicken broth, lemon, garlic & red pepper mixture. Scrape up any brown bits and allow mixture to simmer until reduced by half.

Meanwhile heat your chicken broth for your couscous. Once that comes to a boil, remove from heat, add in couscous, cover and allow it to stand for 4 minutes. Fluff with a fork and set aside covered until needed for assembly.

Once the chicken broth mixture in your saute pan has reduced by half, add in zucchini, remove from heat, whisk in butter until fully dissolved. Whisk in heavy cream. Season with a little salt and pepper and if you like additional red pepper.

Add chicken back into the pan and heat for 1-2 minutes over low, just to rewarm the chicken. Do not heat over high as you don't want to "break" the added cream with too much heat.

Scoop couscous onto a platter or casserole dish, place chicken over top (whole or sliced) and spoon sauce over top. Garnish with lemon slices and enjoy.
Nutrition
Serving:
4
g
Calories:
712
kcal
Carbohydrates:
61
g
Protein:
46
g
Fat:
21
g
Saturated Fat:
11
g
Cholesterol:
152
mg
Sodium:
663
mg
Fiber:
5
g
Sugar:
2
g
Follow me on Tik Tok for 1 minute videos