Spinach, Cream Cheese and Scallion Stuffed Chicken Breasts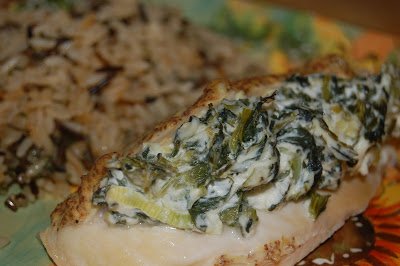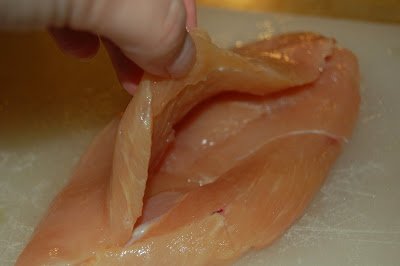 I have always enjoyed cooking and due to my excited, passionate nature, I often jump in and decide "oooh don't get it catered…I can make it" or I bring multiple dishes to places/events that often didn't even involve me bringing a thing.
I am a food-crasher I guess lol.
In the moment…no problem, then, when I am faced with the reality of the situation that I put myself in (once again) I am always like…what was I thinking!! In the end, however, it all works out, I love doing it and I am sure the pattern will continue.
One of my go-to dishes for baby/wedding showers or large gatherings is a simple Stuffed Chicken Breast. I remember reading a recipe for it many years ago in a Bon Appetit' magazine however the recipe in its original form had things like water chestnuts and mushrooms in it (no thanks – not a mushroom gal). The wonderful part about this dish is I can make then the day before an event, line them up on rimmed baking sheets, wrap them up and cook onsite. Very low maintenance! I use Grey Poupon Country Dijon mustard for everything – to me that is the perfect mustard. If you don't have that in your area substitute grainy mustard in its place.
Spinach, Cream Cheese and Scallion Stuffed Chicken Breasts
-Bon Appetit
6-8 boneless chicken breasts
1 box chopped spinach, thawed
8 oz cream cheese, room temperature
3-4 scallions (green onions) white and green's chopped – depends on their size
Grey Poupon Country Dijon Mustard
Salt and Pepper, a shake or two
Olive oil
If necessary trim fat off of each breast. Carefully slice a "pocket" into each breast by slicing on the diagonal thru the breast almost halving it but leaving the top, bottom and edge intact (I have a photo). Set aside.
Squeeze the spinach dry, I mean really squeeze it in small handfuls.
I only use ¾ of a box to 1 bar of cream cheese myself but if you are a spinach lover knock yourself out and use the whole thing. I need to "disguise it".
Combine the spinach, cream cheese, scallions, salt and pepper and mix together well…use your hands if you have to.
Put a ½ teaspoon of oil on your rimmed baking sheet and rub it around using a paper towel or your fingers to barely put a coat on the sheet.
Stuff each breast with a good amount of the mixture. Pack it in, press it down and move on to the next one. Spread the mustard onto the top of each breast and you are good to go. Bake at 350 degrees for 25-35 minutes depending on the thickness of your chicken breasts.
If you are making this ahead, I recommend adding the mustard just before baking.
And if any of you are thinking…Colleen's crazy for not adding mushrooms…knock yourself out…no fungus for me! Enjoy!
Colleen